The press release read "Kagi set to shine at New Zealand Fashion Week". Wow, that was an understatement. As I tweeted from the Front Row, "never before have I seen operatics, story telling and dance on a catwalk". This was one amazing show. The audience laughed, they gasped, they were in awe of the Birds of Paradise show.
I always wondered how a jewellery collection could really work in a catwalk show at fashion week. Well, let me tell you with the hard work of renowned artistic director and film maker, Morag Brownlie really made the Kagi Birds of Paradise jewellery collection come alive. Morag brought the most adaptable species from her critically acclaimed theatre production, likewise named Birds of Paradise, to the Fashion Week runway format.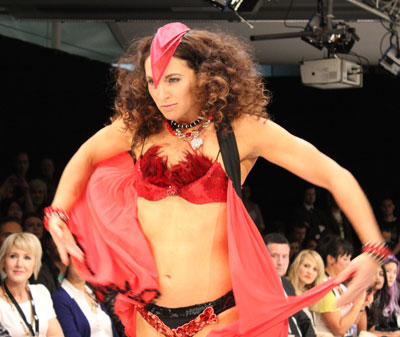 Kat Gee, designer and director of Kagi, was set to become the first New Zealand jewellery designer to hold a solo show at New Zealand Fashion Week with her Spring/Summer 2013 collection, Birds of Paradise.
But this was not just any catwalk.. a would be David Attenbrough introduced us to the show, there were quizzical looks, a bit of confusion over his unfashionable safari outfit. But then a simple runway just wouldn't show Kat's innovative and ambitious style.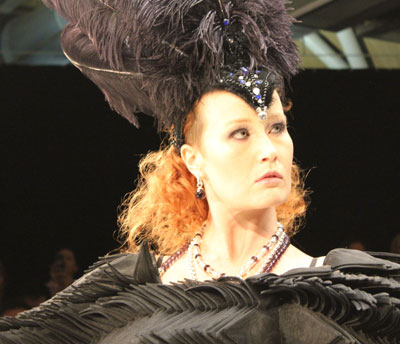 Kat is excited about being able to bring the jewellery to life with a highly visual and entertaining show. "It's hard to put just jewellery on the runway, so we wanted to create something extraordinary for our Fashion Week debut," says Kat.
"Morag's production will be an outrageous show where fashion and theatre unite, and we're delighted that she's shared some of her extraordinary talent with Kagi," she said.
"We are used to more intimate performance spaces - some of our birds will be able to fly better on a catwalk- and it will be great to see a new incarnation of our characters and with new adornments - Kats colour palate fits in perfectly," says Morag. "We have a wonderfully talented cast and they're all extremely excited to be at Fashion Week.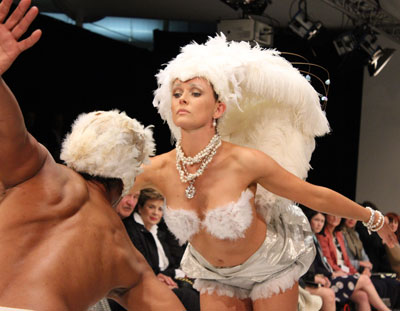 The Kagi show was something truly theatrical, including hair, feathers and jewels. The cast includes some talented and award winning performers including Julie van Renen, Georgie Goater, Seonaide Lyons, James Crompton, Mike Holland, and Vivio Ramos. Renowned jazz singer Caitlin Smith also does a cameo performance in the show - she opened the show and was literally A-Mazing!
But while the runway will become a theatre for Kat there is serious business behind it. Her booming jewellery business now sells more in Australia than New Zealand and is listed in the Deloitte Fast 50. In the past 12 months she has also won an Icehouse scholarship and was recently named as a finalist in the Ernst & Young Entrepreneur of the Year Awards.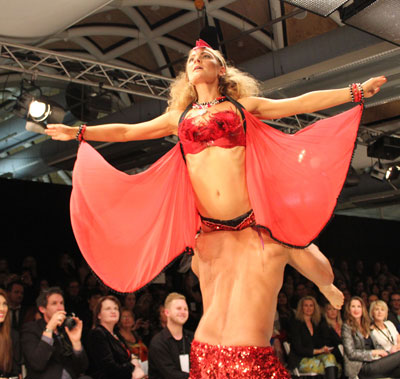 This show will be in my fashion memory bank for seasons to come. It was truly magical, awe inspiring and unforgettable. Well done Kat Gee of jewellery label Kagi.
Full images of the show are available at this online facebook album
All images are copyright of LadyM Presents