There's something about New Zealand Fashion Week that I just love. It is so relaxed. Only one show has run late so far (London Fashion Week learn from this!) guests arrive with champagne in hand, smiles on faces, there is much chit-chatting across the runway on the front row. Everyone smiles and is sociable, it just feels a lot more calm, relaxed and low key compared to London Fashion Week.
Day three and it was clear things were slowing down, all the big shows had already happened. I must admit to missing a few smaller shows in favour of writing and editing for LadyM Presents plus catching up with fashion peeps over a coffee or glass of wine. But there were some that I just couldn't wait to attend.
BMW New Generation Kiwi Designer Collective
I love a new generation designer competition. As a two times judge for Alfa Romeo Young Designer of the Year award in the UK, I love the passion and dedication that goes into the collections. In this show we saw the three finalists; Beverley Riverina, Nara Paz and crooked seven. The winner was to receive $5000 from BMW to help launch their label into the fashion heights. Beverley Riverina showcased "From Fleece to Fashion" a collection entirely from handknitted New Zealand wools. Very interesting even for a non wool loving fashionista, like myself. I loved Nara Paz's collection taking earthy tones, smart separates and an amazing pony skin purple and black pencil skirt. There was glamour, there was elegance; mixing lace with tulle, blacks, purples and golds. A great succinct collection.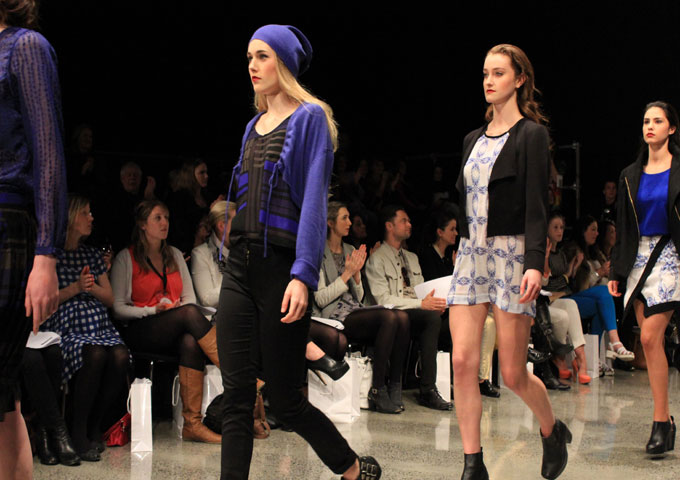 The winner of the BMW New Generation Kiwi Designer award was label crooked seven from designer Aleksis Komene. Combining my favourite colours for Autumn/Winter - cobalt blue and burnt orange. Stylish day dresses with block prints to a beautiful white and pale blue, almost bone china style print, called the Popham. The collection was clear cut, gorgeous and a little bit edgy. Twelve looks walked the runway; enchanting and inspiring taking the notion of fluidity and focus from the world of BMW.
Read more about the winning collection on LadyM Presents here.
Surface Too Deep and Tigerlily
So swimwear is not the first thing that springs to mind at an Autumn/Winter fashion week. But since New Zealand Fashion Week only have one showing a year and we're edging into Spring here in Auckland it was the perfect time to showcase the Spring/Summer collections from Wellington based swimwear legend label, Surface Too Deep and Australian counterpart, Tigerlily.
I'm a bit of a sucker for Surface Too Deep's gorgeous colour scheme and vintage cuts. Prints were big in the collection, coming in a kaleidoscope of corals, pinks and purples then to a sumptuous yet dainty white daisys with beautiful blue flowers. Each print shown in a one piece, and three forms of bikinis/separates. Each perfect for different body shapes. I was swept away to the exclusive resorts of the South of France with the gorgeous black swimsuit, a perfect 50's style vintage cut. Think St Tropez, sunglasses on, heels by the pool and sipping champagne. Yes darling!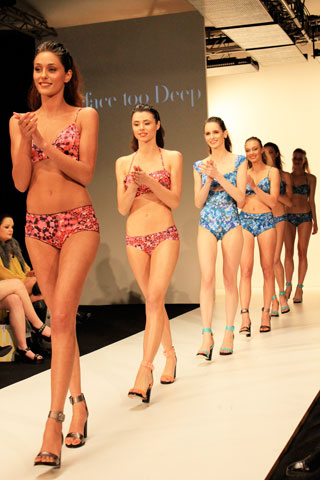 Tigerlily took us on a trip to a Mexican desert resort. You could feel the dry heat as the Aztec prints wandered along the runway. Beautiful leopard mixing with corals and blues; I was enchanted by the long playsuit with spaghetti straps in blue mix match print. The collection was fun, carefree and a little bit mysterious. Much like the Tigerlily woman.
See a more detailed review and fabulous images with the LadyM Presents review here.
Pia Boutique
Parnell fashion destination; Pia Boutique opened their runway show with a great live performance from Esther Stephens.
This was a show of current season, Spring/Summer 13; Whimsical pale pinks, skater skirts in almost psychedelic black and white. Packing a punch was a hot pink cross hatch crochet style short sleeved top with superbly well tailored casual trousers - something to liven up the season. This style continued in similar cut top and three tone short set that would look fabulous worn out to a bar with staggering high heels in the heat of summer.
Pink was the mainstay colour of the collection in range of girly hues. Floaty ruffled sleeves on dresses, loose cut pyjama style trousers that would be a dream to travel in.
Just as we thought it was all about girly hues. The luscious royal and cobalt blues mixed with white sprung up on us. Equally feminine in a great skater style skirt worn with long sleeved white ruffled blouse looked stylish and ever young. The same print but more grown up featured in a blouse this time teamed with royal blue zip up the front skirt. There was something a little tropical about the collection. Perfect for island hoping over the summer worn with simple gold wedges or white flats. The finale dress was a winner; spaghetti strapped, long ruffled dress perfect for cocktails as the sun goes down.
For more images check out the LadyM Presents facebook album.
This concludes our coverage of New Zealand Fashion Week but you can find more on LadyM Presents to keep your fashion needs satisfied.