FAB1 Million is unique, a campaign of this nature has never been done before and without a blue print to follow, its been a challenging and exciting experience. No day is the same!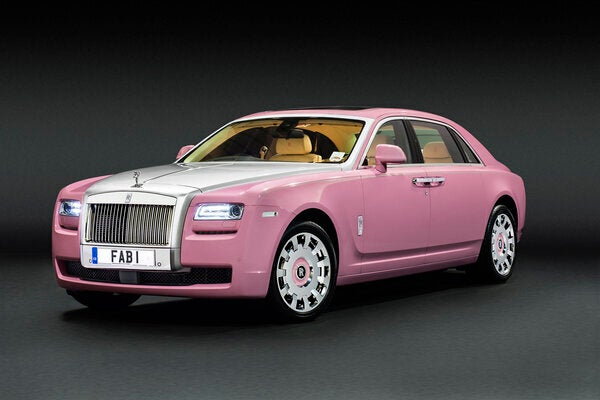 FAB1 Million was the brain child of broadcaster and self confessed car nut Chris Evans. He had owned the Thunderbirds™ FAB1 number plate for a few years, and realised he could put it to good use to benefit those affected by breast cancer. His mum had experienced a diagnosis of the disease, so it's a cause close to his heart, and as the only UK-wide charity providing specialist support and tailored information to anyone affected by the disease, he knew what a difference £1million would make to Breast Cancer Care. Chris went into his local Rolls-Royce dealership, put his idea to the manager and before you could say "Thunderbirds are go", FAB1 was born!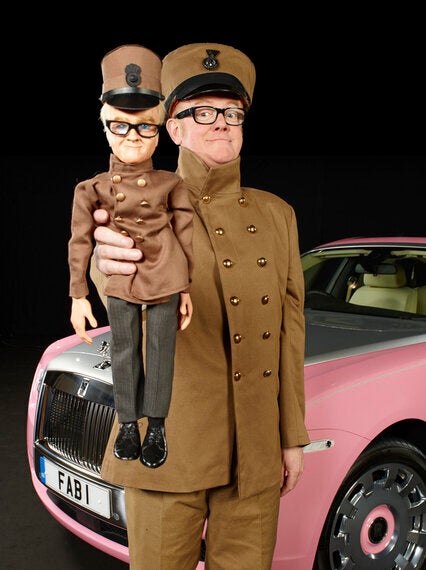 The campaign was launched in April with a huge road trip. The mission was to get from John O'Groats to Lands End in 24 hours. The car travelled with a celebrity entourage like no other, Chris Evans, Gary Barlow, James May and Professor Brian Cox. Imagine the playlist and banter! Unfortunately what went on the road, stays on the road so I can't divulge much information! But we all know about Gary losing his bespoke camping gas cooker... fortunately we found it before real upset occurred as he was designated Head of Catering for the trip! The journey was a fantastic way to get the project off the ground. It was also the perfect opportunity for people to come and see FAB1 for themselves and get to know more about Breast Cancer Care. There were people standing on motorway bridges and by roundabouts in their dressing gowns to wave to the fab four! We even had a police escort. Something none of the passengers had experienced before.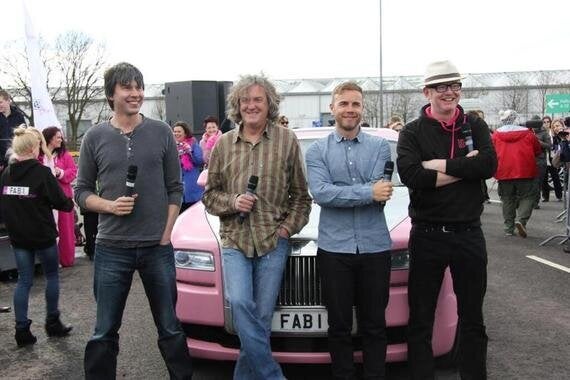 Since FAB1 took to the road, every day has been different. We have had some weird and wonderful opportunities come our way, from meetings with huge corporations and invites to exclusive events, to being donated a pink boat! We are leaving no stone unturned in order to get to our £1 Million target, creating some incredible long term contacts for Breast Cancer Care.
We have been lucky to harness the influence and power of the entertainment world for FAB1 million, which has been key to the success of the project. Because breast cancer has sadly affected some many people and we had Chris Evans spearheading the campaign, many doors have been opened. One of the most exciting days was winning a charity slot for the BGC Charity Trading day where artists including Penny Lancaster, Rod Stewart, Melanie C, Gary McAllister and Alex Jones graced FAB1's seats!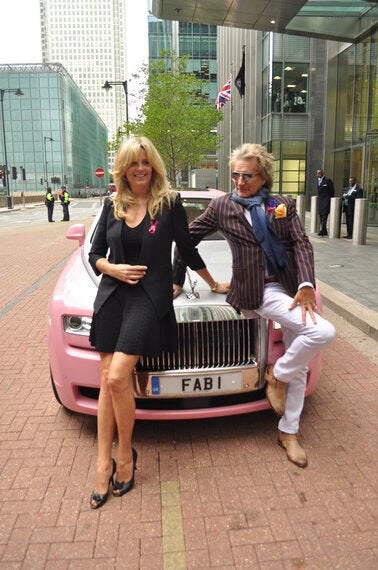 Since the beginning of the campaign I have been lucky enough to meet some incredible and inspiring people who have been affected by breast cancer. One volunteer, who has used our services, has dedicated an incredible amount of time to help at events in return for all the help and support she has received from Breast Cancer Care. Its puts all the hard work, weekends and late nights into perspective knowing that every penny FAB1 raises will go towards helping people live with, through and beyond breast cancer.
I must also thank the unsung heroes of this project, who have donated their time and resources in order to make this happen. From the free chauffeur service from Rachel Bowen Associates to Rolls-Royce for lending us the car, PAA, Brand Events and Scarlet PR, to Best Log who transport FAB1 all over the country for free and Hiten Vora in Chris Evans' office - there are too many to name here. It's been a real privilege to witness the kindness and generosity of the Great British public.
In order for FAB1 to raise £1 Million we really need your help. FAB1 is available to hire. At £2,500 you can have the car for a day, with a chauffeur and a bottle of Pink Laurent Perrier champagne! Whether it's a wedding day or attending the latest film premiere, we provide a bespoke booking service with highly trained, professional chauffeurs - or 'Parkers' - to boot!
For all those car enthusiasts out there, here is a bit more about this bespoke vehicle, it's an extended wheel ghost - the interior is stunning and decked out in cream and pink. There's a fridge, television, massage seats - it's the height of travelling luxury. Lady Penelope would definitely approve!
If you haven't got £2,500 spare, to experience FAB1 all you need to do is text 83222 and donate £5 to Breast Cancer Care to be in with a chance of winning the car for a day. Remember to keep an eye out for FAB1 around the country, and be sure to *toot* and say hello!