The original rock chick Jo Wood shows her support for change in the fashion industry by opening the Models Of Diversity fashion event.
Ahead of the biggest event in any fashionistas diary, London Fashion week.
Days full of fabulous shows, outrageous outfits on the front row and skeletal teenagers strutting down the runway with the garments hanging off of their tiny frames.
Each year the nation are shocked with the images of the painfully thin models, however designers such as Victoria Beckham who is also famed for her waif like figure continue to use them.
On the other hand we have size 26 plus size supermodel Tess Holliday Strutting down the catwalk at plus size event Curve Fashion Fest at the weekend
Models Of Diversity set the bar high showing the fashion industry how it should be done with a high fashion catwalk show with ALL types of models because fashion is for ALL.
Located in the ever so trendy location of shoreditch at the Old Spitalfields night market which is surrounded by cool bars and places to eat whilst picking up the latest fashion trends along to music thanks to Hoxton radio.
Ahead of the show I popped backstage to mingle with the MOD crew, Models Of Diversity CEO Angel Sinclair looked stunning in a fitted red dress and jewels giving direction to all of the team.
The energy backstage before a show is always exciting, with models being put through hair and make up, cameras everywhere capturing every moment.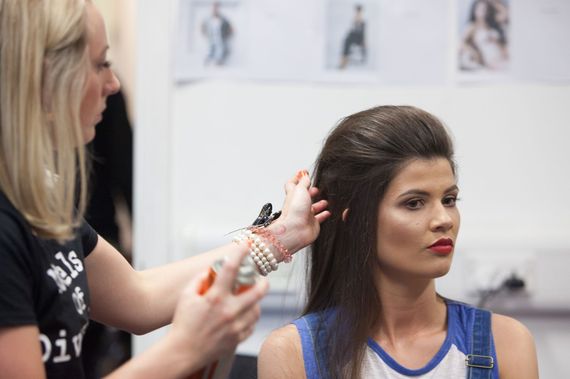 Ed Igroover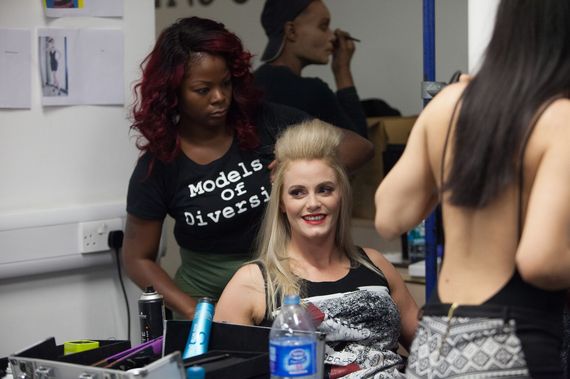 Ed Igroover
Show producers Oliver Morris and Sue Flood give the models a final pep talk before the first show commences, as I rush off to my seat to soak in the atmosphere before the show begins.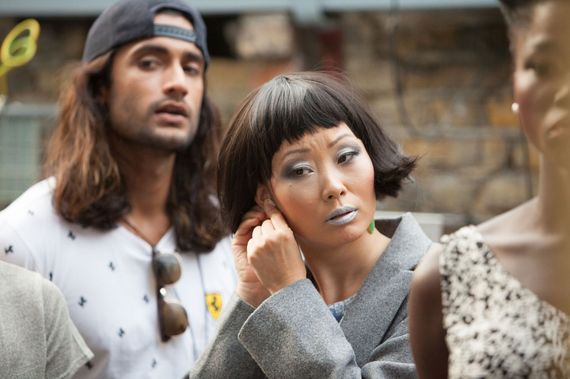 Ed
Spotted in the audience was the beautiful former Made In Chelsea star Ashley James.
Rocking an Adidas tank dress teamed with red Converse and matching pillar box red lipstick which looked stunning against the Hoxton radio presenters fair hair and complexion.
Ashley was accompanied by friends and was seen enjoying the food that Old Spitalfields has to offer.
Ashley James with Sue Flood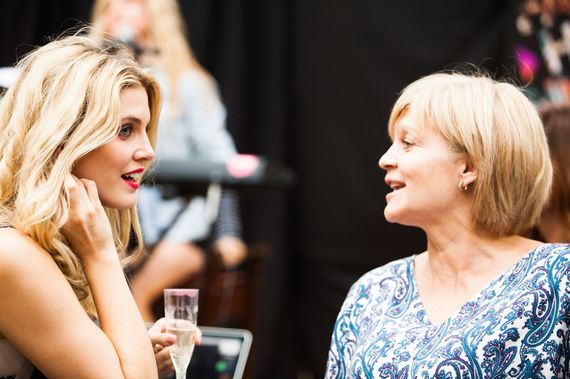 Ed Igroover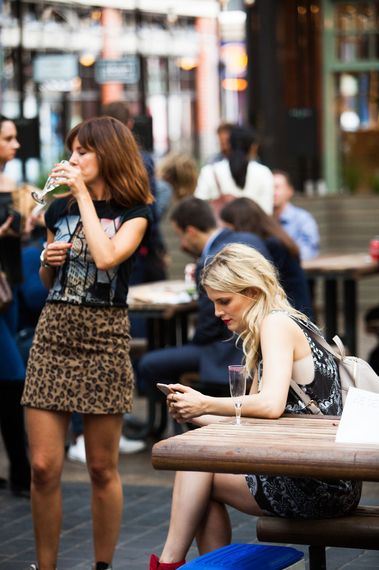 Ed Igroover
Models Of Diversity CEO Angel Sinclair and friends watching the show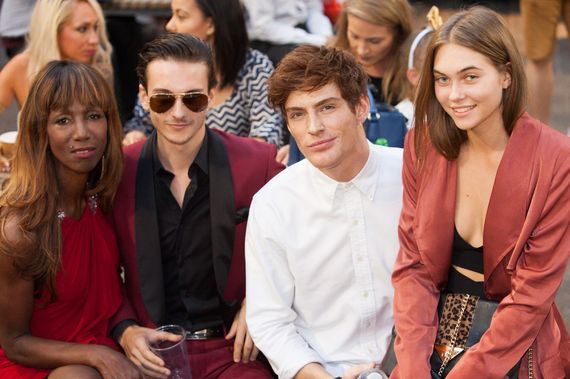 Ed Igroover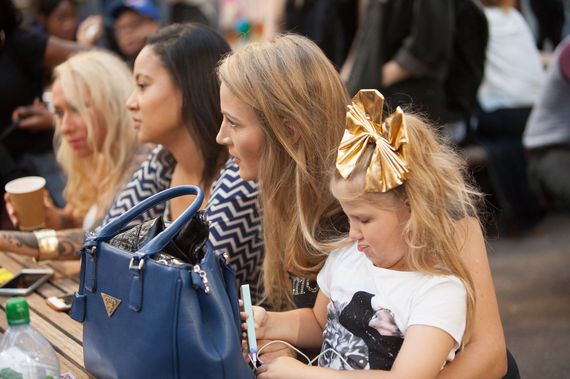 Ed Igroover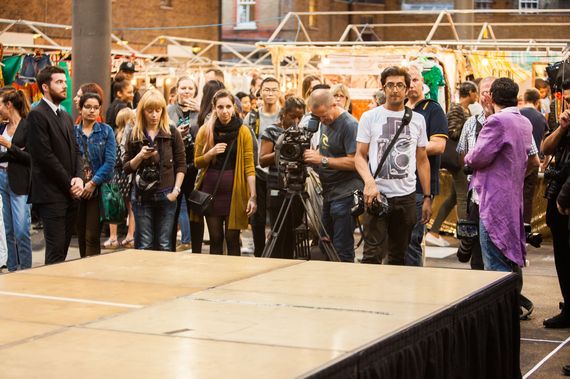 Ed Igroover
Celebrity vocal coach and Songs Of Praise presenter David Grant opens the first show. The crowds are full of eagerly waiting fashion lovers.
David Grant showing his support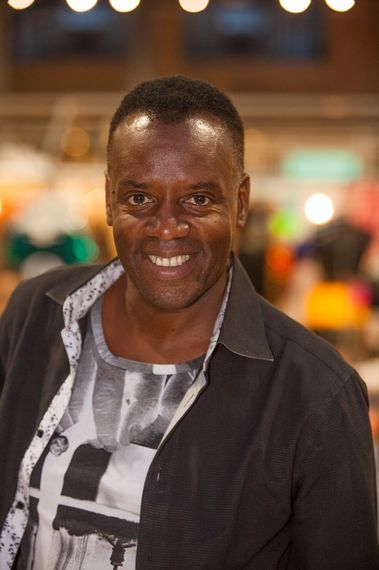 Ed Igroover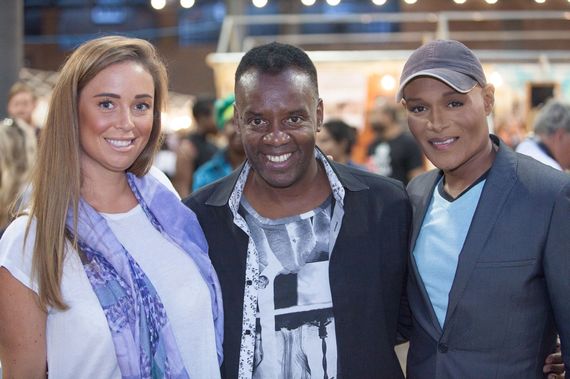 Ed Igroover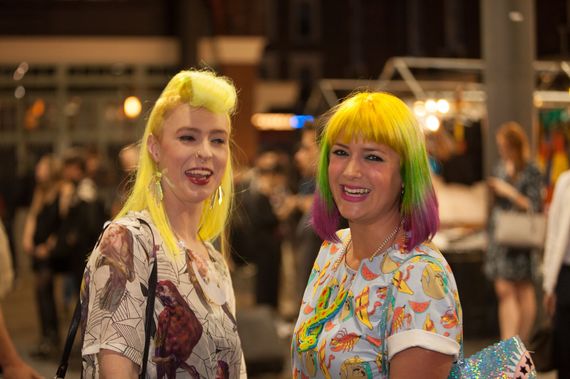 Ed Igroover
Opening the show was Models Of Diversity model Jack Eyers who has also graced New York fashion week and also landed the front cover of Men's Health magazine. Jack was modelling clothing from Gandys with footwear from Shoe embassy.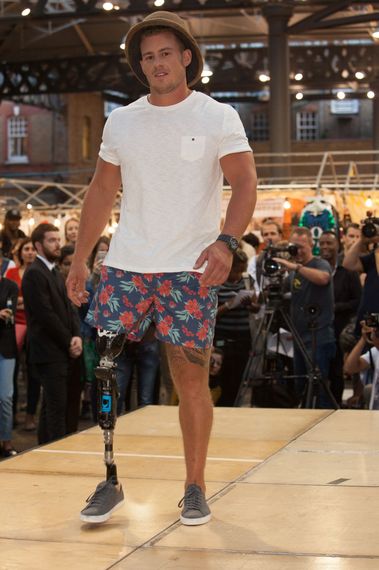 Ed Igroover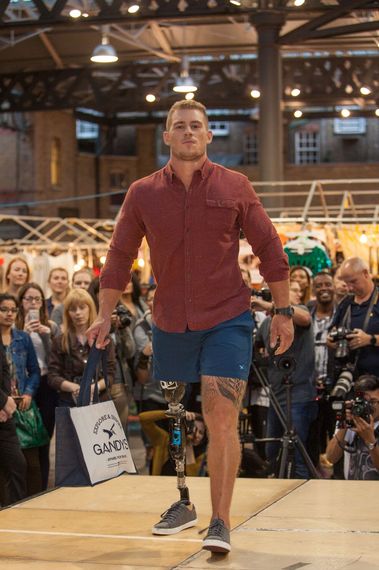 Ed Igroover
Curvy model Terri stunned in a red figure hugging dress from Collectif clothing that accentuated her toned curves teamed together with jewllery from Mercantile and heels from Shoe Embassy. To finish the look Terri donned a show stopping quiff thanks to the Fiona Chaffey hair stylists.
Ed Igroover
Model Nikki stunned the crowds proving fashion is for all as she gracefully wheeled herself down the runway wearing a very cool blue and white dress from Collectif with Flamingo print. Nikki's natural beauty shone through with natural make up with a dark red lip, perfect for the autumn/winter season.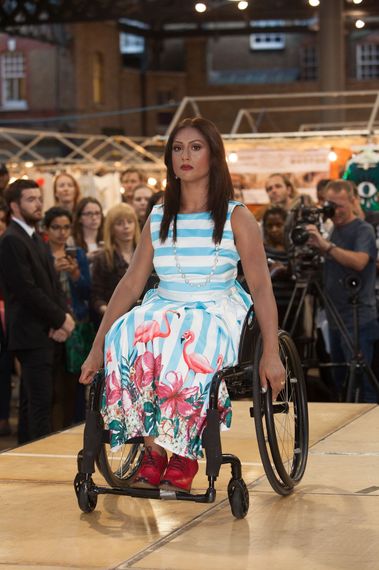 Ed Igroover
The Saima Kiran make up team created the looks for the show. Saima explained "We wanted to keep the make up natural but adapt it to each model's skin tone and outfit"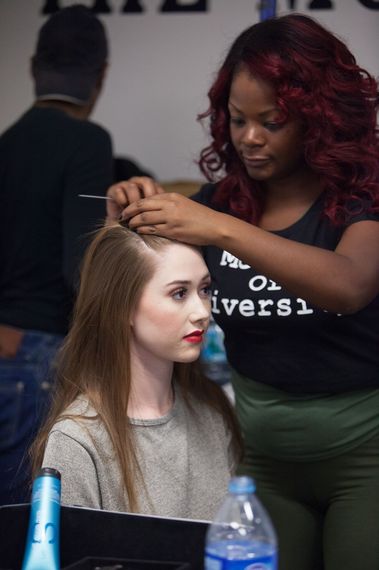 Ed Igroover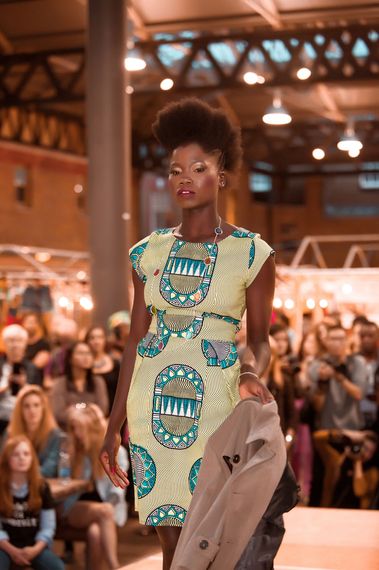 Ed Igroover
Show one is a success a quick race upstairs and we have rock royalty in the building, the ever so glam Jo Wood.
Models Of Diversity CEO Angel Sinclair with Jo Wood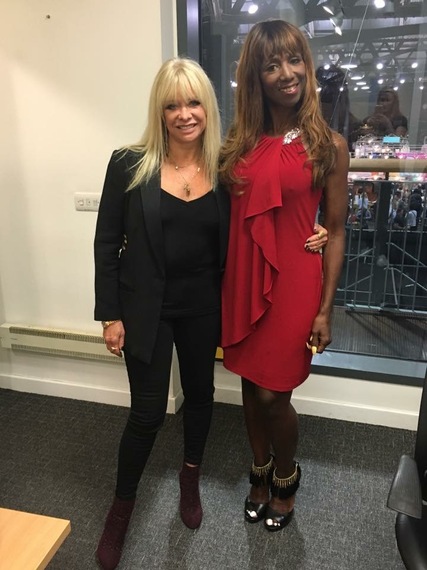 Models Of Diversity CEO Angel Sinclair and Jo Wood enjoy a chat backstage before gathering all the models together to be photographed by the press.
I have a chat with Jo who is so pleasantly friendly, taking a shine to my daughter Tianii, 4.
I asked Jo if she feels the fashion industry is changing in terms of diversity, she was quick to answer "NO!" she continued "The fashion industry still have long way to go" we both agreed that fashion is for everybody and if there were a better representation of models many women would not feel the pressure to look a certain way.
Jo knows to well how hard it is to feel the pressures of the industry "I was not your typical looking model, I was not as tall as a standard model and I was put under pressure to lose weight". I was honestly surprised and saddened that a woman as beautiful as Jo would have been made to feel she was not good enough. And her mixed race background should be celebrated because each of our differences are what make us unique and beautiful.
Jo was dressed in a pair of tight black skinny jeans that showed off her amazing legs teamed with black top, blazer and purple ankle boots.
Asking Jo how she would sum up her fashion style in one word after a little thought "umm eclectic!" And I could not agree more. She truly is a kind down to earth lady who I have had the pleasure meeting.
Jo Wood with Jack Eyers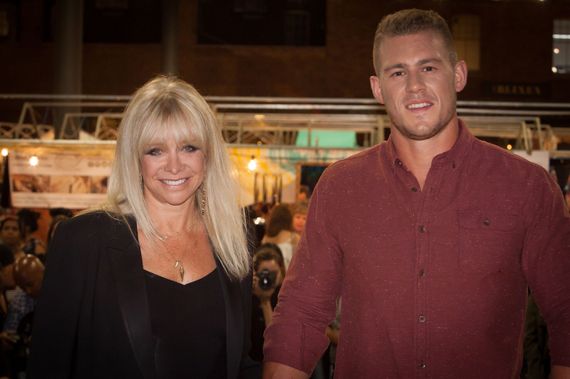 Ed Igroover
Time for the second show and our rock chick Jo is introduced to the stage as she announces the face of Old Spitalfields market who had been spotted by MOD model scouts. And has been lucky enough to win a photoshoot with Models Of Diversity.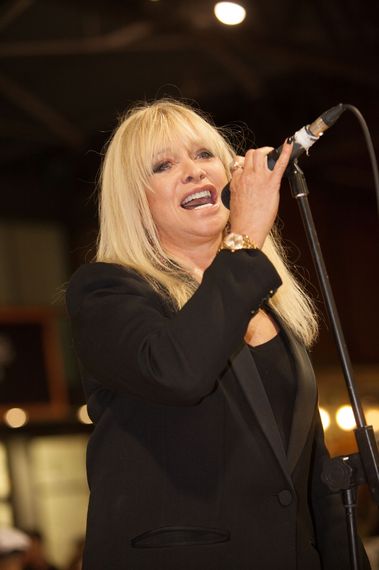 Ed Igroover
Again stunned by the second show with leopard print, velvet and monochrome trends. Each model was unique, models of colour to curvy models all in one show everyone included and everybody represented.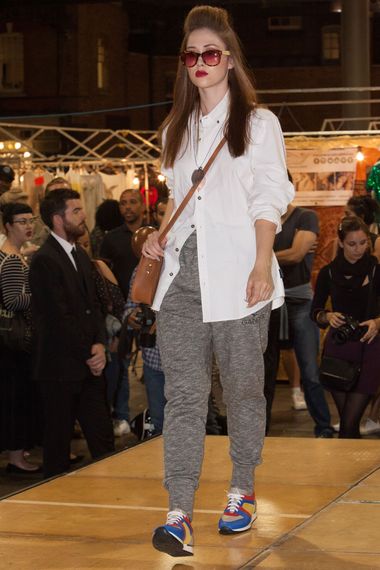 Ed Igroover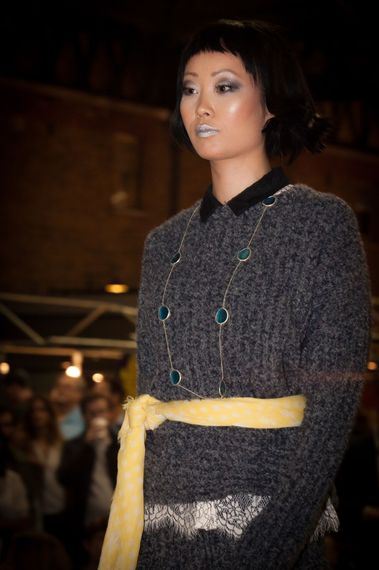 Ed Igroover
Curves on the catwalk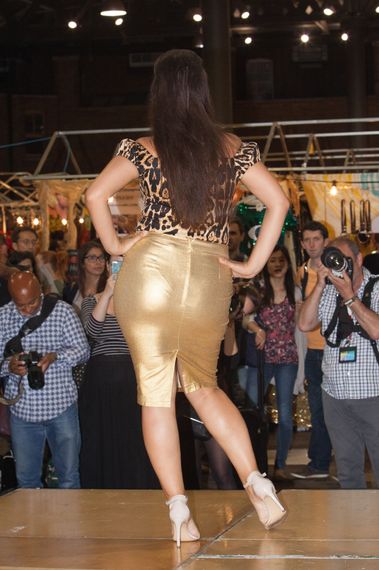 Ed Igroover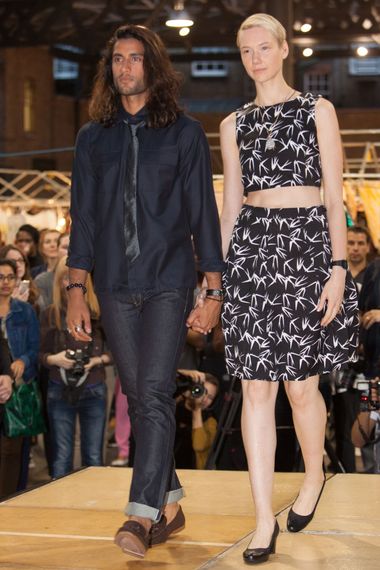 Ed Igroover
My shining star of the night, Model Nikki came on the stage at the end of the show and gave the audience a little background story of her experiences and her mission for change and every single person listened, so I hope the fashion industry listen too.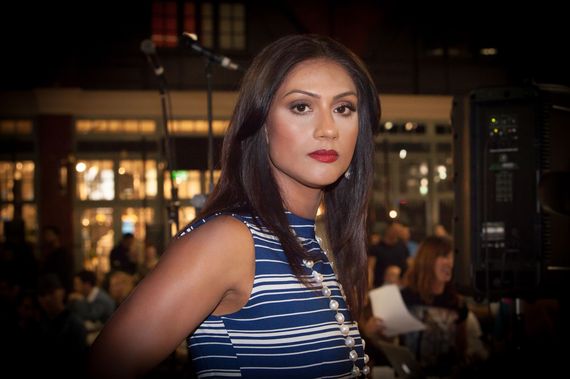 Ed Igroover
Models Of Diversity have just shown everyone how it is done and will continue to do so.