This son of a Cornish fisherman has finally come home.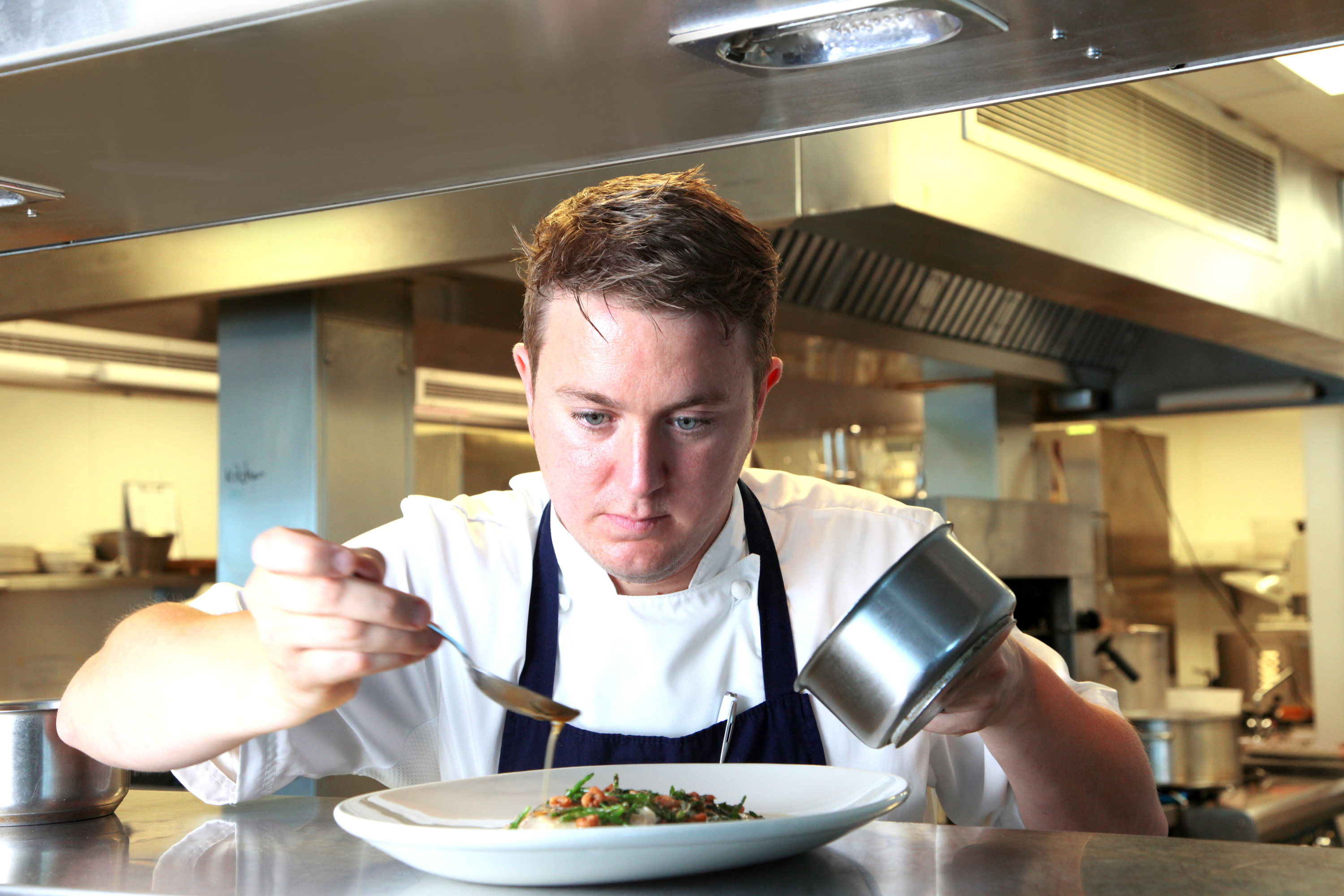 Jamie Porter has worked with some of the best in the business: Michel Roux senior at the three Michelin star Waterside Inn, Stephane Delourme at Rick Stein's Seafood Restaurant and he helped set up the kitchen at the excellent Rafferty's in St Merryn (as reviewed on saffronbunny.wordpress.com). He has now come 'home' to the St Moritz as an experienced and ambitious head chef, where he worked in the early stages of his career. "It's an amazing opportunity for me," he states.
It was as a sous chef at the Seafood Restaurant where he says, "I learnt the most; that was where it clicked, I love seafood and after that I felt ready to do my own thing." His move to St Moritz means that he effectively takes over three restaurants and is determined to make seafood "the main event." Boiled Padstow crab, steamed Camel Estuary lobster, Porthilly mussels and oysters as well as locally caught fish from his dad's boat at Newlyn- the Sparkling Line- will all feature heavily on the menu.
To prove him right (or wrong), the doctor and I kicked off with seafood: a Cornish crab salad with crispy langoustine, mango, spring onion, basil and soy for me and a Camel Estuary lobster salad with orange and sea purslane for the Dr. The lobster dish was less salad and distinctly more lobster: succulent chunks of flesh topped with trendy micro leaves. The crab - light and livery from the combination of both brown and white meat was given gravitas by the fruit: mango and passion fruit, as well as a mustardy mayo. The mayo felt like an extra, the rest was a winner. The Dr raved about the lobster: "totally perfect" and "spot on". Unfortunately our waitress was unable to recommend a wine, so we went for our own choice of a Gerwurztraminer.
For main course, I embraced my inner veggie and went caramelised cauliflower and broad bean risotto and the Dr went for a personal favourite: Cornish Duck breast with hispi cabbage, fondant potato, carrot purée and sour onions. It's rare to get a restaurant risotto this good; the UK is very good at churning out savoury excuses for rice pudding. This one had a bite of salt from the Parmesan, a hint of summer green from the beans and a flourish of golden umami from the roasted cauliflower and fresh white truffle slices on top. The Dr's duck was perfectly cooked and succulent, the veggies very good.
The final parting shots were a dark chocolate tart with coconut panna cotta and an almond pudding topped with pistachio ice cream, chased by a plate of petits fours consisting of some very excellent truffles and homemade macaroons. The tart pastry was pert and crisp, the filling cocoa-rich and luxurious and the Dr loved the pudding and ice cream.
Jamie Patrick Porter is a chef to watch and now has the space and location in which to expand and show off his creativity, hard work and talent. Once the staff match his knowledge and expertise with both the food and wine, he is set to put the St Moritz back where it belongs.