Learning to ski in your late-30s is potentially a daunting experience. Bones take longer to heal and the fear of resurrecting an old knee injury initially held me back. But let go, fall a few times and the sheer joy and pleasure of downward momentum in the bosom of the Dolomites is an addictive and exhilarating experience.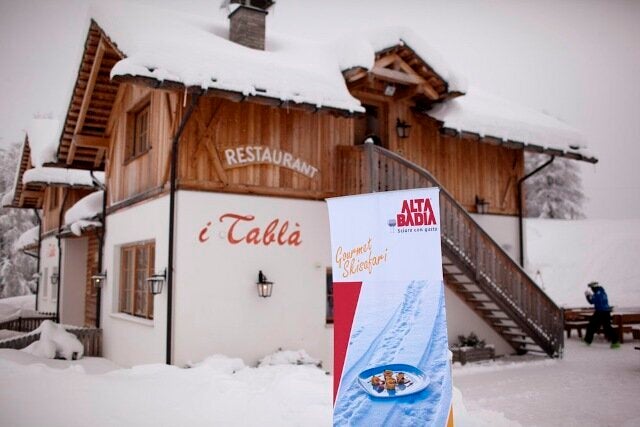 With the launch of the 2012 - 2013 ski season in Alta Badia comes not only the struggle of one more beginner on the nursery slopes, but a brand new concept in eating on the hop: Slope Food and the Gourmet Ski Safari. The idea is for skiers to ski from refuge to refuge, indulging in tapas-style food produced by six gourmet chefs, each matched to a local wine.
Alta Badia is uniquely placed to offer both top quality food such as excellent cured meats and cheeses, typical of mountain regions, but also some of the best wines in Italy from the country's smallest wine-producing area. After three hours of lessons, our first stop at Club Moritzino, a mere stumble from the 'bubble' lifts at Piz La Ila, was a welcome pit-stop.
Lorenzo Cogo from the restaurant El Coq in Vicenza, is at 26, one of the youngest Italian chefs with a Michelin star. His creation was a vegetarian salad with flowers, fruits and herbs from the South Tyrol. On paper, dull. In reality, it was exquisite: the salad was inside a plastic dome that had to be shaken to release a pink beetroot dressing encased in a white chocolate ball. He bravely admitted that he was "sick of pork" (especially the local speck) and wanted to do something different. The apples, chestnuts, hazelnuts, leaves cabbage and croutons were washed back with a glass of fresh Alto Adige sauvignon.
Also at Moritzino was Matteo Vigotti from one of the most famous eating establishments in Milan: the renowned deli and restaurant Peck. His slope food was an arc of crispy local black bread filled with a Parmesan pudding, South Tyrolean apples in a 'mostarda di mele' and the ubiquitous speck. In effect, gourmet scrambled eggs and bacon with toast and a hint of sweetness from the apples, finished off with a glass of aromatic gewurztraminer.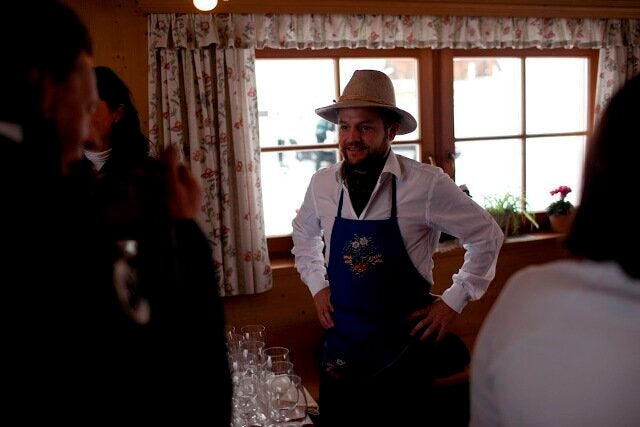 An exhilarating ski or skidoo ride away (for the less able) was the refuge I Tabla where the only British chef, John Burton-Race had prepared a Cornish speciality, joined by Arturo Spicocchi from the Michelin-starred La Stua de Michil in Corvara. Arturo's pigs cheeks browned in South Tyrolean honey, on a potato and horseradish foam with crispy speck was gutsy and filling, the foam delicious, the cheeks a little tough. Paired with the dish was an exquisite St Maddalena, the best red of the trip so far for me. It was light, making it an ideal afternoon tipple but had a fruity depth and complexity.
John Burton-Race, Michelin star chef and TV personality had bravely given the humble Cornish pasty an Italian makeover with South Tyrolean beef, speck and apple. The pastry was a little dry and the cut of beef probably too good to be in a pasty but the idea did fit the brief the best; the pasty is the ultimate in portable dining. We followed not with the traditional Cornish ale, but another red, this time a laGrein, velvety and aromatic.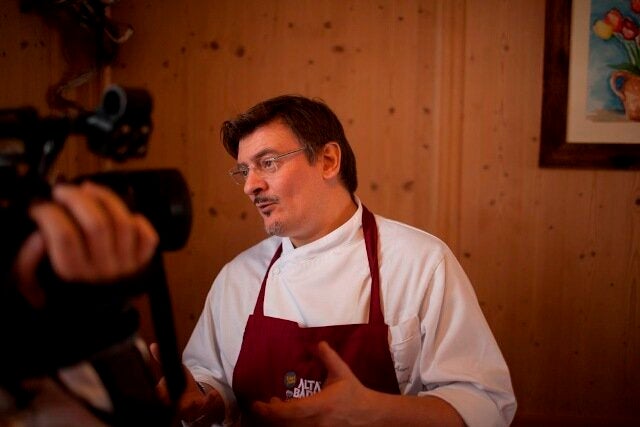 The final two slope food options were the work of two Michelin star chef Norbert Niederkofler of local restaurant St Hubertus and Fabio Cucchelli of the Michelin-starred La Siriola. Norbert presented three mini cones featuring in turn a filling of: tartare of char fish; cheese foam and white onion braised in white wine vinegar, all served with speck, horseradish and cucumber and a glass of gewurtzraminer. Fabio Cucchelli had cooked up a fish soup with baccalà, polenta and crispy speck, matched with a fresh pinot bianco.
Priced at nine - 15 euros per dish with wine, Alta Badia's foray into Slope Food and the Ski Safari offers excellent food from some of Italy's finest Michelin-starred chefs in a portable and affordable package. The idea not only echoes the current popularity of gourmet street food which has stripped eating back to the bare essentials, but is a culinary and cultural tour of some of the best products, wines and chefs in the region.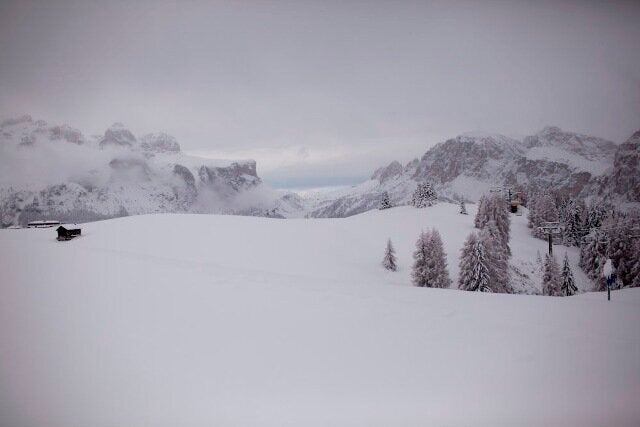 Nothing builds up an appetite more than what feels like imminent death on the chair lift, sustained humiliation on the nursery slope and the final elation of completing your first 'run'. The emotional rollercoaster of learning to ski coupled with the reward of such top quality food and wine turned a 'sports' holiday into an unforgettable gourmet experience.
Rachel flew with British Airways from London Gatwick and took a private coach to Corvara (about 180km). Transfers from Milan airports take about twice as long.
Rachel travelled with the luxury holiday specialists Powder Byrne who offer a bespoke 'unpackaged' service, complete with concierge, ski managers and guides. To book call 0208 246 5300 or visit www.powderbyrne.com
The Slope Food and Ski Safari program runs from 2 December 2012 until 7 April 2013. For more information on chefs, refuges and ski routes as well as other local events and ski packages visit www.altabadia.org