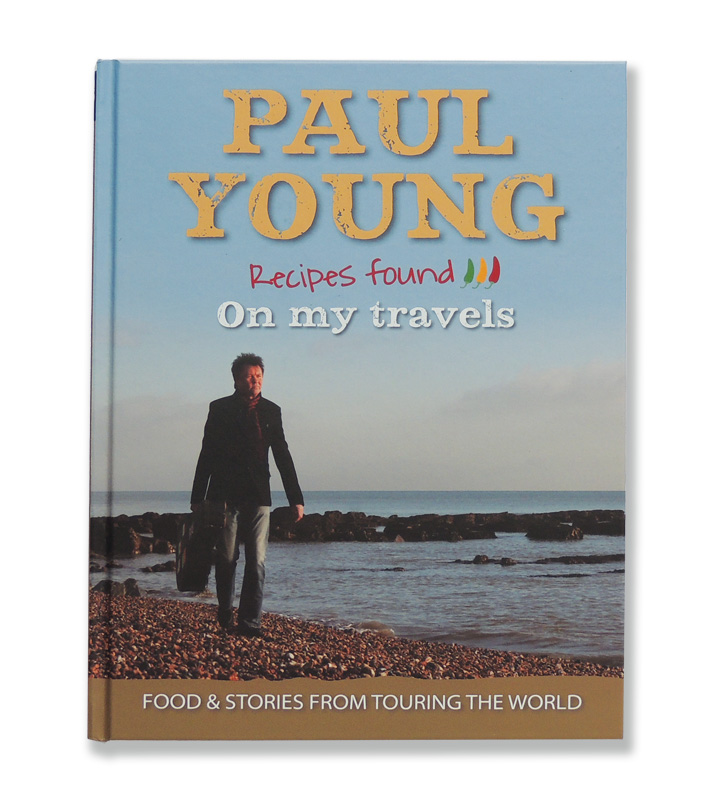 The young 80s pop icon, Paul Young, famous for hits such as Don't Dream It's All Over, Senza Una Donna and Every Time You Go Away, has thrown in the microphone, spiked hair and tight leather trousers for chef whites and a sharp knife. The man that once made women weak at the knees (including mine ahem) with his music is now stealing his way back into their hearts with the likes of huevos rancheros, barbecued shrimp and New Orleans bread pudding.
Knowing that he cites Marco Pierre White as an "inspiration and a friend", has already featured on Hell's Kitchen and Saturday Kitchen and that he thanks Gennaro Contaldo in his preface, musician Paul's slick move into the world of celebrity cooking is less of a surprise. What does surprise however, is the book's production: 100% Cornish, shot entirely in the county, using local ingredients, local chefs and published by St Austell-based collective: Langan & Such Enterprises.
Recipes Found On My Travels is a direct result of Paul's days on the road as a musician. With flavours from South America, Italy, Mexico, Portugal and the UK, it's certainly a cosmopolitan journey into cooking and for Paul, brings together: "food I tasted around the world that ignited my taste buds and that I wanted to make for my friends back home." He would often teach himself how to cook local dishes by buying cookbooks from the region.
In his eyes, cooking and music are both sensual experiences that transport us to different places: "I've always thought that music and food go hand in hand; if you hear music from a certain part of the world, you can sometimes shut your eyes and put yourself there. If you've got the food as well, you're hitting two of the senses...why, it's almost like a cheap holiday!"
Such a happy marriage of music and food means that once known for songs such as he is soon to become famous for dishes such as penne with fig sauce, venison red chile, homemade guacamole and sweet potato pecan pie. Divided into soups, breakfast and starters, pasta and risotto, meat, seafood, desserts and side dishes, the book is a comprehensive collection of family favourites, easy-to-impress dinner party ideas and some more complex dishes such as pollo mole, a Mexican celebration dish that involves some pre-planning and preparation.
The style is informal and affable, much like getting a recipe from a mate; each dish introduced with a little anecdote or narrative and unlike so many celebrity chefs, for whom personality is the main ingredient, for Paul, it's a love for food and the relationships built around it, that take centre stage.
There's a little treatise on tequila, the difference between the stuff we shoot back after a pint and the pleasures of sipping gold or silver tequila, why it shouldn't actually give you a hangover and why paying £40 or more for a bottle will turn it into an entirely different experience. At the back, black and white photos and a biography track Paul's work as a musician from the early days in the 80s as a solo artist to his current group, Los Pacaminos, which he formed "simply for fun": a seven-strong line-up who often play London bars and pubs.
Each recipe is meticulously illustrated with photos by John Such (suchgoodpictures.co.uk), who was also the inspiration behind the project, working alongside business consultant Gary Langan (silvenconsulting.co.uk) and designer Richard Elwell (elburydesign.com). John spotted Paul cooking on TV and was so convinced that he had a real talent that he phoned him and suggested he should publish his own cookbook. 18 months after the original call, the book is now hitting kitchen shelves and is available to buy from Amazon as well as Waterstones.
The book features Cornwall heavyweights such as Paul Ainsworth at Number Six and Simon Stallard of The Hidden Hut cooking with Paul at Heligan, as well as the team at Knightor and Lobbs Farm Shop, combining international celebrity with the best of local and Cornish. Paul will be signing copies across the county this summer at the following venues and times next week. For more information on Paul, recipes, review copies and interviews please go to paulyoungonmytravels.com/index.php
Wednesday 1/8/12
Evening - Event at Hustyns Wadebridge from 7.30 pm
Thursday 2/8/12
AM - The Lost Gardens of Heligan 11am -1.30pm
PM - Glassblowing House, Plymouth 3.00pm - 4.30pm
Evening - Event at White Horse Inn, Launceston from 7pm
Friday 3/8/12
AM - National Trust - Cotehele 10.30am - 12.30pm
PM - National Trust - Saltram 2.30pm - 4.30pm
Weds 8/8/12 Evening event at Hustyns, Wadebridge
Thursday 9/8/12
AM - The Lost Gardens of Heligan 11 - 1.30pm
PM - The Eden Project 2- 5pm
Friday 10/8/12
AM - National Trust Glendurgan, near Falmouth 10.30 - 12.30pm
PM - National Trust Trelissick Garden, near Truro 2.30 - 4.30pm
Saturday 11/8/12 Waterstones, Truro