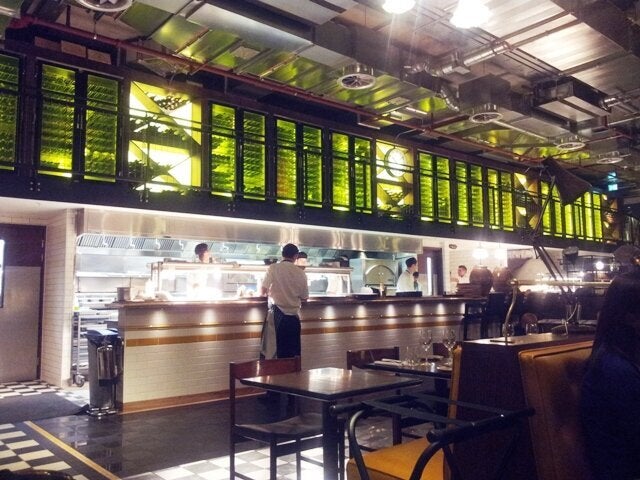 BSK IS LIVE shouts the website, much as GR would shout f*** or b******* in an episode of Kitchen Nightmares which was ever so exciting for a while and then became a little dull. Yes, I had a minor chef crush on him (still do actually, sorry Hugh): credentials such as alpha male, ex-pro footballer, massively successful chef with his own pigs, entrepreneur and general charmer of ladies are qualities enough to make anyone's Victoria sponge rise without the need for bicarb.
After a recent and brief foray into Asia on our TVs, Ramsay has disappeared behind our TV screens to build an empire of food. The BSK is just this: a sexy theatrical warehouse hung with reclaimed lightshades, lamps and iron bars to the tunes of dance music and moody (mostly green) lighting. Bang in the centre of The City, in the silver spaceship that is the One New Change mall, Ramsay's Bread Street Kitchen hides just around the corner from Jamie Oliver's equally slick Barbecoa.
I don't mean to be cynical but after the FT's interview with chef director of BSK Stuart Gillies, I can't help but agree with him: "We wanted the quality and standard that Gordon and I are known for. But we wanted it to be about an experience - you can come because it's a beautiful room with great music, or you can come for the cocktails. You don't have to come and say 'the food's amazing'". And that is the essence of BSK. The location, lay-out and portion sizes are all indicative of a machine intended to make money. Albeit a very sexy machine. And the food comes a close second.
Oysters on the half shell with cucumber, chive vinaigrette - so good they were gone before I could shoot a pic
Suckling pig - that decadent Sardinian speciality - almost tender with almost crispy skin - some rolls of uncooked fat left on the plate. Side order of mash and carrots.
Steamed bass, smoked aubergine, savoy cabbage, Castelluccio lentils, roasted pumpkin - delicate and delicious although salty (my brother argued this is to be expected when you eat out, I begged to differ) - I do like a bit of crispy fish skin too, but being poached bass - no such luck.
Notes: the menu is imaginative and totally, almost aggressively old school British (with a sprinkling of Italian) which I loved. Neglected classics such as veal chop, venison and pork collar and even side dishes of coleslaw and macaroni cheese inject a retro revival theme but there was a distinct lack of offal - not quite sexy enough for the city slick? Three separate menus in one would have had Ramsay roaring with horror in another life on Kitchen Nightmares: "Keep it f***ing simple!"
Vegetarians, don't even bother, Ramsay hates you even more than I do - you're offered bread (well flat bread with squash, Taleggio, caperberries) cheese (of the oven-baked burrata variety with heritage tomatoes and onion tart), soup, ah no, that's white onion soup with cured ham and a cheese twist, or toast (cep toast, poached egg).