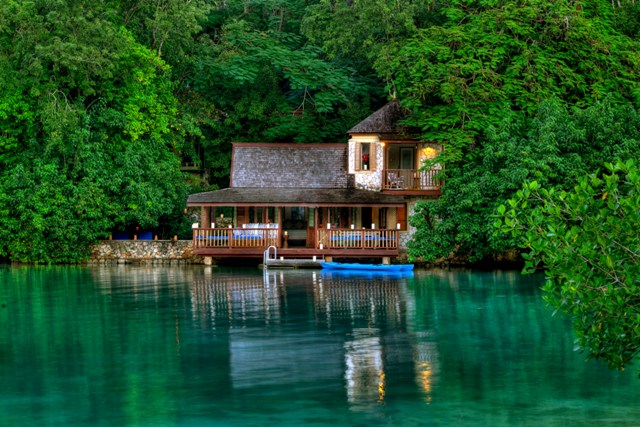 Tea for me is golden, normally builder's and taken several times a day. I didn't expect to be lying in a bath full of it. Outside. In the Carribbean. At one of the world's classiest resorts. Was I being led up the garden path to the mad hatter's tea party or about to experience a refreshing revelation in the spa world?
The 'bush bath' is actually a regular Jamaican household treatment that grandma would recommend in place of a doctor: tamarind and ginger for measles, garlic tea for stress and leaf of life for a cold or high fever. Similar to hydrotherapy but without the intrusive jets, leaves or roots are initially boiled to release their potency and the concentrated tea is then poured into a warm tub. In essence then, not much different from the concept of adding essential oils to a hot bath. These oils however, came from leaves plucked only minutes earlier from the grounds of the Goldeneye resort based on an old Jamaican recipe.
FieldSpa ticks very few of the conventional spa boxes. Given its exclusivity, the calibre of guests and that you may find yourself breakfasting on Blue Mountain coffee alongside Island Records' founder and resort owner Chris Blackwell, there's a real sense that this place eschews boxes and boundaries. Wrapped in water (a lagoon on one side, the Caribbean sea on the other), the former home of Fleming and current playground of the rich relaunched as a resort in December 2010 and with it came a whole new concept of spa treatments.
The spa ethos is firmly grounded in the outside. No music, just bird calls and an occasional whisper of shifting leaves. Guests can swim, kayak or jet-ski to appointments. Doors and windows are flung wide open to water vistas and freestanding bath tubs take centre stage in the gardens. Where you would expect to see product endorsement, you'll see only bamboo, white cotton, dark woods. Clients can't buy any of the products yet, not even the cold-pressed coconut oil in which Grace Jones apparently slathered herself with delight. The next best is to buy your own from a supermarket.
FieldSpa's director is ex-Olympian triathlete, Iona Wynter-Parks, an elite sportswoman and the antithesis of lotions, potions and tubular bells. She is determined to make the spa stand out and doesn't want "icky" as she calls it, that fluffy, hippy, new age whale music stuff that is ultimately two-dimensional: "The ethos here is for guests to tap into the environment around us and feel so comfortable that they can fall asleep on the table." And I did, for half an hour so I'm told.
The authenticity of a return to nature for a sense of wellbeing was irresistible. I took Newton's barefoot lead up the stone steps to one of three treatment rooms built into the limestone cliffs, just a few hundred metres from the famous Fleming beach. Outside among the leaves and with a view out to the Caribbean, I gently lowered myself into a giant cup of tea brewed from pimento leaf, ginger, leaf of life and tamarind.
The combined intention of the soak was to calm the skin, relax the muscles and draw out toxins. I sank into the herbal warmth and succumbed to the potent brew. The effect was complete and sensual, holistic and fragrant, an ideal preparation to still the mind before the massage that followed. It may not give that mid-afternoon caffeine hit, but the 'bush' bath certainly hits the spot by intensifying any post-brew treatments.
The therapists at FieldSpa have developed the treatments themselves, sourcing products from the local market as well as the surrounding area. Rather than a purely product-led experience this felt like a new direction in the spa world, based on local knowledge passed down through the generations and demonstrating a renewed confidence in nature. And where better for it to emerge than an island where locals, particularly Rastafarians, are used to living off and in the bush, machete-clad for the next available mango or coconut.
Bush culture defines the island, much as reggae and Chris Blackwell do, rum and sound systems, coffee and jerk chicken. The influence of America is inevitable, Kentucky Fried Chicken, battery-farmed birds and eggs are beginning to replace traditional yard birds, but just as he did with music, so Mr Blackwell is beginning to tap into the authenticity of the island's heritage, by going straight to the source.
Fly to Montego Bay in Jamaica with British Airways or Virgin Atlantic. The Goldeneye resort is based in Oracabessa, a 2-hour drive from the airport. Prices start from £355 per night based on accommodation in a lagoon suite, including breakfast and based on double occupancy. To book, visit www.goldeneye.com or call +44 (0) 1895 422 476. Treatments at the FieldSpa start from $75.