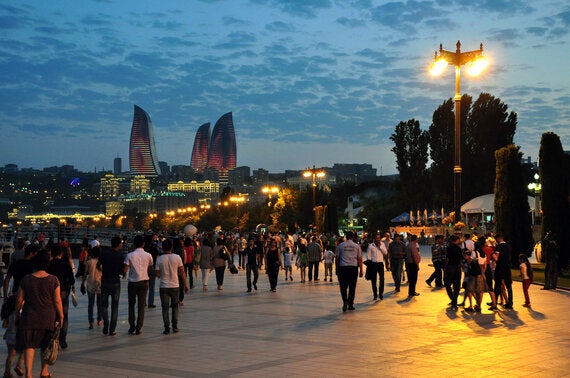 The modern Olympic tradition was born in Europe well over a century ago. But unlike Africa, Asia, the Americas and the Pacific, Europe has traditionally lacked its own set of Olympic-style games. In 2015, however, this is finally set to change, with the first-ever European Games bringing together the continent's finest athletic talent. Rather than London, Athens or Munich, however, this showpiece event is set to take place in Baku, the capital of the Republic of Azerbaijan.
The European Olympic Committee's conferral of this honour upon Azerbaijan is clearly yet another important milestone in the country's striking story of development. Having emerged from the ruins of the Soviet Union in 1991, it has steadily transformed itself into an increasingly prosperous and stable independent state.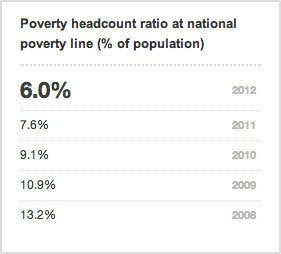 The country has already earned a reputation for its ability to impress on the international stage. In 2011, Ell and Nikki, a very fetching young Azeri duo, pulled off an unexpected victory at the Eurovision Song Contest, a competition that Azerbaijan had only entered for the first time just three years earlier. Their triumph gave their homeland the rights to stage the following year's event.
Azerbaijan did not disappoint on its big night in 2012. Baku Crystal Hall - a sparkling new 25,000-seater indoor venue - won plaudits from many of the delegates from the forty-two competing nations, and doubtless from many of the 64 million people from around the world who watched the contest on television. Its investment has continued to pay off since, helping to boost tourism in Baku, as well as attracting star acts including Jennifer Lopez and Rihanna.
The blossoming of Azerbaijan comes at a time when many other former Soviet states find themselves riven by economic and civil instability. Most worryingly, the internal strife within Ukraine has already spilled over into an international standoff between Russia on one side and the EU and US on the other. Understandably, the EU is getting increasingly nervous about the security of its borders and, in particular, its supply of oil and natural gas, much of which originates in Russia and flows through Ukraine.
Not only is Azerbaijan a stable nation at the gateway of Europe and Asia, but it also produces about 800,000 barrels of oil each day, some one billion cubic meters of gas each year, and is a net exporter of both. Much of the country's substantial gas reserves has yet to be fully utilised. Plans for a new pipeline carrying gas from the Caspian Sea to Austria are now afoot. This would provide a secure gas supply to the EU, while Azerbaijan could better reap the rewards of its proved reserves of 35 trillion cubic feet.
Azerbaijan, however, has much more going for it than just oil and gas, as compelling as the energy story is. Its population is young and well educated, with the average Azeri aged just 28, and a literacy rate of 98.8 per cent. The education system is robust with a growing number of students going on to higher education, an impressive 145,000 in total in 2012. The economy is also good at creating jobs, with joblessness dipping from an already-low 5.4 per cent in 2011 to 4.6 per cent in 2013.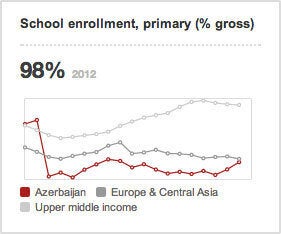 According to PwC, one of the world's 'big four' accountancy firms, and which has long had offices in Baku, Azerbaijan also has "significant agricultural potential" and an "inexpensive workforce". At the same time, the US Department of State has spoken about the efforts that Azerbaijan has put into integrating itself more fully into the global economic system, attracting foreign investment and maintaining positive growth during the global financial crisis. It believes that there are investment opportunities in energy, telecommunications, transportation and agriculture among other sectors. All of these avenues are yet to be explored fully and create the potential for substantial future growth.
Azerbaijan's record of economic development to date has been pleasingly robust. The policies of the government of President Ilham Aliyev have helped to foster growth, such that the typical Azeri is now twice as well off as citizens in the neighbouring countries of Armenia and Georgia. In 2014, the Azeri economy is set to enjoy growth of at least around 3 per cent, with solid demand for its energy exports.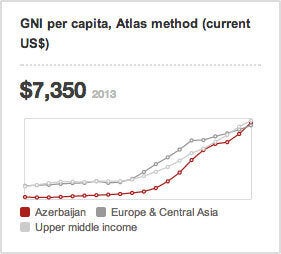 A key plank of President Aliyev's pro-growth agenda is to draw in further direct foreign investment into Azerbaijan. This approach has paid off nicely so far, with investment flows from overseas swelling from $563m in 2010 to more than $2bn in 2013.
The metropolitan area of Baku - which is home to more than one in four Azeris - shows eye-catching signs of this ongoing increase in wealth. Impressive landmark buildings continue to sprout up in the city's historic skyline. According to the editor of Condé Nast's uber-glossy Baku magazine, the city's seascape is rivalled only by that of Cape Town and of Rio de Janeiro.
Features such as these - as well as traditional ones such as the UNESCO-listed heritage site of old Baku and the desert and mountains beyond - are contributing to a noticeable rise in foreign visitors. Quite aside from those flocking to do business there, there are an increasing number of tourism-related and cultural events, such as an Azeri-inspired fashion show by the renowned Italian designer Renato Balestra. New bars, restaurants and hotels, meanwhile, are springing up all around the city.
Clearly, Azerbaijan has many of the hallmarks of a country that is undergoing a rapid economic coming of age. But it is also showing a great maturity in trying to heal some of the scars left by its past as part of the Soviet Union. Such issues as its diminished sturgeon stocks - caviar used to be one of its main exports - and the depopulation of some of its rural areas, are receiving serious official attention.
Meanwhile, Azerbaijan's very charismatic first Lady, Mehriban Aliyeva, is at the forefront of the International Dialogue for Environmental Action. In the spring of 2014, for example, a large international conference was held in and around Baku to highlight the fate of the Caucasian leopard. This underlines that the country is taking the environment seriously and wanting to protect its rich natural heritage as it develops further.
The Aliyev government is also increasingly establishing its credentials for its commitment for political and administrative reform, both at home and further afield. In 2011, the President instituted a far-reaching campaign against corruption within the country's administration, with widely acclaimed and visible results. As well as the dismissal of significant numbers of venal public-sector employees, an anti-corruption ministry was set up.
To underline the seriousness commitment to international standards of good governance, Azerbaijan under President Aliyev has become a member of several international bodies that fight against corruption, including Criminal Law Convention on Corruption and Civil Law Convention on Corruption of the Council of Europe, the United Nations Convention against Transnational Organized Crime and the United Nations Convention against Corruption.
The ongoing calmness and stability of Azeri society contrasts very favourably indeed with that of many states in the region and indeed well beyond. The threat of Islamic fundamentalism is conspicuous by its absence in this solidly Muslim nation. Secularism has long been enshrined in Azerbaijan's constitution and the tolerance shown towards other faiths has been widely commended, with non-Muslims serving on elected bodies. This progressive tendency is also evident when it comes to gender. Unlike in neighbouring Iran, for example, Azeri women are not expected to cover up, and western dress is preferred by the majority.
The country's role in the international arena is now extending far beyond sporting and musical events. Most prominently, Azerbaijan currently chairs the Council of Europe, the continent's leading human rights organisation. In the words of President Aliyev, Azerbaijan is a young democracy but one that is on the way to "creating a better world for everyone to live in dignity and peace".
Going by recent experience, the outside world should be treated to a memorable spectacle when Azerbaijan welcomes next year's European Games. Rather than merely noting the impressiveness of its stadia and the quality of its hospitality, though, visitors would do well to take in the stability and prosperity of this up-and-coming nation. With global tensions having risen markedly of late, the value of a thriving and peaceful state at the crossroads of Asia and Europe is not to be underestimated.
Nicolas Sarkis, formerly in finance, is the founder and CEO of AlphaOne Partners, a leading London-based investment firm, and the author of Fear and Greed.
Related