UK and global businesses are today faced with a whole new set of challenges when competing in a volatile, highly digital age. Alice Leahy, publisher of Raconteur's latest special report on The Agile Business, uncovers how making your organisation 'agile' through increased collaboration and the appropriate technology may change the face of business process and arm your business with a powerful competitive weapon.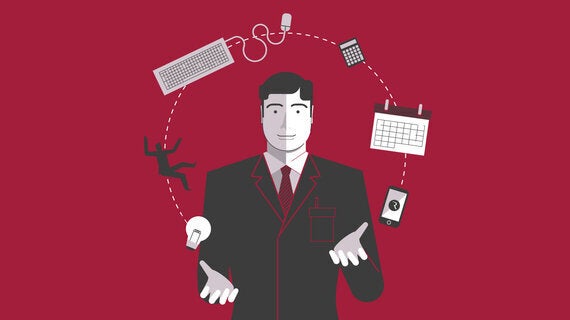 'Agility' brings to mind, for most, tightrope walkers balancing their way across a wire, with a fatal drop below. In a way, this image is not too far from the goals of organisational agility, which refer to the ability of a company, from the ground up, to respond efficiently to change and volatility and emerge unscathed from unexpected events, by juggling their people, processes and technology in a flexible and innovative manner. Navigating the volatile business landscape with all of these balls in the air, while maintaining balance and sight of the end goal, is essential.
Old methods are dying hard: with the economic crash still fresh in the minds of most, it has never been more essential to be innovative and flexible in order to grow and bolster business. Furthermore, the role of technology in driving internal efficiency has never been more pertinent.
Producing Raconteur's most recent report on 'The Agile Business' sparked a considerable amount of compelling debate on what 'agility' really meant. Originating from the baffling world of software development methodology, the term gained popularity when its key components - collaboration and flexibility - were suggested to be the panacea to years of structure, rigor and process that had preceded the economic downturn. Practices such as Lean and Six Sigma, which grew in popularity in the early nineties, focused on eliminating waste and removing process defects respectively, but over time were criticised for stifling creativity and encouraging over-reliance on process. Furthermore, the unsettling nature of today's business environment, where social media puts even minor failings or errors under a discerning consumer microscope, requires business leaders to optimise business processes with agility in mind.
In my view there are two key focus areas the modern agile business must envision which naturally intertwine, providing a blueprint for growth in 2014.
The first is collaboration. Enhanced and underpinned by technology, collaboration is the single most important trait of an agile business, no matter the size or scale. Collaboration should never slow down workflow; rather, it should become implicit in every stage of a project and should make each decision more effective.
Knowledge sharing is a major part of internal collaboration. According to Mechthilde Maier, head of group diversity management at Deutsche Telekom, "A major challenge in this complex world is that we need different perspectives, different insights and different methods to solve a problem . . . sometimes there is not one answer--there are a few or many answers to one and the same question. What you need is team thinking."
In the agile business, employees should feel empowered to make autonomous decisions rather than feel constrained by process and checking boxes. Leaders cannot be tempted to hold the reins too tightly. The upshot of this can be that staff feel more engaged and turnover reduces, as Edwin Smith points out in our piece on collaboration.
Finally, to encourage constant collaboration and flexibility, the organisational culture has to be one that is firmly open to change and prepared for 'black swan' events. Creating a broad enterprise capability to be adaptable and agile at all times and feeding this through the entire workforce is preferable to waiting for things to 'return to normal', says Accenture. A fast pace of change is the new normal.
The second key focus must be on implementing smart technology. While a collaborative and people-led culture is paramount, businesses cannot underestimate the role of technology in the modern agile business. Technology in all its forms, from unified communications to CRM software, can no longer be considered a necessary evil, confined to the tech department, but instead must be a key feature of company strategy, and an opportunity for innovation.
In order to function at optimum levels, companies must embrace new platforms. The 'new wave' of IT platforms built around mobility, cloud, big data and social networking can and should play a transformational role in enterprise growth. Jaguar Land Rover CTO Gordon McMullan asserts that IT leaders need to 're-imagine IT as a source of innovation' and enable 'IT resource able to put its insights and brainpower to the broader challenges of the business - to get on the front foot and deliver innovation, rather than simply required services'.
Sharing goes beyond email in a collaborative enterprise. Today, technology and collaboration go hand in hand, with MicKinsey reporting that nearly 75 per cent of businesses are using social technologies to collaborate with colleagues, partners and clients, and 90 per cent have developed resources delivered through the cloud. Solutions such as Huddle ensure that no matter how global the business, workers can access the same document simultaneously, as Joshi Herrmann uncovers when 'The Agile Business' report takes a snapshot of mobility in the agile business.
It goes without saying that for technology to become a strategic advantage, the purveyor of technological investments must form part of daily decision making and conversation. 'CIOs who successfully make the transition from technology leaders to technology and business leaders will become an increasingly valuable asset' says CIO Magazine's Editor in Chief. Pivotal to an agile business is a CIO who sees the digitalisation of this period as a golden opportunity to make a transformative effect on business strategy.
The Agile Business explores this and other mechanisms for increasing growth and resilience in an unstable economy, and argues the case for 'agility' being top of the agenda, central to the deployment of people, process and technology. Featuring journalists such as Jessica Twentyman, Miya Knights and Joshi Herrmann, and covering areas such as cloud technology, risk and project management, the report serves to highlight the most relevant aspects of organisational agility essential to business growth in 2014 and beyond.
Related