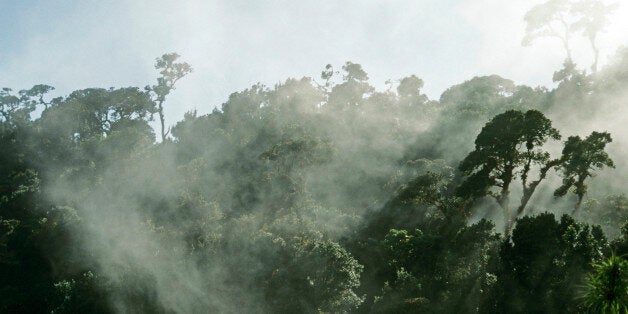 Series 16 of 'I'm a Celebrity, Get Me Out of Here!': its ad breaks peddle a nostalgic vision of Christmas with a 2.4 family (and thanks to John Lewis, this year the dog is important too). Its sponsors, Auntie Bessie's, evoke a different kind of nostalgia - that of mum's Sunday cooking mixed with British seaside innuendo and mother-in-law jokes. In contrast, the show itself presents viewers with a vision of modern masculinity that gently challenges traditional gender stereotypes.
The initial line up of ten celebrities included five men: veteran actor Larry Lamb, dancer Jordan Banjo, ex-footballer Wayne Bridges, 'Emmerdale' star Adam Thomas and comedian Joel Dommett. Among the latter four younger men, the camaraderie and banter that quickly emerged seems to signal classic 'laddish' behaviour, and undoubtedly there is an element of well-established codes of young male friendship at work in their relationships.
At the same time, model Lisa Snowdon observed that there was a 'bromance' going on, a term which only relatively recently entered the popular lexicon. This phrase points to a newer style of masculine code in which men form close emotional friendships that mirror the intimate bonds typically associated with women, albeit with more marked teasing.
The public voted the older man, Larry Lamb, to be the first president of the camp. In odd scenes we see him sitting on his jungle throne, flirting with his so called harem of much younger women celebrities. These moments are, though, clearly playful and light-hearted. On the whole, Larry presents an alternative model to that of the classic patriarch, one which contrasts heavily with the dominating and coercive figure of Archie Mitchell whom he famously played in the BBC soap opera 'Eastenders'.
Rather than controlling, Larry's priorities appear to be to nurture his tribe. Near the outset of 'I'm A Celebrity', viewers watched him help Scarlett in their canoeing challenge, guiding her to safety. In the camp itself, he has been a warm and caring father figure, supporting and encouraging the younger men. When the other four returned from a difficult overnight challenge which had pushed some of them to their limits, Larry hugged them while providing reassurance that it was okay to cry about their experience.
In a discussion between him and Wayne, Larry's emotional intelligence was evident as he analysed the relationship between his parents and the impact this had on his own turbulent love life. We see a man who has made mistakes and openly regrets them; there is no pretence of machismo in their conversation. Overall there is some embarrassment but little shame among the men in showing their feelings, a stance that would be unthinkable a generation ago or even less.
As these demonstrations of emotion indicate, a willingness to admit vulnerability is central to the vision of modern masculinity on display in the Australian jungle. Another key element is family. Although single man Joel revealed that he had been caught up in an online sex scandal (seemingly a relatively benign one), the other younger male celebrities are hugely family orientated. Even before the programme began filming, Adam spoke publicly about how leaving his fiancé and child behind would be a strain on his emotions, appearing on the cover of OK! with them alongside the quote 'It's going to kill me not seeing Caroline and Teddy while I'm in the jungle' (he also confessed that he hoped the show would help him to 'man up' and face his fears).
Early on in the series, we saw both Wayne and Jordan visibly upset and missing their loved ones. Jordan talked about feeling homesick for his mum and brother and quickly came to regard his fellow campers as a temporary replacement for them, his desire to learn to cook driven by a sense of responsibility to this new family unit (interestingly he was embarrassed rather than proud of his complete lack of domestic skills).
Similarly Wayne cried when talking to Larry about his children, speaking openly about being a stay-at-home dad since retiring from Premier League football. At a time when debates about the example set by professional sportsmen are a regular feature in the media, Wayne's combination of full sleeve tattoos, laddish banter and love for his family suggest that he - and no doubt others like him - have the potential to be good role models for young men and boys. If nothing else, he demonstrates that there are alternatives to the widespread playboy footballer image peddled since at least the days of George Best.
Men's emotional attachment to their families is by no means new. Individuals have always felt closely bonded to their kin. However in what other public arena do young, typically working-class men share so openly about loving their families? In a climate where the US President Elect has talked about sexually harassing women, we desperately need these examples of men showing affection and respect for their wives, children and other celebrities in the camp with them.