It's no longer such a rare occurrence to see a British act successfully conquer America; but before Mumford & Sons, before One Direction and before even Adele, Ellie Goulding was appearing on primetime television and performing for President Obama. Raj Bains caught up with Ellie to talk America, touring worldwide and second album Halcyon.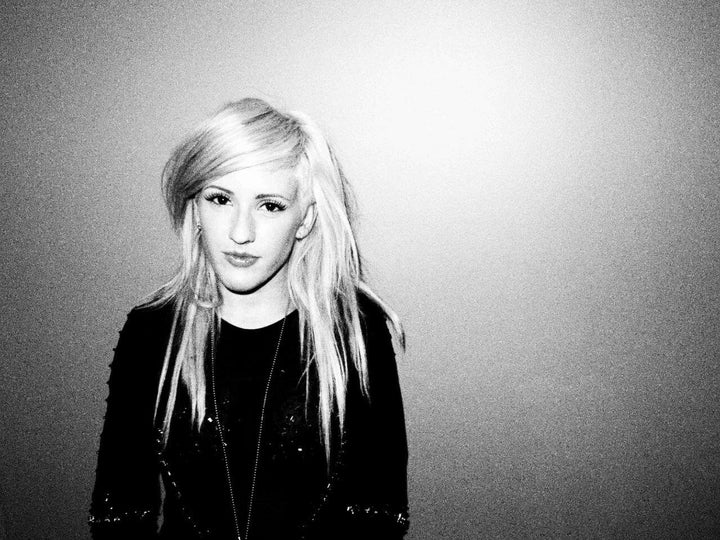 Sat laughing at something she'd found on StumbleUpon when I first meet her, a smile and a welcoming handshake immediately relax me into the conversation. In the few moments it takes to configure my MacBook to record the audio, Ellie tapping away on hers too, the snowy Yorkshire weather is discussed, as is the picture of Alexa Chung displayed as my desktop background. Refraining from asking if she had the aforementioned Miss Chung's number, I was soon enquiring about what life as pop-sensation Ellie Goulding fully entailed....
"We've got a completely new live set-up and a brand new way of playing live" Ellie explains as I ask her to describe her recent sell-out tours. "The album is still quite new though, so people are just as interested in the performance as they are the songs - Anything Could Happen is probably the standout from Halcyon though".
It's evident from just our open exchanges how passionate she is about the music she makes and performs. Acts of a similar stature can often make the promotional schedule and endless touring surrounding an album launch sound like an unwanted chore, but she admits that "I wouldn't go on stage if I wasn't confident in the songs and the performance, the shows have grown with me as an artist and a person so they're much more complex now".
"I think the performances have evolved fairly naturally" she says tentatively when I ask if it was a conscious decision to deliver a bigger live sound, "I write pop songs, but I think they have more about them than other records might".
Wondering how she coped with the expectations on her after the success of her debut record 'Lights' and how this affected her approach to playing live, she laughs before declaring "I'm obsessed with balancing the set-list! You can't play a set of just new material; it isn't fair on the crowd. I think you can compare a gig to something like a film or a play, it can't have highs and lows, I want it to be interesting throughout".
Recognising that her audiences are often younger than she is, she treats her shows by the same standard she expected from acts when she was a teenager, "when I went to gigs when I was younger I just wanted to hear songs I knew, it's euphoric singing along to every word - I remember going to see people like Jason Mraz and Less Than Jake!" she grins.
Discussing her second record Halcyon, and what went in to writing and recording it, she explained how it's sonic departure from Lights was born out of a change in sensibilities, "I lost my love affair with guitar whilst I was writing and recording this album, although saying that now, I think it's come back since I've released it. I remember I was really dead against using it much, I just wanted to try new things, so that's why there's more piano and harp then on Lights".
As a well-known champion of music new and old, I dug in to every music journalists generic question stash and asked what songs and artists had been an influence on Halcyon, and taking advantage of the close proximity of our computers, it wasn't long before a joint exploration of iTunes was underway. "I was listening to a lot of The National and Arcade Fire, Bjork as always too. Fleetwood Mac were on fairly often, and I'm a fan of more electronic stuff like Burial and Orbital, plus I fucking love Blood Diamonds".
However just like her debut record, Halcyon still feels like an album geared around her distinctive vocal, something that could have easily been drowned out if mismanaged on the heavier and bassier tracks included, "that was something I was desperate to avoid doing" she agrees, "I get fully involved with the production side of things on all of the tracks so my voice is always a focus".
Her sustained presence and ongoing success in America wasn't a result of the much-fabled record label masterminded campaign that one might initially jump to conclusions about either. Remarkably, her explosion in to the mainstream American music scene was as much a surprise to her as anyone else. "Lights went meeeeental!" she begins to regale, "the single was put out in the UK first and did absolutely nothing, but it climbed the American charts week-on-week all the way in to the Top 10".
Her reputation in the US has also seen her become somewhat of a poster-girl for electronic music, collaborations with producers such as Skrillex and Calvin Harris on top of a cameo in a Diplo video doing little but add fuel to the fire. "The US crowds tend to be a lot more energetic" is her initial response when asked about the differences between touring in the UK and America, "they're a lot more willing to show emotion too, we're a bit more self-conscious and introverted in England aren't we?" she concludes.
Due to her ever-growing status and fan base in the States, she now divides the majority of her time between England and America. "I'm conscious of keeping a happy union with both sets of fans, which I do really enjoy. There are perks of being at home touring in England though, I like exploring the cities I'm in and nobody recognises me when I've got my hat and glasses on!".
Ellie Goulding is a rarity in today's pop market; freely straddling the guises of earnest singer-songwriter and international pop sensation without breaking pitch or stride, her ability as a live musician, performer and vocalist has helped propel her career further than was ever anticipated. Down to earth, naturally funny, effortlessly polite and kind spirited, it wasn't very hard to see why so many people are glad to see her doing so well. Halcyon, like Lights before it, is a refreshingly unique pop record; full of honest lyricism, top class musicianship and bags of heart, all tied together by Goulding's signature vocal.
Related