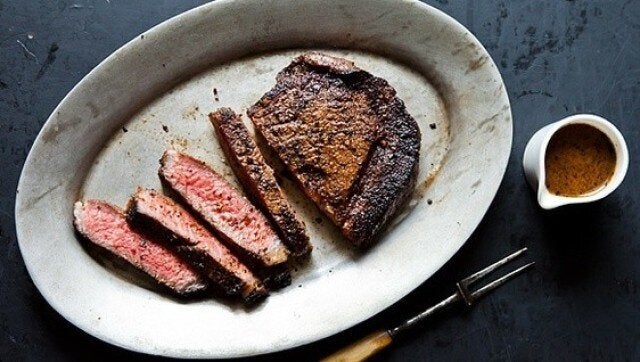 Saturday night and we decide to head out to Glasgow's West End, the children are in tow so we have to behave, no bar-hopping or clubbing, just a nice quiet dinner out for four.
Bo'vine is situated at the top of Byres Road, and is the Hilton West End's main restaurant. Next door is the trendy Bo Bar, nice place to go for a few drinks on a Saturday night. Like I say the kids were with us, so we avoided all urges of having a few cocktails and went straight to the restaurant. Bo'vine is a very stylish, modern restaurant, not at all like some of the stuffy old hotel restaurants that we've come across. 'Bo' is Gaelic for cow, bovine, a noun, is an animal of the cattle group which also includes buffaloes and bisons.
Everything on the menu was either reared here, harvested here or is fresh from the shores of Scotland. They offer a very reasonable priced Market Menu, £14.50 for two courses, or £17.95 for three courses. Or you can stick to the a la carte menu, which we chose to do, and they also provide a children's menu, created by child nutrition expert Annabel Karmel. All the children's meals are very nutritious, and include classics such as pizza and burgers as well; two courses from this menu are £5.75.
We were lucky and managed to bag one of the sumptuous banquettes. The other diners were mostly couples dining alone or with other couples, there weren't any other children in the restaurant. And despite the fact that we were there at 6pm it started to fill up pretty fast. Great atmosphere in the restaurant, and its far away enough from the main hub of the West End, so you avoid the usual Saturday night drunks. It's a lovely location for a family meal. Karam (age nine) and Jeevan (age seven) were well chuffed that they were dining out at a grown up restaurant in the West End on a Saturday night.
For his starter J.snr chose the Bo'vine Prawn Cocktail (£8), an old classic with a new twist. The cocktail contained brown shrimp, crayfish, langoustine, bloody Mary jelly and came with an avocado sorbet. Poor J didn't get a look in as Jeevan scoffed most of it, claiming it was scrumptious!
I ordered the crottin goats cheese tart tatin (£6), which came with pickled cherries, fennel and orange salad. I opted for the salad without the orange. The pickled cherries were a lovely touch, and added a great flavour to the dish.
Karam had the west coast scallops (£7.50) from the a la carte menu as there were no starters on the children's menu. The scallops were served with smoked Ayrshire pork belly, a carrot and parmesan puree and pickled walnuts. I didn't think they would enjoy the pork belly, but it disappeared off the plate faster than you can say pork! The pickled walnuts complimented the scallops perfectly.
Jeevan ordered off menu, he asked for garlic bread. It was a lovely black olive ciabatta smothered in fresh garlic butter, he thought it was yummy, and wanted it for his main and for dessert!
For mains J.snr chose the chargrilled rib-eye, 9oz, in mushroom sauce and for his side dish creamed potatoes (£23). The steak is Perthshire Aberdeen Angus beef. Bo'vine lived up to its reputation for having fabulous meat. J thoroughly enjoyed his main meal so much he didn't have room for dessert.
I had the red mullet, which is served in a clam, red pepper and maize chowder with an anchovy beignet (£15). The dish was a bit too creamy for my tastes. Red mullet isn't particularly my favourite fish, but I was pleasantly surprised, it was cooked well and was a good sized portion.
Jeevan and Karam both opted for the kid's burger, replacing the beef with chicken. The chicken burger was served with delicious tomato chutney and chunky chips. Karam's verdict "very tasty", Jeevan's verdict "it was nice and filling."
Dessert time, I had the dark chocolate tart (£6), which was served with a black olive sorbet and caramelised white chocolate powder. I was very curious to try the sorbet, and it didn't disappoint, it was very tasty, and complimented the dark chocolate tart perfectly.
Karam chose the ice cream sundae (£6), which was a mini feast of ice cream, chocolate sauce and profiteroles. Jeevan had the hot chocolate pudding, which had a very gooey yummy melting sauce in the middle and came with vanilla ice cream. Jeevan's verdict "brilliant", Karam's verdict "I lurve these profiteroles." J.snr finished the meal with just a cappuccino (£3).
A three course meal in Bo'vine for a family of four costs approx £80-£90. The children thoroughly enjoyed their Saturday night out, in a grown up restaurant, and so did their mummy and daddy!
Top tip: Bo'vine isn't your standard hotel restaurant fare; there isn't a club sandwich or a curly fry in sight! Instead you are presented with an excellent a la carte menu in a sophisticated, modern setting.
Bo'Vine Meat and Wines, 385 Byres Road, Glasgow, G12 8AU
www.bovinerestaurant.co.uk
Bright, modern interior tastefully decorated with the wonderful bovine art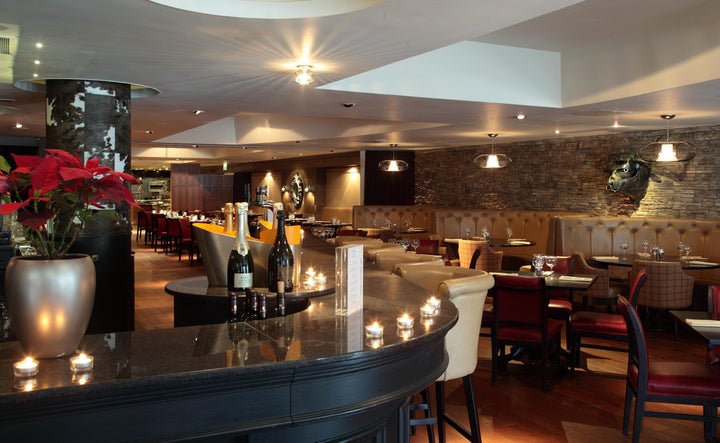 Well-presented Steak dish