I love Edinburgh. There you go, I may be from Glasgow, which I also love, but I do love Edinburgh. I love to go there for day trips, and I love staying over for a few days to enjoy it even more. I don't get to Edinburgh as often as I would like. So when I do get the opportunity to stay over, I take it without hesitation.
For this visit to Edinburgh we chose to stay at the Rutland Hotel. Located at the end of Princes Street it's perfectly located for a girly weekend. We booked into the Rutland Hotel for their special Chamomile package. The package includes a visit to the Chamomile Sanctuary for a treatment. Poor Dal (big sis) drew the short straw, and I got lucky and scored the treatment.
We arrived at Edinburgh Waverly station, instead of making the ten minute walk to the hotel on foot, we opted to take a cab, even though we were only there for two nights somehow (maybe because even now after a lifetime of travelling I still don't know how to pack!) we ended up with more luggage than one can possibly need for two nights.
It probably took longer in the taxi than it would have taken to walk! Thanks to all the roadworks going on in Princes Street. We arrived at the Hotel late afternoon, check in was swift, which was great. We were shown to our room, Room one, a room which is also suitable for wheelchair bound people.
The Rutland is a boutique hotel and has twelve rooms. Our room had the latest in-room technology, with impressive high-speed internet. The best thing about it without doubt was that it came equipped with GHD hair straighteners, perfect for a girly weekend! Majority of hotels all have hairdryers, this was a first! Dal was also impressed with the complimentary home baked muffins.
Shortly after checking in, we decided to head out for dinner. Edinburgh at night is beautiful. There's so much to take in, and it has an abundance of restaurants to choose from for dinner. We went for a lovely dinner then hit George Street visited a couple of bars, and headed back to the hotel for a good night's sleep.
Day Two
The breakfast at the Rutland is served at the Kyloe restaurant. The service from the staff is outstanding, and you have breakfast whilst taking in the stunning views of the Castle. I ordered eggs sunny side up with spring onions and tomatoes on brown toast. Dal ordered eggs Benedict. My food was too yummy for words, it hit the spot and was a lovely combination. Dal's Eggs Benedict were cooked to perfection and the portion was very generous. We took our coffees back to the room, so we could get ready for the day ahead.
I had a one hour treatment booked at the Chamomile Sanctuary. Which is a couple of minutes walk from the hotel, and is located in Alva Street. I was advised to arrive fifteen minutes prior to the treatment to have a consultation with the therapist. At the end of the consultation I was given a robe and slippers and invited to wait in the relaxation room.
I had chosen a well being treatment, called Intensive Muscle Release. It's basically a deeply restorative treatment specifically designed for tight, stressed and aching muscles. This had my name written all over it! As I spend the majority of my working day at the laptop, my neck, shoulders and back are constantly aching, thanks to my dreadful posture. The therapist, Jenny used Swedish and cross muscle fibre massage techniques. And really got stuck into my problem areas, instantly releasing the pain and tension.
The treatment room was very cosy and once the massage was finished I didn't want to leave! Luckily there was an hour to spare before her next client, so instead of the usual five minutes, I had a whole fifteen minutes to chill.
Before I knew it, it was time to head back to the hotel. I found Dal cosied up in bed, listening to music and tapping away on the ipad, whilst Myra the head housekeeper made her a cup of tea! She had only popped into the room to enquire about housekeeping! This is typical of the hospitality of the hotel! After our lovely cuppas we headed out for a day of hitting the sights and shops of Edinburgh. As per usual no visit to Edinburgh is complete for me until I have visited Calton Hill, my happy place in Edinburgh. This was Dal's first introduction to Calton Hill, and she was suitably impressed.
After that we stopped by Harvey Nichols, Louis Vuitton, a must on an Edinburgh trip, then went further afield to the Royal Mile, and popped into some of the tourist shops. We stopped by House of Cashmere, where I picked up a gorgeous pair of Hunters, good to know nobody else in Glasgow would have them, as these were an exclusive buy for this particular shop.
For lunch we stopped off in a lovely little brasserie off the Royal Mile. Laden down with our shopping we headed back to the hotel to get ready for our evening meal. Dinner tonight was booked at the hotel's Kyloe restaurant, we had heard many great things about the restaurant so were really looking forward to dining there. Kyloe is Edinburgh's first gourmet steak restaurant and as such has a great reputation.
Ready for dinner, we headed to the restaurant. Again it has to be said the staff at the restaurant are great, they really know their stuff, and don't disappoint. For starters I ordered the lobster tempura which came with an amazing dip. It was very simple, soy sauce with chopped spring onions and chopped red chilli, but it was perfect for dipping the lobster. Dal went for the soup of the day, which was a very generous portion and came with some lovely warm homemade bread. For the main I had the fish option, the portion was a little on the small side, so I would advise that you also order some side dishes. Once we saw the size of the mains we ordered Roasted root vegetables and were happy that we didn't have to wait too long for them to arrive at our table.
For her main Dal ordered the Loch Etive Mussels. They are served steamed with a white wine sauce. One kilo of mussels, a very generous large portion.
To finish we ordered a selection of British Artisan cheeses, which came with oatcakes, celery, grapes, a shallot chutney and some quince jelly. Far too much for two people, suitably stuffed we were grateful we didn't have far to go. Nightcap at the bar, and we went up to our room to hit the hay.
The only downside of our stay at the Rutland was the bathroom in our suite. Like I said Room one is also equipped for wheelchair bound people, therefore the bathroom has all the facilities they require. It is open plan, there is no door that separates the shower from the toilet area, just half a wall that provides a partition. The negative aspect of this is that every time you shower, the water goes into the toilet area, and seeps out of the door onto the carpet of the bedroom. Also the sink is so tiny its very difficult to wash your hands, let alone brush your teeth. But luckily these are all issues that the management are addressing and they have a big refurbishment planned for early next year. We are very much looking forward to returning to see the changes they have made.
The upside is that The Rutland Hotel is perfectly located, also the staff are fantastic and we could not have asked for better hospitality.
www.therutlandhotel.com
Kyloe Restaurant interior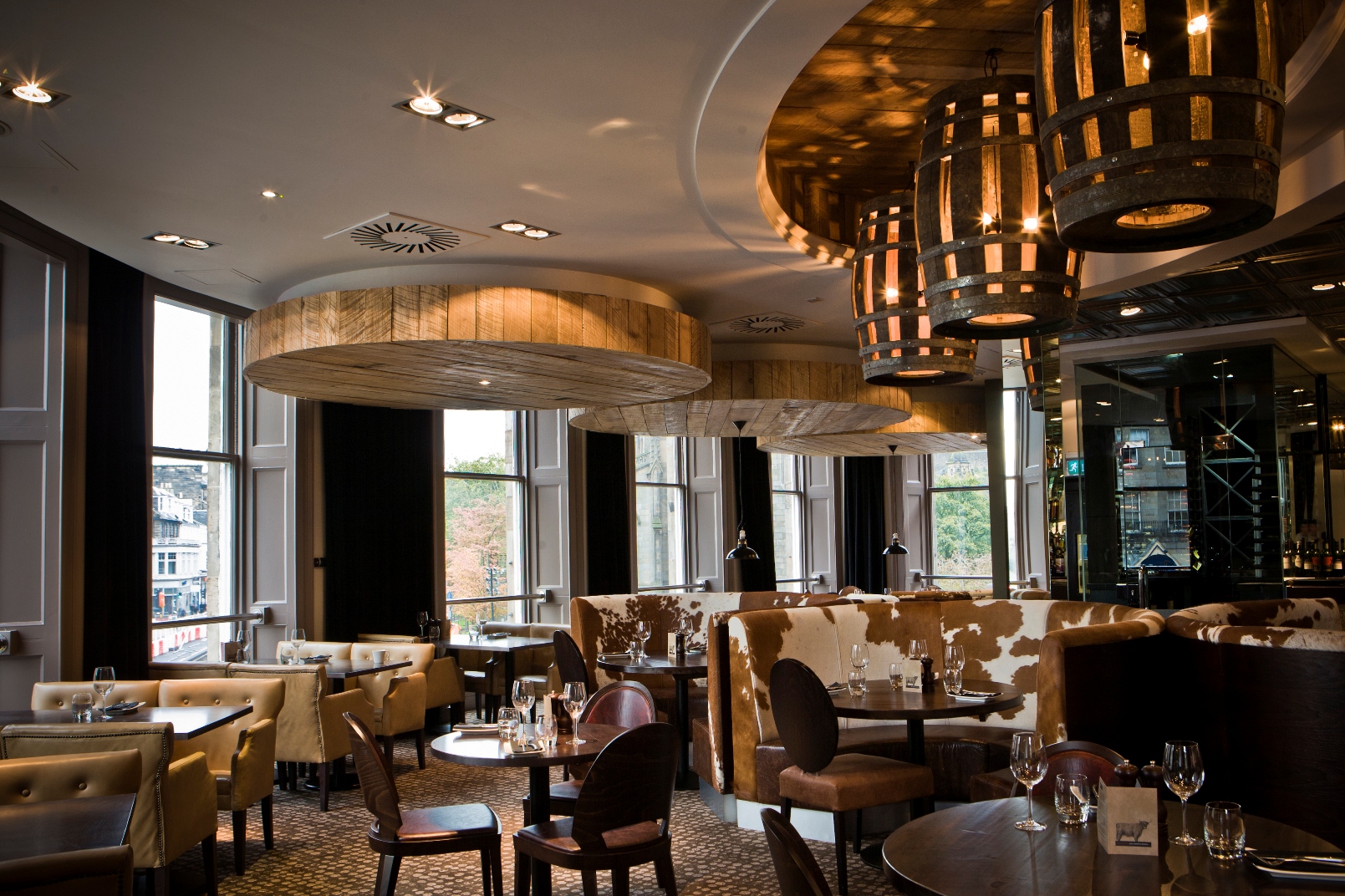 Bedroom