With one of the pre-eminent events of the Social Enterprise annual calendar just days away - the Skoll World Forum 2015 - I thought I would reflect on the lessons learnt from last year's Forum, themes I expect to emerge this year as well as offer tips to those taking part in this year's event for the first time:
1) Sharing solutions: as you would expect with any social enterprise event the air is buzzing with dynamic and passionate people with new and innovative ways of tackling social problems. One of the most refreshing things about Skoll is hearing first hand from social entrepreneurs from across the world about their solutions and openness to sharing. It's probably one of the only arenas where people actually invite you to copy or 'steal' their idea. One of the main metrics of success for a social entrepreneur is the number of people they can help and lives they can impact through their work so unlike in other areas of business where people are likely to be more guarded at Skoll you will find the opposite. Sharing really is caring!
2) Science: a number of sessions were looking at taking a more scientific and analytical approach to social enterprise. It is often the case that social entrepreneurs struggle with the assessment of their impact which is often a pre-requisite of the funding community. Measuring impact and understanding the drivers of social change are hot topics which will re-emerge in this year's Forum as well as looking at the role technology places as a driver of social change.
3) Scale: a number of the sessions last year looked at new ways of scaling whether it be through innovative supply chain practices, partnerships with corporations, social finance as a facilitator as well as the role of social intrapreneurship. This is a recurring theme in the social enterprise arena which pre-occupies many a social entrepreneur's strategic planning.
4) Serendipity: the Forum is a jam packed three days and often it's tempting to try and attend every session possible and often you will be struggling to pick between conflicting sessions. I would however make time and space to reflect and for serendipity to play its part. I found myself having some of the most interesting conversations during coffee breaks, lunchtimes and in down-time where I may have been writing up a blog or notes from a previous session.
5) Stars: the Skoll World Forum can be seen as the "Davos of Social Enterprise." The Forum attracts the who's who from both within the social enterprise arena and beyond with the likes of Sir Richard Branson, Malala Yousafzai attending last year and this year attracting Archbishop Tutu and Mary Robinson the former President of Ireland as speakers.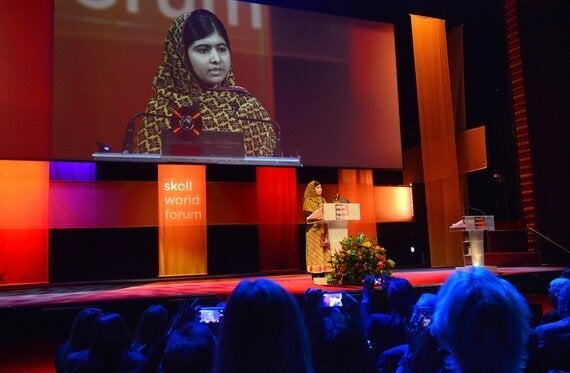 6) Social: a pre-requisite of a social enterprise conference is being sociable (of course!) There are plenty of evening activities to choose from both taking place at Skoll as well as fringe events hosted by Marmalade. If you are attending make sure you download the Skoll World Forum app so you can do your homework about what's going on and who is attending to maximise your opportunities to connect with the people you would like to. Bring plenty of business cards as you are sure to be meeting amazing people during your few days in Oxford and ensure you give yourself time the following week to follow up and keep the conversations going.
I'm delighted to be returning this year and will be blogging and tweeting the best soundbites from #SkollWF so follow my updates @rajdey for the inside track.