A good pair of jeans are a must for any gent's wardrobe, and with the festive season fast approaching, now's as good a time as any to start thinking about a wardrobe refresh before the parties start.
My particular denim preferences are as varied as the lines we stock over at Stuarts London, and the season and occasion determine my choice as much as the jeans themselves. However I do have a soft spot for two particular designers, Paul Smith and Armani.
Armani is probably the chicest and cleanest of all the Italian designers. As far as menswear is concerned, the house does without all of the frippery that sometimes accompanies Italian labels.
That isn't to say that brands such as Versace and Dolce & Gabbana aren't fantastic, they are, but if, like me, you prefer to dress in a slightly more understated way, then they're perhaps not the labels for you.
So then, back to Armani. We're carrying a range of styles from Armani Jeans. My particular pick for winter are the midwash denim jeans. The dark hue of the jeans means they're perfect for dressing up or down, and they'll look just as good at the office party as at office itself.
The jeans have the subtle Armani eagle on the back pocket, the brand's only nod to ostentation, and at 98% cotton, they're free of the man-made fibres that afflict less brands.
I do, however, appreciate that sometimes even the subtlest of dressers want to spice their wardrobes up over the festive period. As the exception that proves the rule of their range, Armani has produced a pair of jeans that are a little, shall we say, jazzier.
The indigo stretch jeans are, let's be frank, purple, which is not an easy colour for anyone, save perhaps Her Majesty The Queen, to wear. They are incredibly smart though. With a tight leg, they're fitted in all the right places, and they'll certainly get you noticed. I've always got an eye on garments that can be used in multiple settings, and I'd say that dress these up with a smart shirt and an monochrome sweater and these jeans are just on the safe side of office appropriate.
If you prefer your brands grown closer to home, then you might want to consider Paul Smith Jeans.
The eponymous fashion house of the master of menswear, Sir Paul Smith, has been producing men's tailoring and fashion wear for 30 years, so he knows a thing or two about denim.
The man himself, Sir Paul, is still completely immersed in the day-to-day running of the business that, of course, includes the design.
My favourite of the range we stock at Stuarts are these black regular fit jeans. Their 100% cotton, meaning they're light and easy to wear, and the Paul Smith label is a guarantee of quality, meaning that, unlike lesser brands, the colour won't fade over time. These jeans feature all the Paul Smith signature design characteristics, including the stamped buttons and rivets, and the famed striped lining, which has become the Paul Smith calling card. They're not too fitted, which is in keeping with Sir Paul's tendency to keep away from extremes of fashion - you won't find a skinny or a bootcut in the Paul Smith range of jeans - and they'll look stylish for years, Christmas or no Christmas.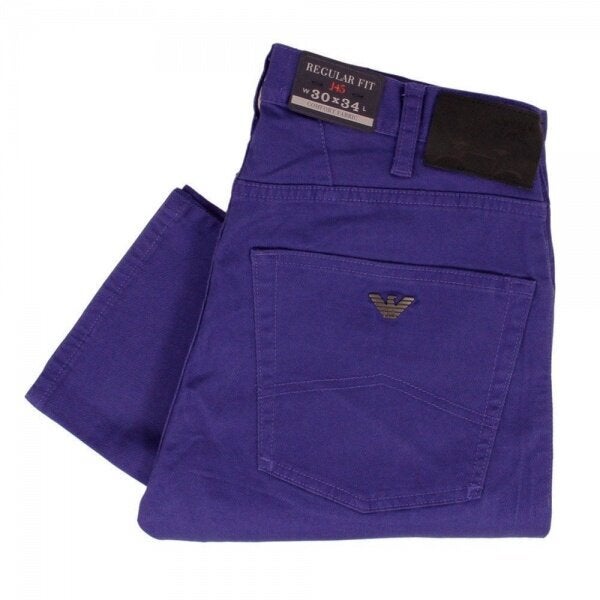 Photo supplied by Stuarts London
We also carry much more from both the Armani and Paul Smith lines than just the denim, so if you're looking to build yourself an entirely new wardrobe for the party season, you know where to look...