Brooklyn We Go Hard, or BWGH, is one of the more recently additions to the Stuarts London stable.
Founded by two friends from Paris who describe themselves as 'passionate about new horizons', the pair in question began exploring urban culture in order to create a truly authentic label.
Since its inception in 2010, the label has endeavoured to highlight the work of rising stars on the cultural scene, from curating events, creating a crew of young photographers and producing their own biannual magazine.
But that's not why you're reading this blog, is it? You want to know about the clothes. So let's chat threads.
The Autumn/Winter collection we've got stocked over at Stuarts is inspired by Scotland. According to the designers, Scotland is a place where 'elegance and ease are intertwined', and this inspiration resulted in the creation of a range of clothes that 'cultivates its urban roots while getting closer to nature'.
Now this is all very well and good, but how does it translate into apparel you'd actually want to wear? You and I both know that sometimes designers create wonderful philosophies that translate into absolute howlers on a hanger.
Well the pieces Stuarts are carrying translate very well indeed. For now, I've taken the decision to only stock tees and shirts, and what we've got is incredibly sleek and understated - without being in any way bland.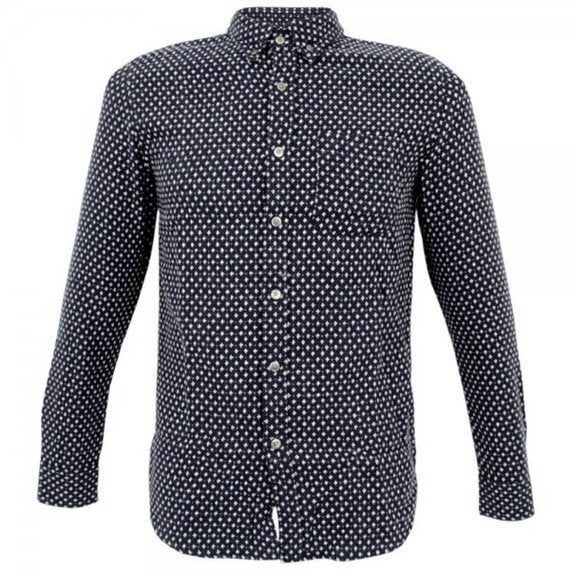 One of the signature features of a number of the pieces Stuarts stock is the use of a subtle white cross design across all, or selected parts of the garment. My interpretation of use of this symbol is that it's a nod to the Scottish flag, which is a white cross on a blue background. It's a beautifully effective print, and one I'm surprised more designers haven't used.
And if a print's worth doing, it's worth doing all over. This shirt is a prime example of that. It's slim fitted, with a narrow button-down collar and a discrete single pocket. It'd look incredibly smart under a slim-fitting, single-breasted black suit, or with the Paul Smith jeans I talked about a couple of weeks ago. And, if you're that way inclined, would be a perfect way to declare your allegiance to the land north of the border.
Should you want something less obviously sartorially Scottish, Stuarts are also stocking a couple of t-shirts that have the cross print on the pocket detailing. The white on blue contrasts splendidly with the red or grey marl tees, and both are the ultimate in dapper dressing down.
Saving the best for last, my personal favourite in the range is this cotton/wool blend sweater, which manages to combine pretty much all of my favourite detailing without looking too busy. It's crew-necked, and comes in blue marl that lends itself to teaming with almost any colour trouser you choose.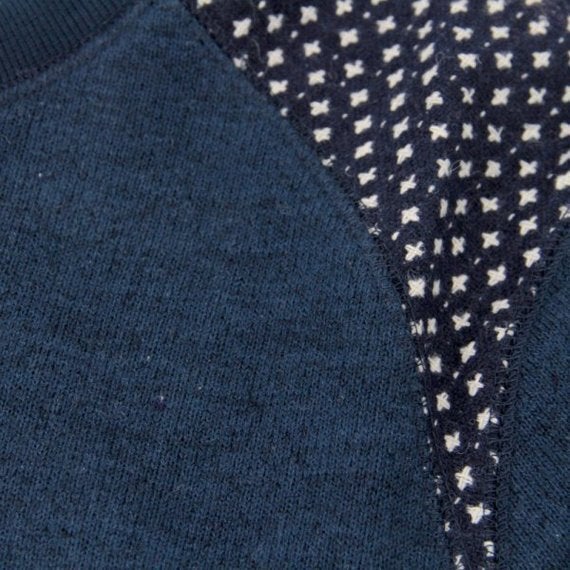 It also features a blink-and-you'll-miss-it pocket detailing and every so slightly contrasting collar and cuff colouring. But my absolute favourite part about this sweater is the elegant elbow and shoulder patches featuring the cross deign.
So while I'm still a little unsure where the Scottish connection is, I think they're spot-on with their ideas about elegance and ease. This is one of the most eminently wearable clothing collections I've seen in quite some time, and it's extremely affordable too. I'm going hard for Brooklyn, I suggest you do the same.