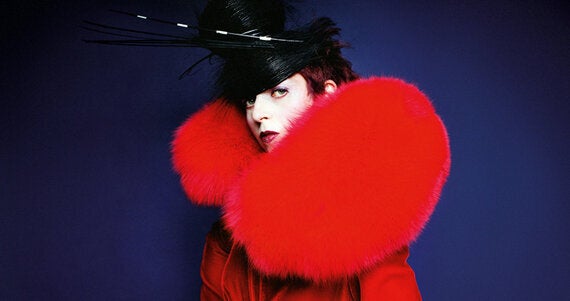 Those who dismiss the fashion world as a vapid, ivory tower for people whose mouths are made for pouting and air-kissing (rather than eating) and models with cold dead eyes of sharks and the personality of a flannel, must visit the spectacular Somerset House exhibition, celebrating the late Isabella Blow.
This deeply personal and poignant show demonstrates the wit, warmth, soul, passion and tragedy that the industry is capable of, in every battered heel and hat - charred from lighting her cigarettes from dinner table candelabras - from the wardrobe of a woman who proved just how powerful fashion can be. People in the business, like myself - and anybody who has acquainted themselves with so much as a coat-hanger - owe her a great, sartorial debt.
As well as her infamous head pieces, Blow wore countless hats during her fascinating life, as an international style guru who influenced Lady Gaga; muse - to milliner Philip Treacy - magazine legend at titles like Vogue and Tatler; designer brand consultant and discoverer of models like Sophie Dahl - who she described as a "blow-up doll with a brain" - or Stella Tennant and most famously, fashion's enfant terrible, Alexander McQueen.
Guided by passion and generosity, rather than opportunity or money - with which she struggled - Blow instantly spotted great talent and selflessly dragged them towards their destiny. The show illustrates some fantastic examples of this. For example, straight after Hussein Chalayan's graduate show, she stuffed bin bags with his carefully selected clothes and dragged him to Brown's shop, where Joan Burstein put the entire collection in his window. Similarly, she discovered Alexander McQueen at his graduate show and bought his whole collection, paying it off in weekly £100 instalments. And she had both McQueen and Treacy simultaneously working from her Belgravia house and propelled Treacy to fame by making his hats a signature part of her style.
Dizzy Izzy - as she was affectionately known - was most famous for her outlandish hats, fashioned into everything from flying saucers, to a mourning hat with 100 veils to soak up tears as well as crocodile teeth and lobsters. She said that wearing a good hat was better than taking anti-depressants and one of her main reasons for wearing them was as far removed from the cliche of fashion's fickle and two-faced air-kissers as you can get. She explained: "I wear the hats, to keep everyone away from me. I don't want to be kissed by all and sundry. I want to be kissed by the people I love."
Tragically, the love and selflessness she poured into the fashion world were not always reciprocated. And towards the end of her life, she suffered depression about being shut out of a world that she had helped to create. According to friends, she helped broker the deal in which Gucci purchased McQueen's label, but everybody else got contracts and she was cut out and fobbed off with a dress.
The bittersweet exhibition uses the fashion - which she used as a language to express herself, creatively medicate her depression, help others and ultimately lived and died for - to rewrite the history of late 20th and early 21st century British fashion.
It demonstrates the power fashion has to movingly tell the story of both an individual and a generation. It's touching to see the colourful and witty ways she used style to comfort, express and protect herself from the darknesses in her life: She saw her little brother drown in the family's swimming pool; her parents separated when she was 14 and her mother - who she credits with inspiring her love of fashion, thanks to a pink hat she tried on as a child - walked out on them, bidding her goodbye with a cold handshake; she was disinherited by her father - who left £7 million to his third wife and just £5,000 to Blow - unsuccessfully tried IVF eight times; was diagnosed with bipolar disorted and underwent electric shock therapy; reunited with her husband after 18 months - following his affair with a (lesbian) Harper's Bazaar journalist - and was then diagnosed with ovarian cancer.
Consequently, she attempted suicide numerous times, with various overdoses, jumping from the Hammersmith Flyover - and breaking both her ankles - smashing her car into a truck, horse tranquillisers, trying to drown in a lake. Eventually in 2007 at the age of 48, she succeeded by drinking weedkiller at a house party, poisoning herself like her grandfather and father before her.
Touchingly, McQueen bought gallons of her signature scent, Fracas, and filled the venue with her perfume for his La Dame Bleue exhibition, in her memory so that she could be brought to life once more through the power of her unmistakable fragrance.
Her friend and fashion icon Daphne Guinness stopped her entire wardrobe from being broken up at auction to settle her estate, by buying every single item. And she has lovingly curated it into Isabella Blow: Fashion Galore! which takes you on a personal journey and shows the unseen side of fashion, behind the glossy magazine covers, catwalks and window displays.
Fashion's glitterati, from Grace Jones and Boy George to Princess Beatrice flocked to the opening, finally honouring her massive contribution to the nation's wardrobes and giving her the place in fashion history that she earned.
Perhaps, most importantly, the exhibition - and the love that Guinness has poured into it, for a woman who ultimately sacrificed herself at the temple of Fashion - allows the world to step through a wardrobe into a captivating Narnia, which offers a whole new perspective of fashion: the stories it can tell; the history; the magic and emotion it can capture and evoke.
Blow was a blazing comet. A bright star, losing light as she fell.