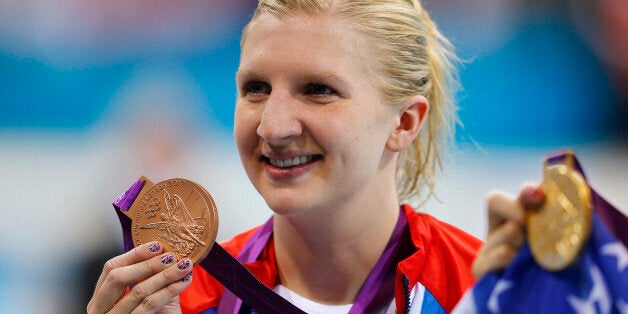 The Olympics are the top thing that any athlete can achieve - every single person who is there is at the top of their game. You see David Beckham and Andy Murray walking around the village and it's incredible.
No matter if you have a World or a Commonwealth medal, until you have that Olympic medal people don't say that's seriously impressive. Everyone recognises it, whether you're in sport or not. I felt very privileged to put on a team GB uniform, I felt like I had been given a responsibility - like I have to wear this with pride and it was a very big deal for me.
Winning gold in the 800m freestyle at Beijing is definitely one of the highlights of my life. Even though it was my second one after the 400m gold, I just never expected to get the world record. Because I still had the 800m to come after the 400m, I couldn't really focus on the fact I'd just won my first gold medal, so I kind of had to put it in a drawer until after the 800m when I could just absorb it all, take a moment and think what the hell has just happened!
It massively helps your confidence when you become an Olympian because even going to an Olympic Games is a huge honour, but being able to medal is something I'll never ever forget. It's something I never expected - swimming was just something I loved, so that just adds more weight to it. Even though I've won other events, I only ever title myself as Olympic champion or medalist, and you never get used to saying it! I have no regrets, i'm very lucky for that because I think even the really tough times I've learnt so much from.
My parents gave me my great start in life. They've always worked as a team and been so selfless. Anything me and my sisters have wanted to do, they've tried to give us those opportunities. Every parent wants to do that for their child but they have just been incredible. They've followed me all over the world to support me - they've gone to wherever I've been swimming whether it's India or Australia, and I've really appreciated that unconditional support.
From the age of about 11, I started thinking I want to go swimming a bit more than usual. There's a moment - especially for the parents - where it becomes more than a hobby and much more serious. You're used to taking your children to different lessons on different days, whereas my parents realised that all I wanted to do was swim and were always taking me to the pool.
It's a sacrifice and I think as a family, parents have to make that decision because it wasn't me driving myself, they had to give that time up. Yet there was no question. They asked me if I loved it enough and I said yes. We made that decision together and the rest is history.
The toughest times for me have been when my sister got encephalitis when I was 15. Family support was key at that stage, being around each other and helping my sister get better, but swimming helped everything feel normal. I got ill around that time too so I had to make some decisions like taking time off school.
There were so many uncertainties at that time and if I could give my 16 year old self some advice, I would have said give it time as it obviously did work out. People forget athletes are just normal humans; its fine to be 16 every now and again and important to still nurture that teenager in you.
I'm very happy to not be in the pool now. I don't miss it at all. I think because it was my decision to retire, I wasn't forced out with injury or illness or anything like that, I was just ready. I was always going to take a break after London and then I set up my learn-to-swim programme and I absolutely loved it, so it was a really natural move of departments.
Rebecca is an ambassador for Kellogg's Great Starts Olympic campaign. She's encouraging everyone to share their tips on how to get off to a Great Start each day. Visit www.kelloggs.co.uk/greatstarts to see everyone's tips
Related