It's not every day I do breakfast TV interviews dressed up in a Victorian swimming costume and straw hat. But it's certainly a great way to attract attention to the need for more school swimming lessons and to raise awareness of how important it is for every child to learn to swim at least 25 metres before they leave primary school - a subject really close to my heart.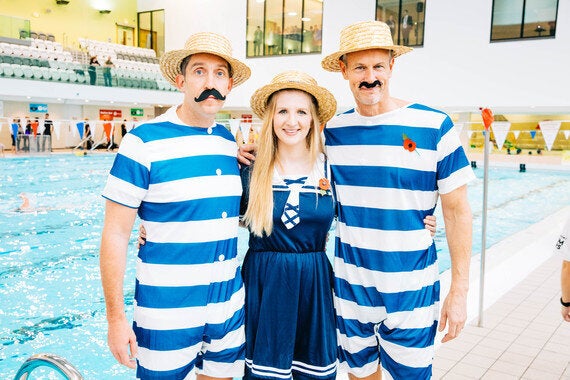 The silly outfits were to celebrate 125 years since the first school swimming lessons started in Victorian times. Mine was quite fetching I thought - and certainly my swimming friends Mark Foster and Steve Parry looked a lot funnier. Or maybe that's just because they wore moustaches too? Very Movember!
We were invited by Everyone Active to its incredible Westminster Lodge Leisure Centre to celebrate the 125 year anniversary with 125 local school children. We took them through a Victorian style lesson - which included learning key strokes on dry land before taking to the water with plastic canisters and corks tied to their waists for buoyancy. We even re-enacted the infamous exercise of pulling people through the water by rope. I had the honour of pulling Olympic 200m breaststroke swimmer Adam Whitehead through the water!
The kids loved it as you can imagine. They followed our every move and then threw themselves into the pool to learn a synchronized swimming routine from my friend and London 2012 synchro swimmer Adele Carlsen. It was amazing to see all these kids syncing their moves and just having a great time. They literally played to the gallery where mums, dads and teachers were watching - not to mention the nation's TV crews who were still filming it all.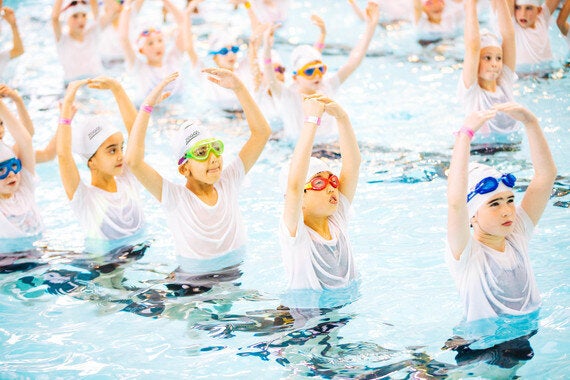 There's a serious side to all this though. Every other primary school aged child in the UK can't swim. That's the same figure pretty much as last year and we were worried then so something's got to change. Which is why I'm spending more time visiting schools and leisure centres and doing whatever it takes to get kids engaged in swimming, and leisure partners following Everyone Active's example and stepping up their provision of lessons.
At the 125th anniversary event someone asked if I've become a swimming ambassador. I hadn't thought of it quite like that but, yes, in an unofficial capacity I am - and I'm pleased to be seen that way. Certainly I'm committed to grass roots swimming and my own Learn to Swim programme - Becky Adlington's Swim Stars - and our partnership with Everyone Active aims to help ensure every child leaves primary school able to swim at least 25m unaided.
As a 'swimming ambassador' I'll continue to work with young kids and their parents, visiting schools and leisure centres to spread the word. I'll do all I can to raise awareness of how accessible and fun swimming is, how quickly kids pick it up and the opportunities swimming gives them. Every child in Britain should have the chance to learn to swim and I'm passionate about making a difference and turning around those statistics.