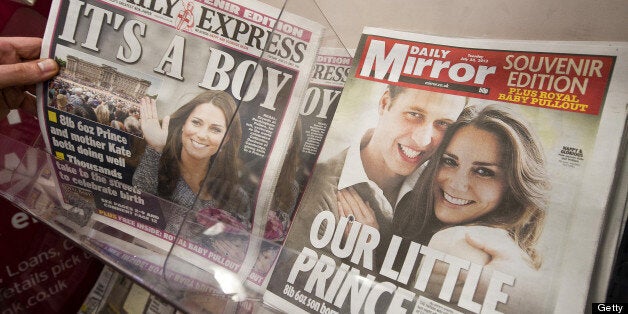 I happened to bump into a broadcast journalist in a lift this morning who was trilling breathlessly about how exciting the newsroom was at the moment. "Just so wonderful" she sighed, gazing happily into the middle distance, looking for all the world as if she'd just had a visitation from Princess Diana as the Virgin Mary. "We just knew it would be a boy!" she cooed.
If you haven't already had some kind of major internal organ failure from royal baby overload or vomited yourself to hospitalisation over the saccharine cooings of the (mostly) tabloid press, take a look at these pictures from the Guardian on how magazines and tabloids got their predictions really wrong on the sex/species of the hotly anticipated royal sprog:
I mused as I scrolled though these over just how close to the brink of insanity the celebrity press is teetering. When I reached my personal favourite, KATE'S HAVING A BABY GIRL! PALACE UPROAR: ROYALS WANT MALE HEIR! I thought, do they realise how completely batshit crazy they sound? They actually think, and reported, that the royals were angry that the foetus was female (even though the couple actually didn't know the sex until this week).
Next up, Women's Day, with their incredible psychic knowledge, told us that Will and Kate had named the bump 'George', and that it was actually twins! The people that write for these bastions of truth should really be using their skills elsewhere to bring down the forces of evil, or find Maddie. Instead they are wasted at Globe Magazine, forced to use their crystal balls to divinate that Will has spent £1m on a pink nursery for the girl that they are definitely having. Definitely.
Of course it is no news that celebrity magazines spout ridiculous nonsense like exploding septic tanks. Last year Grazia reported that Jennifer Aniston was devastated to have been dumped, while we were all reading about her engagement to Justin Theroux. Of course inside these poisonous wastes of paper the journalists tell us that close friends of the person have confirmed these rumours - but who on earth could they mean by "sources close to the couple"? Unless they're accessing Kate's voicemail as Will, on his way home from the corner shop to get a four pack of Stella, leaves a message on her phone angrily declaring he "won't let them hurt her like they did his mother" (thanks for that gem, Star magazine) then Will and Kate are really bad at picking their mates.
The final straw for me was this vacuous offering from the Evening Standard, who tweeted earlier that Kate was "radiant in dotty tribute to Diana". Really, Standard? You genuinely think that Will makes his wife dress like his dead mum. Really. Think about it. Kate picked up that Jenny Packham dress and thought - I know, I'll wear this, because it will remind people of my husband's dead mother. That's seriously creepy. I'm genuinely worried about you, Evening Standard.
Thus, my predictions some headlines over the next few weeks are as follows.
KATE SMUSHES DIRTY NAPPY IN WILL'S FACE AS HE REFUSES TO GET HER FAGS FROM THE CO-OP
ROYAL BABY TO BE NAMED DODIE IN TRIBUTE TO DIANA, WHO DIED AND IS NOW AN ANGEL IN HEAVEN #MISSUDIANA
QUEEN LIZ HAS HANGOVER AFTER "EPIC" WETTING BABY'S HEAD PARTY - NEIGHBOURS COMPLAIN AND POLICE ARE CALLED TO THE PALACE!
After all, they can't get any weirder - or further from the mark.
Related