If you want to know what Bloodstock Open Air is all about, who better to ask than the festival's very own booker Vicky Hungerford. Now in its 10th year as an outdoor festival, Vicky succinctly sums it up as
'the best four days of the year if you are into metal, in the friendliest atmosphere imaginable'.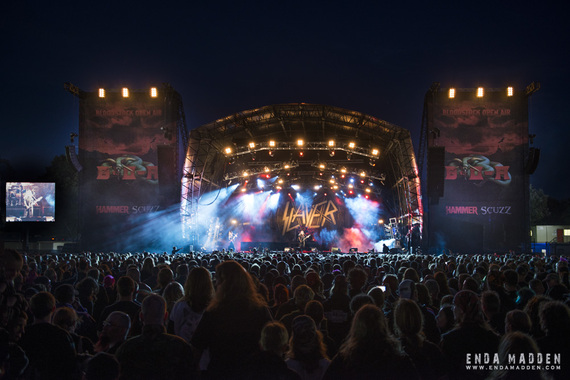 As a veteran of many a BOA, I can concur on both points. The festival, which started as an indoor event held in Derby Assembly rooms in 2001 before going al Fresco in 2005, has an almost village fete about it. Only with more death metal and less jam. From 700 people in its indoor infancy to a crowd of over 13k in 2013, it is a festival with a quirky family feel amongst the obligatory blackness.
No doubt this family feel can't help but filter through the veins of the festival, which is in very real terms, a family affair. Founded in 2001 by Vicky's father, Paul Gregory, he and his offspring remain the driving force, as he oversees daughters Vicky (booker, social media), Rachel (infrastructure and logistics) and sons Adam (sponsorship, media) and Jason (webmaster). But surely being part of the gothic Von Trapps is a fraught affair at times?
"Working with family has its ups and downs" confirms Vicky "not least because we are all opinionated! Rachel is the mediator when we do come to loggerheads and I have been known to say things I need to retract by email later! But it is great working as a family because there is no greater feeling than seeing what we have created together and to see the enjoyment people get from it."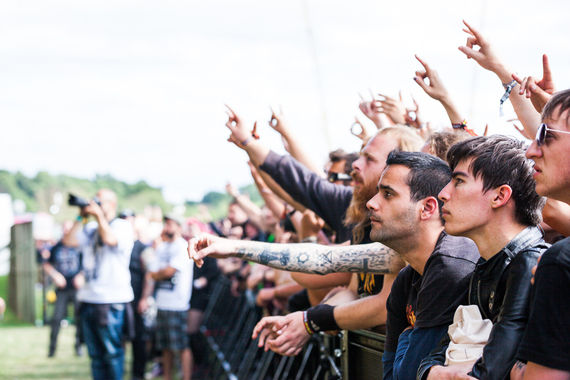 Paul, a fantasy artist and long term album artist for Saxon, always had a vision of a friendly event which is something you cannot manufacture or force. As Vicky recognises
"Bloodstock has an amazing community spirit and that has grown up gradually. The loyalty of the fans over the last fourteen years has been organic and developed into something very special which sets Bloodstock apart. You can almost smell it at the site!"
The loyalty and passion of the fans is much treasured by the organisers, with many long term fans now taking active work roles at the event, adopted into the family so to speak. It is the voices of the fans that Vicky is dedicated to listening to.
"Being the booker for Bloodstock, well it's like shopping for shoes but for bands! As a family we have a wish-list and we also have half a dozen long term fans, part of our now core team, who have been with us for a long time. We look to our forums and fan feedback. Logistics and money mean we can't always get who we want but we try our hardest. We try to bring bands fans want to see who they may not normally get a chance to see in the UK"
This year the bill is headed by Down, Emperor and Megadeth. The undercard of over 100 bands spans an array of black, death and thrash metal and some bands who just punch the genre labels out the door. Amongst the established names, the European heavyweights and random oddities, is a strong showing for new music. Bloodstock has long supported the Metal 2 The Masses project which showcases new talent around the country with the winners taking a coveted Bloodstock slot. The support of new talent is paramount to the Bloodstock team. As Vicky says
"My father is a huge believer in seeing who is the next big thing and supporting upcoming artists. It is so expensive for new bands and many people are out just to rip them off quite frankly. Metal 2 The Masses is great to give new talent an opportunity and we find new blood - it is win-win. This year all the Metal 2 The Masses venues were sold out which is amazing. The fans are driving this and helping it to develop right through to the finals. And after Bloodstock hopefully these new bands can springboard further and maybe into Europe and beyond."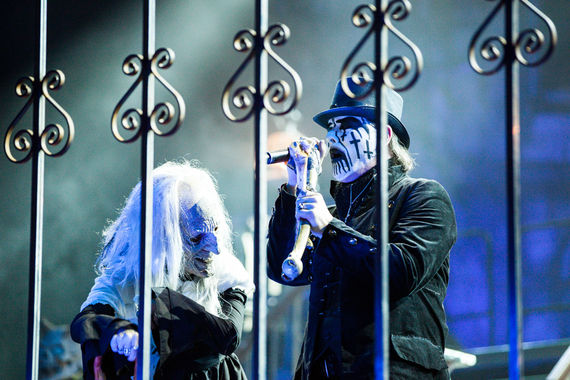 It is easy to overuse the word passion when interviewing Vicky, the clear passion for the festival, the fans, the new bands and maybe I need to break out the thesaurus as it is nothing less than passion she shows on our next topic, the Sophie Lancaster Stage.
Bloodstock has been a long term supporter of the Sophie Lancaster fund, which I urge you to visit if you have not already. Set up in memory of Sophie Lancaster who was so brutally killed simply for looking different, the charity led by her family has worked tirelessly to promote acceptance and end prejudice. The Bloodstock support of the charity is no promotional hype, or flavour of the month as sadly can be seen at other events, but rather is an issue close to the hearts of all those involved.
"We will never rename the stage" says Vicky "It will always be the Sophie Lancaster Stage and we are proud and dedicated in our ongoing support of them. People are still being abused just because of how they look or dress, we hear absolute horror stories and it is so important we support them. Every year Sophie's family attend, their work is relentless and inspiring under such awful circumstances."
Bloodstock is a festival set to run and run, which given current climes is more than achievement. But don't presume the adage 'bigger is better' applies here. As Vicky explains
"Ideally we would like to see Bloodstock hit 20k, but past that point and you end up in a whole other league and that is not what we are about. Any larger than 20k and we would change the dynamic, we would lose our unique atmosphere. I would much rather we were thought of as a mini-Wacken than grow to compete with the likes of Download."
Indeed rather competing with Download Festival, it has become somewhat of a big brother to Bloodstock. Download's booker and Live Nation's promoter, Andy Copping has been a mentor for Vicky and someone she can still turn to for help and advice.
"Andy Copping? I love the man to bits! He is the most decent, honest man out there. In the early days he would give me advice, basically 'don't let the f**kers get you down'. I can still go to Andy for advice and often we find something that wouldn't work for Download would be perfect for Bloodstock and vice versa. As he said to me, if you stop getting passionate about it all, stop doing it. He is just f**king awesome!"
It will be a relief to many, myself included, that Bloodstock remains in the safe family hands of the Gregorys and hasn't been devoured by its own ambition.
As this year's festival approaches, has Vicky got plans to escape the production cabin and be a punter?
"I will be sneaking out front! I am especially looking forward to seeing Saxon, also some personal favourites of mine - Amon Amarth and Hatebreed. I am really excited to see Evil Scarecrow too, and hope we can get 13k people doing the robototron!"
So let's rally the troops for Vicky, get your tinfoil on and see you in the field. As Vicky says
"You WILL do the robototron and you WILL like it!"