Los Angeles. The place where money, glamour, a miniature dog and an abundance of Botox is essential in order to survive the cut throat societies that lay deep in the LA valleys- well at least that's how they make it seem on The OC.
I had waited a long time to visit the LA and couldn't wait to roam around Beverly Hills and skate along Venice Beach. I had always pictured myself staying in a 5 star hotel tottering around in hot-pants and heels just living the dream. However, the reality of backpacking at 18 is somewhat different. On a student budget once again a hillbilly hostel was all we could afford.
Arriving at Backpackers Paradise Hostel my dreams were quickly shattered- almost every shop and restaurant in the area was protected with a sheet of bulletproof glass. Local residents quickly warned us against leaving the hostel after 6pm, and advised locking our doors at all times- you know just in case we got shot. Backpackers Paradise was in fact in a ghetto town called Inglewood, nowhere near the glam beaches and bars I had pictured.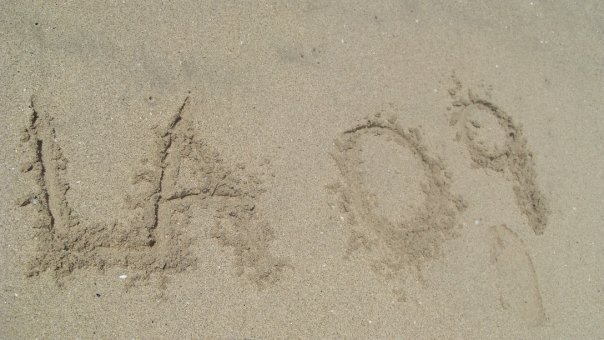 So a piece of Bex FYI: whilst I applaud spontaneity, in America it's almost essential to book accommodation in advance. It's also advised to do a quick google map check to see exactly where it is and how close it is to where you want to be. If you do not follow this advice you may end up in some bad ass neighborhood where fears for safety are rocket high. No no, if you do this expect an adventure that certainly will have your folks back home biting their nails to the quick.
To console ourselves from the mistake we'd made, myself and the girls ravaged the free popcorn and Mountain Dew in the hostel. We then lapped up the sun by the poolside whilst trying to ignore the floating (and used) condoms in the pool.
But it wasn't all bad; BPH did offer free rides to the beach (meaning they squeezed 20 of us into the back of an old rickety van) and offered bus tours of LA.
On day one we decided to chill by the beach after our death ride drop off and soaked up some sun.
Day two we wanted to get out there and see all the sites. We embarked on a bus tour which, although $75, took us to all the hotspots. Red Rooster Ryan, our extremely enthusiastic tour guide, gave us snippets of info in between performances of his own songs. We picked up earplugs around about the third stop.
The tour took us right up to the luxurious Beverly Hills where marbled mansions and tree-lined paths held the homes of the rich and famous. Cue a big sigh here for the realisation that I'm probably never gonna own a five storey, 2000 acre, barn converted, forest covered, gold plated pad.
Next onto Hollywood for some essential pics of the Hollywood sign and the Walk of Fame. The Dolby Theatre, Rodeo Drive and Venice Beach are all other must-see locations on the tour. I felt like one of the Olsen twins just cruising around in a blacked out mini bus wearing my over-sized specs.
Now everyone knows that I'm a big advocate for a good bus tour and whilst I acknowledge that some places are better off explored on foot, LA is not one of those places.
A tour bus is 100% advised and is worth the extra cash, even with the annoying guide. I'd recommended staying in LA at least a week if you want to get to know it well, 3 days certainly wasn't enough for me. Being over 21 is probably pretty vital as well, if you want to experience some of the nightlife.
LA is an amazing place and is everything you think it will be but there's a hundred things I'd love to go back and do so I can't quite cross it off my list yet.
When I next go I've decided I will be a bit more prepared though. I will A) wait till I'm a successful professional so I can afford to live it up B) book a nice hotel in advance that is pretty central and C) pre-print Channing Tatum's address so I know exactly where to find him.
For more go to Rebecca's blog:http://gotthatwanderlust.blogspot.co.uk
@R_RDoubleOT