After a raucous and exhausting few months stashed away in Pennsylvania's deepest valleys, 150 camp counsellors are dropped in the heart of Manhattan's jungle; Times Square. You can only imagine the energy and excitement that catches like wild fire among the young and eager counsellors.
New York City became my favourite place as soon as I stepped off that bus. Aside from partying on hotel rooftops, eating copious amounts of pepperoni pizza and hardcore celeb spotting, of course I hit up all the tourist hotspots. The iconic monuments you see in movies and the infamous landscapes painted on posters are all there for you to feast your eyes upon.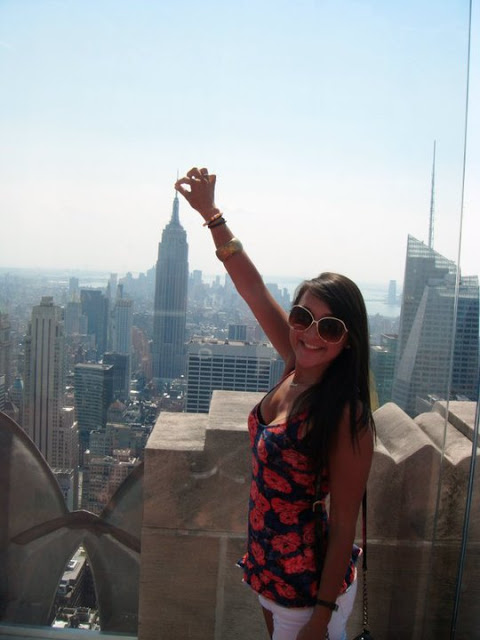 "It's just like in the films. Like really, just like it. I feel like I'm in a Hollywood movie," I remember shouting to my mum down the phone as I stood somewhere between west 34th and Broadway. I remember feeling overwhelmed and crazed with wonder. My eyes couldn't take in all the magic before me. I know you're thinking what a cheese-ball but I'm afraid when it comes to NYC it is the love of my life.
So what to see and do...The city is so big and there is so much on offer that it can be hard to know where to start but this is where I introduce tip number one: in every city I am a true travel geek and get myself on a tour. Usually, if you're staying in a hostel they provide free walking tours (always the better option-more personal, more info and less money.)
A tour bus is a quick fire way to learn about a new place, get your bearings and decide exactly what you want to see during your stay. It's also a speedy tool to help boost you in the culture vulture stakes. My grandparents always think I'm so intelligent and well-cultured when I drop in the tour I did here and the one I did there. It helps if you can rattle off a few well rehearsed bites of info too
The NYC tour bus costs around $64 and, whilst it is hard on the pocket, it allows you access on two routes across three districts over two days and nights. It takes you past all the main attractions allowing for some good photo ops. Union Square, Radio City, the Empire State, the Golden Bull, Brooklyn Bridge, China town, Little Italy, everything you never believe truly existed.
A tour bus makes it a little easier to decide what you want to see and do however, after three visits to New York I still have a two page long list that needs ticking off.
Some of my highlights include the free boat that takes passengers from Manhattan over to Staten Island where you can see the Statue of Liberty. Although you don't get to see the statue up close, if you time it well you can see the statue amid a Manhattan sunset.
The 9/11 memorial museum is another of the main attractions that I insist needs a visit. It is only $10 to enter and the experience you take away from it is harrowing but something you will not forget.
And there's always a toss up between the Rockefeller or the Empire State. Which one to climb? I have only ever been up the Rockefeller but there are 2 reasons for this. Number one being that if you go up the Rockefeller your pictures will have that oh-so-famous backdrop of Manhattan's skyline with the Empire State Building clearly visible. Number 2 is that the Rockefeller is the bigger of the two so if you are an adrenaline junkie like me, you get a little kick knowing you're as high as you're gonna get in the best city in the world.
To be continued...