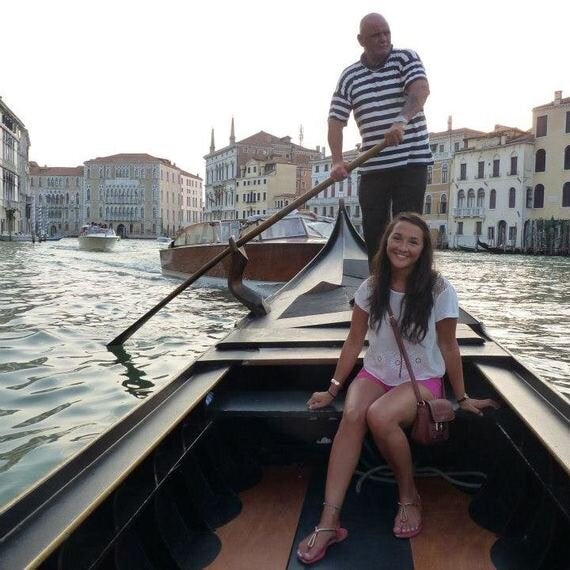 Moving on to the land of rolling hills and winding rivers, it's time for Italy. Rich in culture and diverse in creativity, Italia is home to cities of history, of religion and of art but, they say Venice is the city of love. So, in typical cheeseball style, I headed there with the BF to soak up all things lovely.
Built across 118 small islands that are connected by intricate bridges and cobbled pathways, it is said to be the most beautiful place built by man. It is here, in this unique city, that I received my first taste of Italian charm.
As a Ryanair patron, I had found myself and Robb return flights for £50 each in the middle of August- a summer bargain, perfect for two students.
Again, I then scoured Hostel Bookers to find affordable accommodation. Viva Venezia was a shared apartment in the city centre that was spacious, clean and peaceful. Ideal.
So away to the land of Pavarotti, pasta and passion we went. The sun was hot and the city was overflowing with tourists, all after their own slice of Italian pleasure. Perhaps August is not the best time to visit as temperatures are scorching which makes it hard to keep the backpack on and tourist head fully focused.
However, with 4 full days in Venice there was enough time to divide the day into morning meandering around the sites, and afternoon beach sessions at the Lido.
On the list to see there was Saint Mark's Basilica, the Campanile and St. Mark's Square. I had approached them with interest about the history and excitement at the views. Instead, I was forced to listen to Robb's step by step breakdown of how he had been a spy and mastered the city with Assassin's Creed manoeuvres. Yes, we are talking about a playstation game. Although never having been to Venice, Robb apparently knew how to scale the Campanile, avoid the monks in the cathedral and escape unscathed out of Doge's Palace...bit of culture right there.
When we put our spy kits away and settled for typical tourist transportation, it seemed the city's vaparetto system was the best mode. Purchasing a €25 travel pass to use the vaparetto system unlimited over 3 days was a good money saver. Without it, each boat ride would have cost €7 and, as an island with no roads, you kind of rely on the waterways.
All tourist attractions aside, the key to a great Venezian trip is to get lost. Just wander through the winding streets and quirky alleyways and you'll find original artwork hidden around corners and pretty buildings nestled behind archways. Of course, there's always the gelaterias and pizzerias to keep you fueled along the way.
But how can I detail a trip to Venice without mentioning the gondolas? Those picturesque canal boats that float along the Grand Canal and under the Ponte di Rialto, whilst a sun-kissed couple gaze all doe-eyed at one another. Ready for the sick bucket yet?
A 40 minute gondola ride comes to no less than €80. As official penny-pinchers, this was not an option but I was still desperate to have my wistful gondola moment...and I got it.
On a lazy evening stroll we stumbled across the tragehettos. These are mini gondolas that cross the Grand Canal horizontally. This means that a ride only lasts 5 minutes but costs less than a euro. And, although the trip may be short, you can cross the canal as many times as you like to ensure you get your perfect, little piece of Venice. After you have that, what more could you need from city of love?
Related