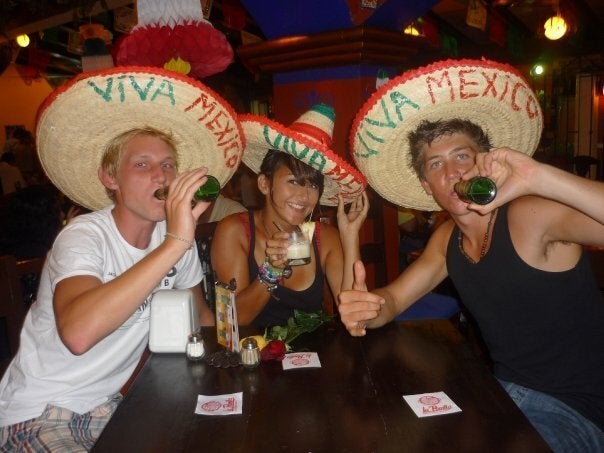 Mexico, food, fun and fiestas. This was my first trip to Mexico and as a typical tourist I headed straight for Cancun.
Sticking to the cheaper option, the boys and I opted out of a 5 star resort and headed downtown to a hostel called Soberanis. For only $20 a night we had a private room and free breakfast. Seen as though funds were running pretty low, brekkie was a major bonus. This was a bargain hostel and one of the cleanest yet so looking at accommodation downtown is definitely recommended.
Downtown Cancun was a much more vibrant and cultured area of the city and, with only a short distance to the beaches and nightlife, we were able to enjoy the best of both worlds. However there was a catch. To reach the postcard perfect beaches we had to cram onto a choc-a-block bus each morning. At only 13 pesos (approximately 70p) this was not an issue and, public transport is a great way to experience a city's true culture. This was certainly true of Cancun. Musicians, artists and street performers pile onto local buses to showcase unique performances. Combined with the constant smell of animal poop, the bus journeys make memorable experiences.
Trying to be a bit more cultured, in the mornings I visited the downtown markets and in the evening we always made sure to sample different food from some of the most authentic restaurants- that and the tequila!
Mexican food for me had always been a bit of a no no but eating it in its origin made a difference. I devoured the guacamole and tacos and munched away on burritos until I could fit in no more.
On one occasion one of the guys, Tom, even found a "kindred spirit." Sitting in a remote taqueria , a man in his late forties approached our table. Between his broken english and my spanish we worked out that he believed he had met Tom in another life. So enthused by this he insisted we move out of the hostel and into his home. We thought that might be a tad too much but we did agree to dinner with him and his family. This was a great opportunity to learn more about the area and Mexican culture.
As Tom got friendly with one local, I got close to another. A lifeguard named Viktor, who worked in one of the beachside resorts, had made it his mission to marry me. This was a an idea I wasn't so keen on but this sweet boy provided us with much amusement. Each day he offered me a different gift in a bid to win my heart and whilst I declined most there were a few I couldn't say no to. A free snorkeling trip in Cancun's reef was golden, although I still struggled with the sea-swallowing thing, and passes to the exclusive beach club could not be refused. So a piece of advice: whilst using a man for his assets is not recommended sometimes you gotta take a freebie when you can.
For those of you wondering how this fairytale romance panned out, Viktor and I did not wed and went our separate ways . However, I do believe his mexican charm won over a more naive Brit and he successfully obtained his UK visa. Lucky escape methinks.
Viktor and kindred spirit man were just two of the locals we met during our stay. There were a whole host of mexicans who were nothing but hospitable. Every night on the Cancun strip we found it easy to make new friends to party with.
Of course we visited the notorious clubs like Coco Bongo and City and undoubtedly they offered an amazing night. However, the not-so-famous clubs were just as good and lucky for me, although extremely sexist, girls often receive free entry.
So all in all, Cancun provided me with a cheap and memorable fortnight, I just had to be prepared to lose my feminist instinct on the way and accept the freebies. Wrong?
http://gotthatwanderlust.blogspot.co.uk