With dinner service imminent, Elena was more than generous as she let us tour the cavernous nooks and crannies of Arzak the evolutionary, cutting edge contemporary restaurant with a Basque twist. She's a 4th generation family restaurant chef and owner. Her great-grandfather began Arzak in 1897, as a family business which has since evolved, after being passed from her great grandparents to her own.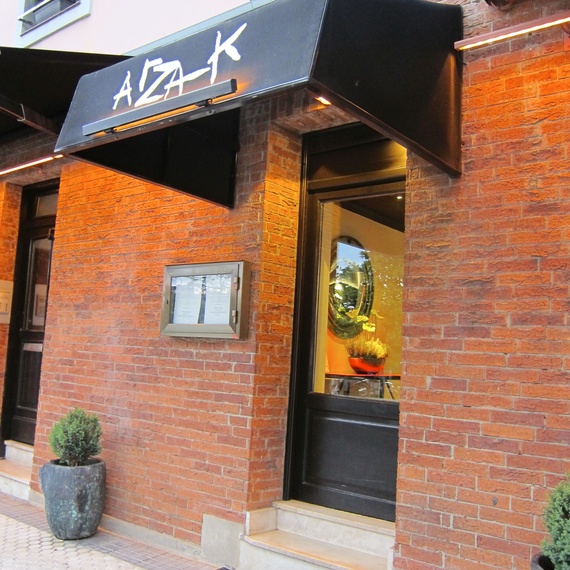 This is one of three 3* Michelin restaurants in San Sebastián and one of seven in Spain and it's here her father Juan Mari Arzak leads the kitchen with her at his side. Her father got his first star in 1974, his second three years later and his third and final star in 1989.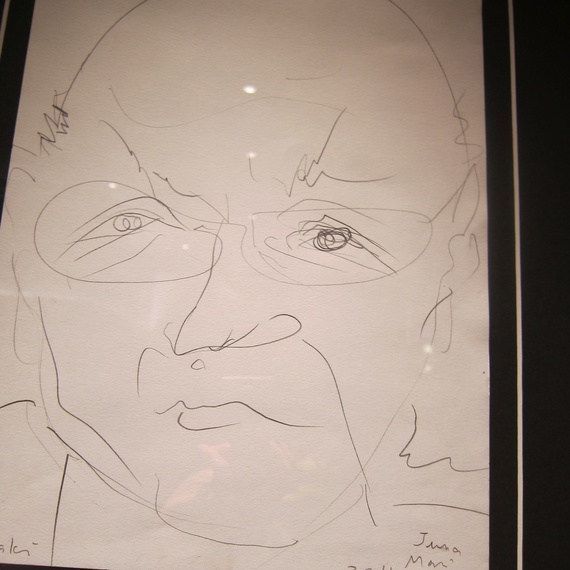 The menu is a reflection of the market and is changed daily. If you have allergies, they'll change it. Don't like egg? No problem. It seems the kitchen is very open and more importantly adapts to the palate of the customer.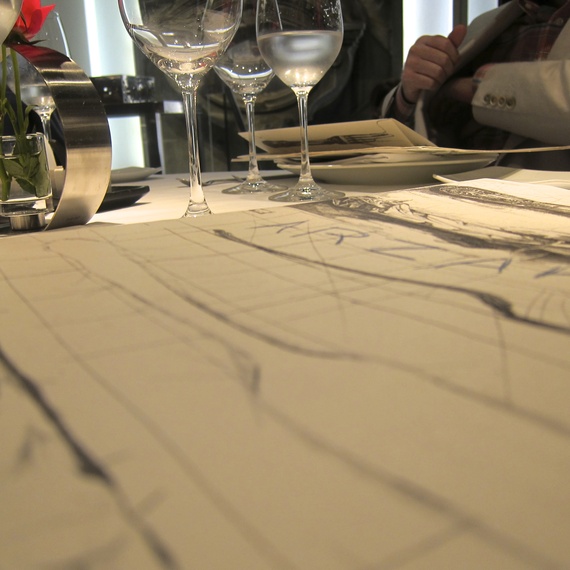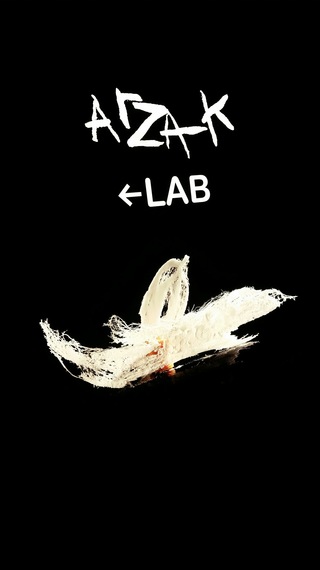 We see the lab where the dishes are created and whole Spanish strawberries are slowly drying.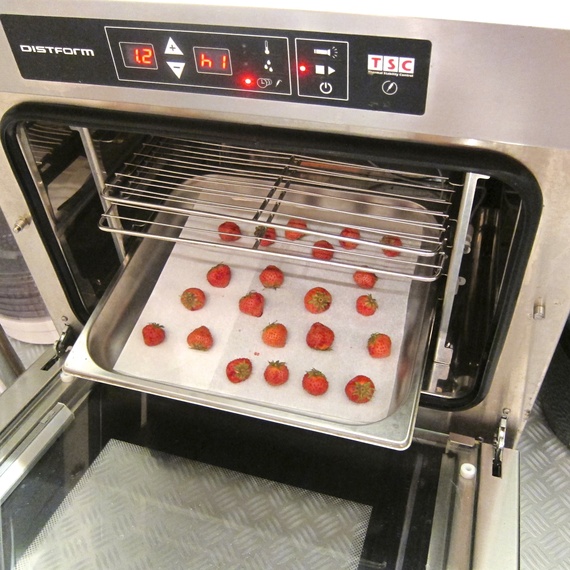 And it's here they distill whisky.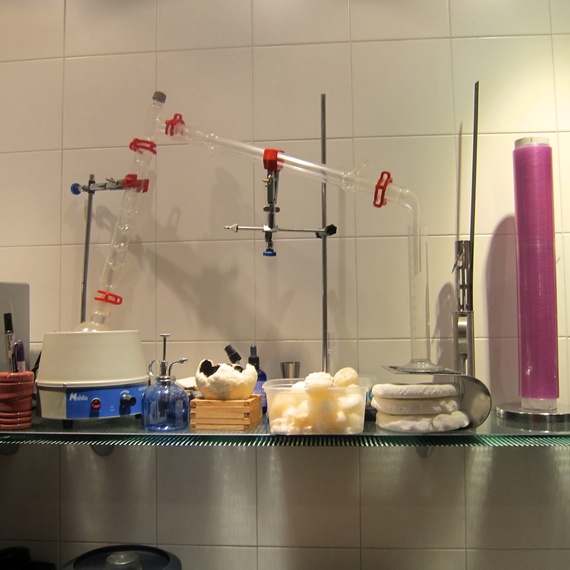 The spice collection is exhaustive and I there are spices from countries like Ethiopia and Japan.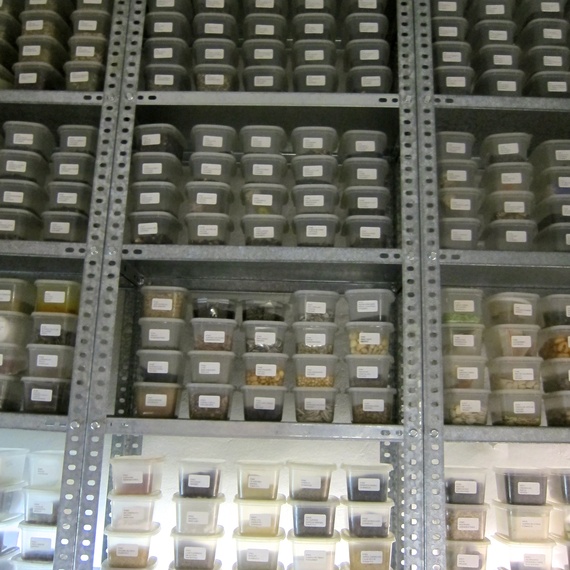 It falls to Sous Chef, Igor Zalakaintake who shares the back room secrets.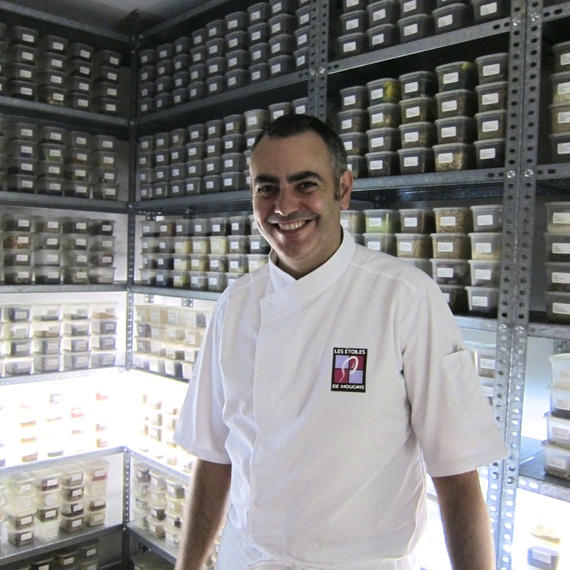 The wine collection is vast and they also have their own humidor.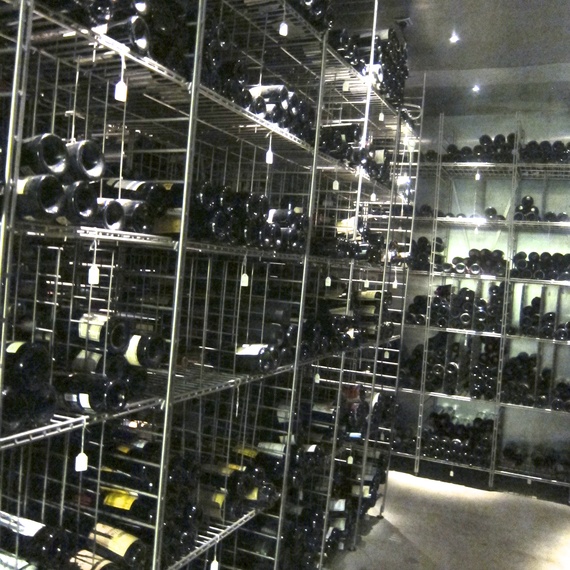 And we get a speedy walk through the kitchen which is calm but Elena says that in half an hour's time it would be a very different scene.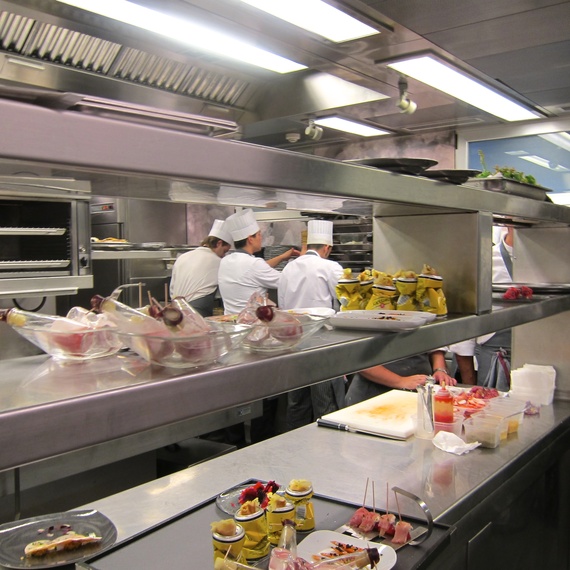 Our table is on the second floor, the other dining room is on the ground floor, along with the bar.
After we took our seat we were visited by both Juan (who's 72 and is there for service every day) and Elena.
The restaurants serves from an la carte menu and a 7-course tasting menu for €189. The tasting menu cannot be taken with dishes from the a la carte. We decide on the Arzak taster menu and Elena visits to ask about our likes and dislikes.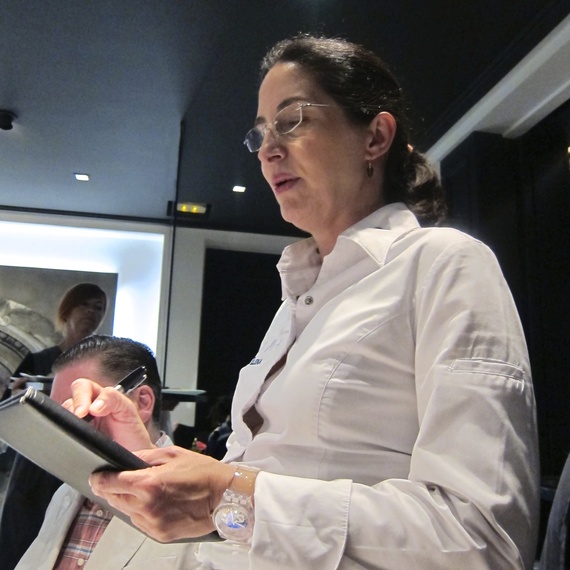 Based on our answers, she decides on the final dishes and we wait for the food to arrive. I'm not going to go into huge detail about how the food tastes because it's something that doesn't translate - you just need to visit. There were a couple of dishes our table of four didn't really enjoy but eating in a group who love food, meant that someone appreciated them.
The Sommelier Jose arrives and he discusses our wine choices. He picks the first bottle of wine which is a Godello from the region, aged in the barrel.
The bread is delicious and the dipping oil, one of the best Spanish oils I've tasted.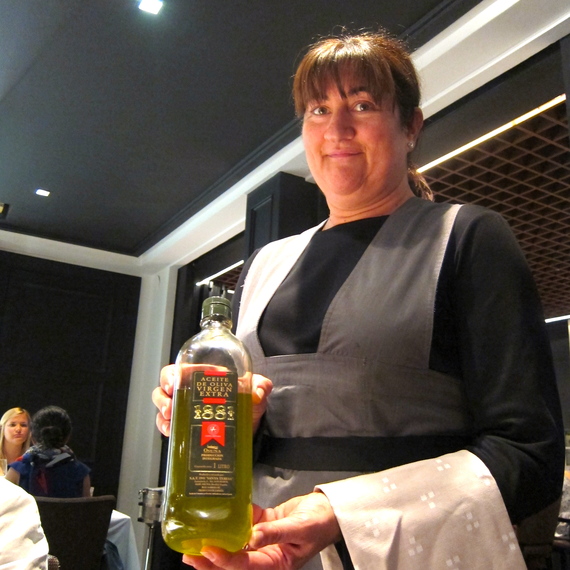 It's then that the amuse-bouche begin to arrive, an indication of the wit, skill and talent that comes from the kitchens here.
Chinese dumplings with prawn and moringa powder was an all round favourite.
Gilda carrot with Ssamjan (Korean dipping sauce)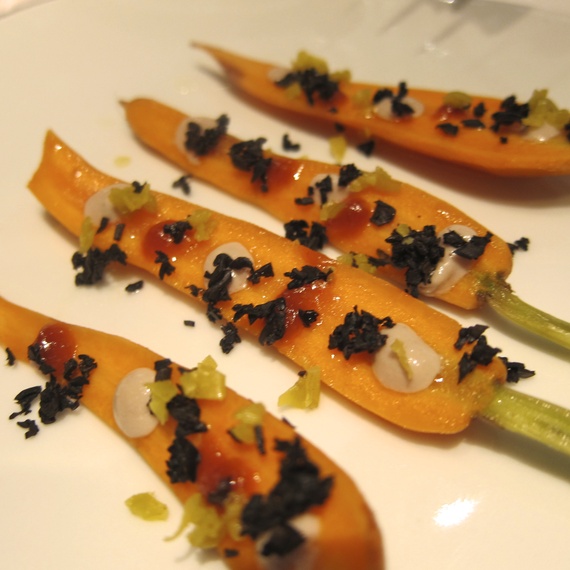 Tuna and strawberry with seabass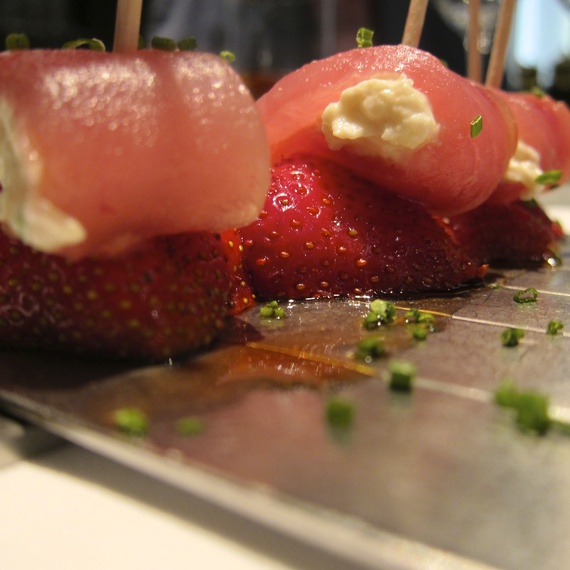 Chorizo and tonic was served on a fist-crushed Schweppes can. A thin slice of chorizo was wrapped in shaved mango and marinated in citrus.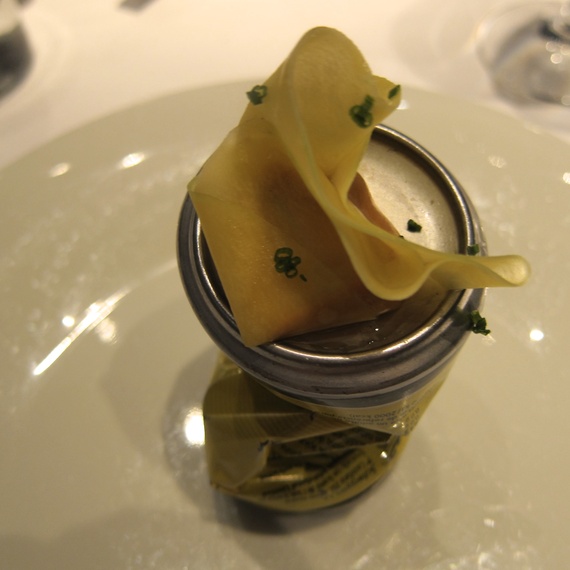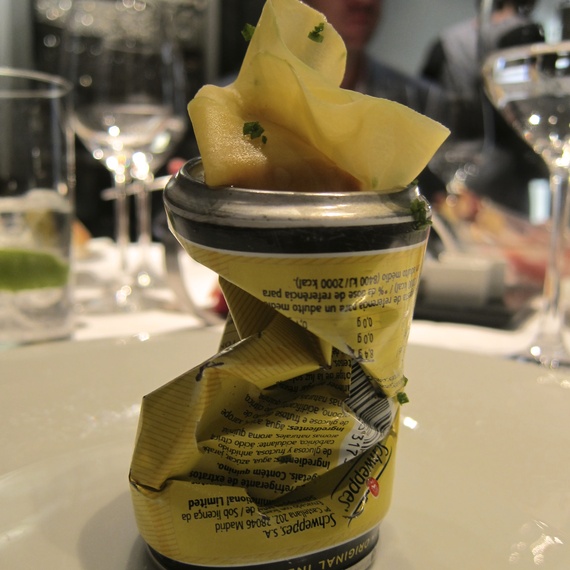 A bitter raspberry purée, corked with melon and jamón ibérico arrived in an iced dish.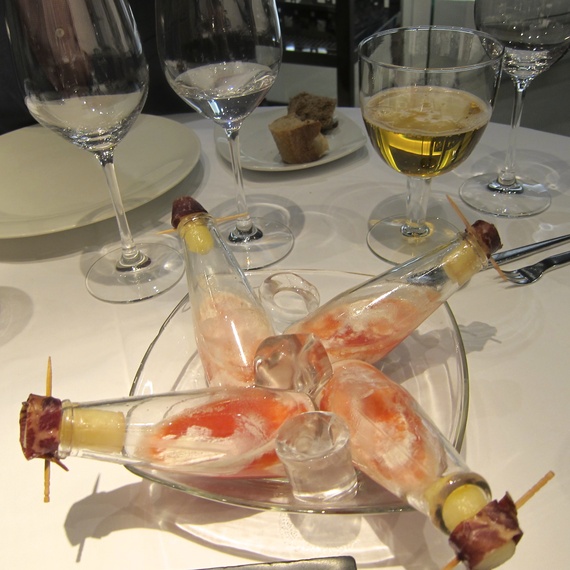 The next bottle of wine arrived - Enate Chardonnay Barrica. A lovely green-tinted, smoked and oaky taste with fresh pineapple and grapefruit. Probably the pick of the wines for our table which is surprising as we're not huge fans of Chardonnay.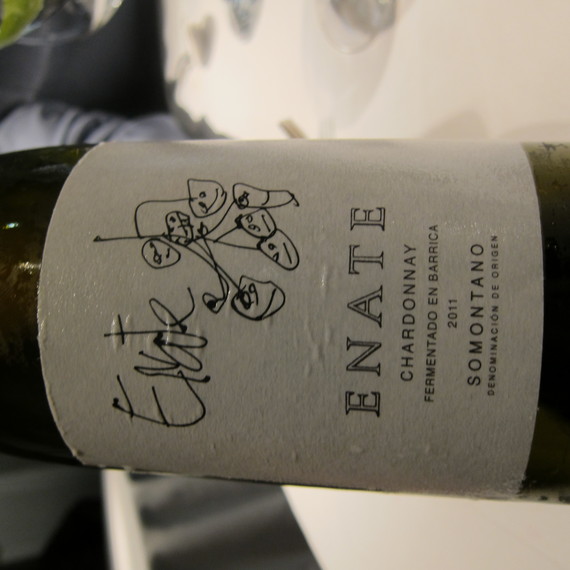 A dish of foie gras and apple was just stunning to both look at and eat.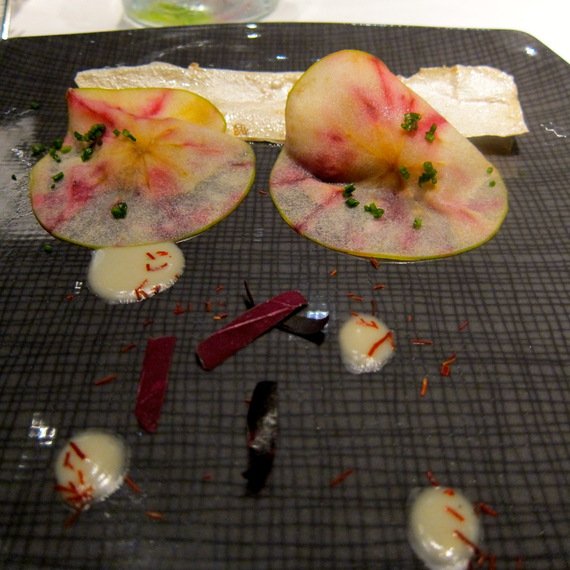 The lobster and sea garden with a crispy pancake was another knock-out dish, with a side of roasted courgette pieces dusted with paprika - the clear tomato jus was incredible.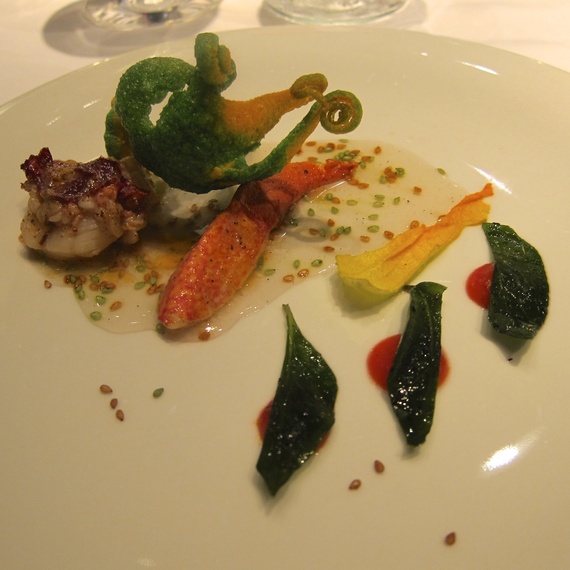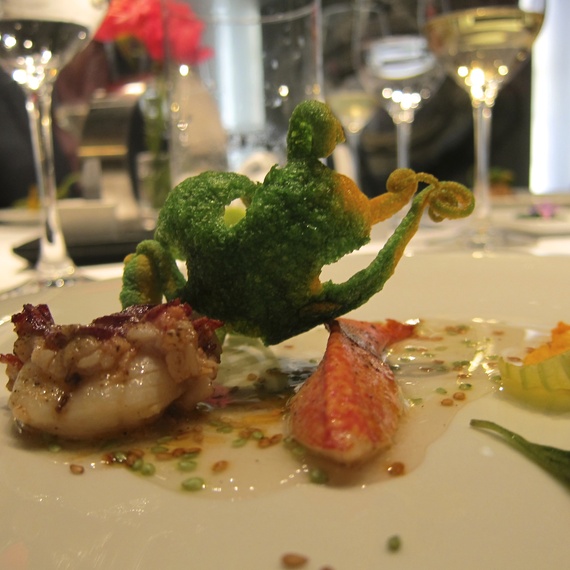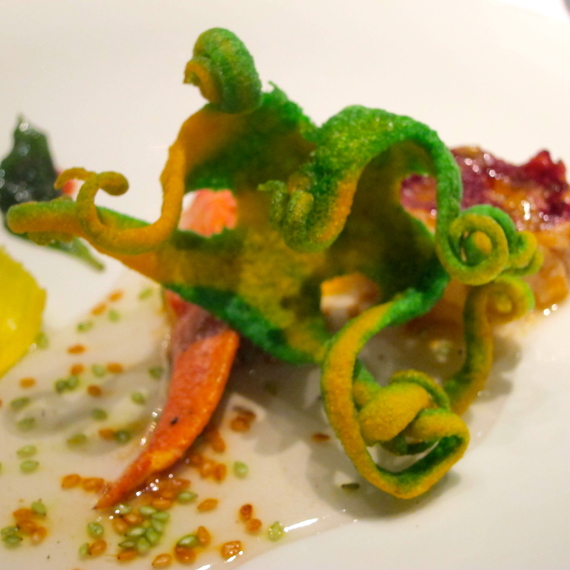 Ovo-Lacto was a crispy egg with a runny yolk, blue cheese (stained in Port) and milk.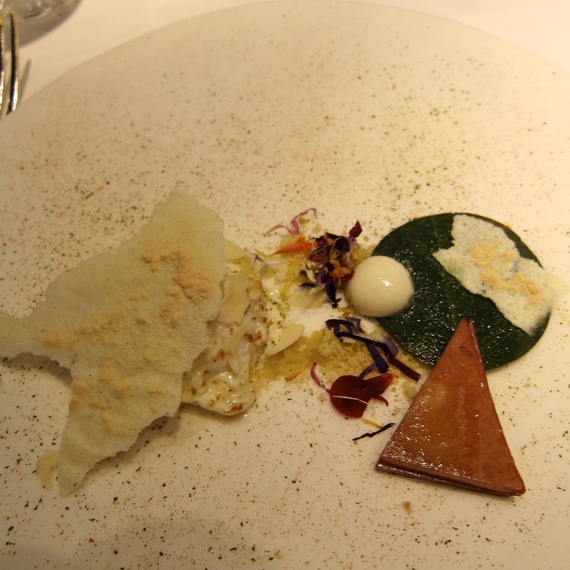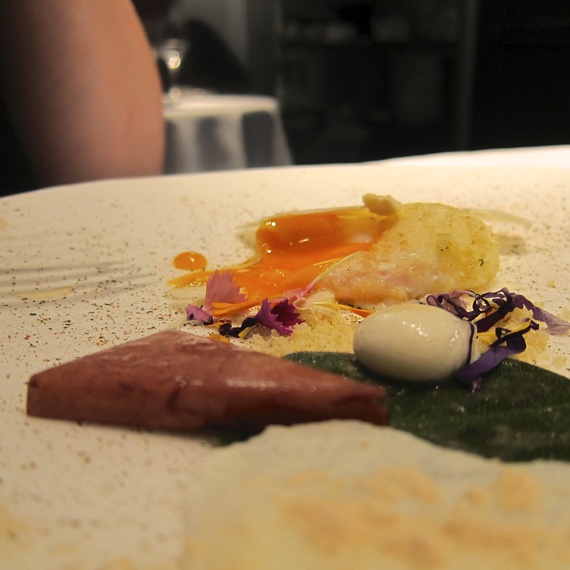 The dish set in volcanic rock had a 'hat' which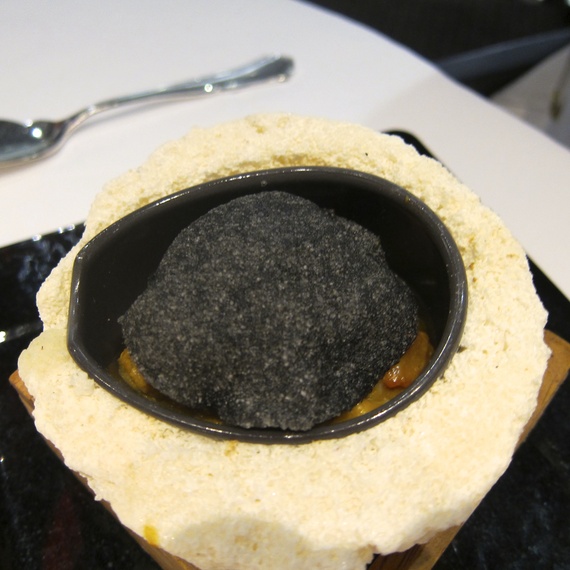 when smashed, revealed oodles of crab.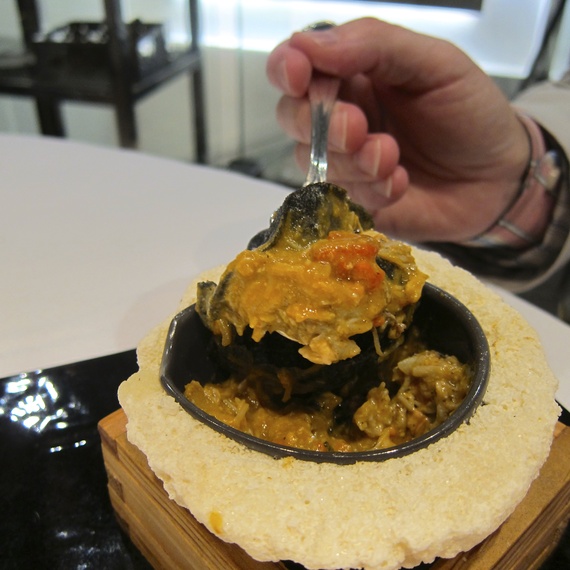 Here's the roasted monkfish topped with 'crispy lobster roe' with sea buckthorn for a touch of acidity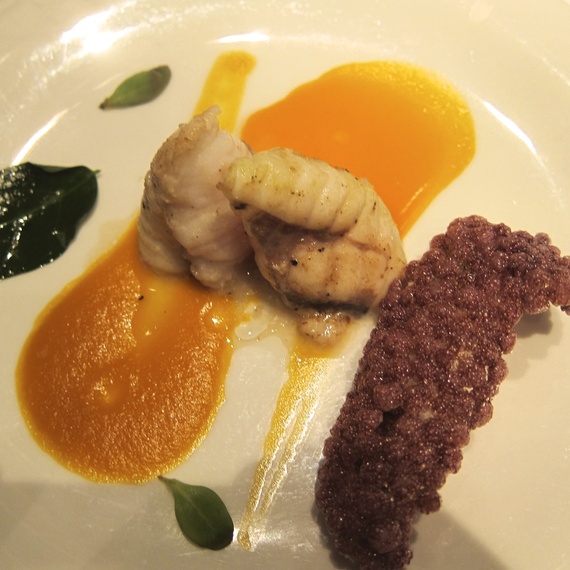 Grilled squid had been infused with kaffir lime leaves and served with potato confit in a black oil and onion jus.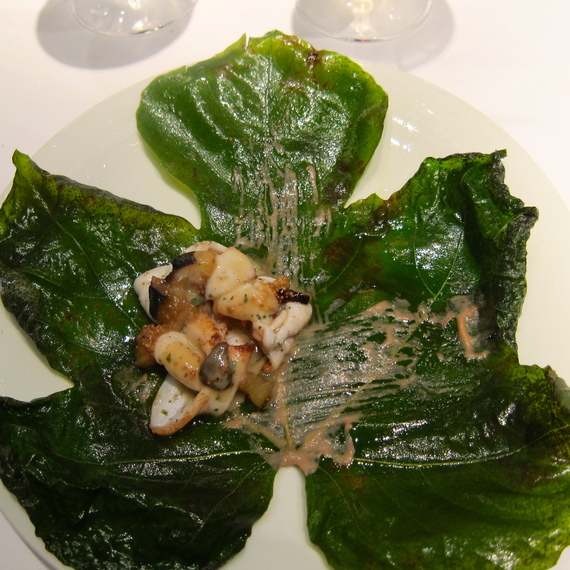 I think at around this time the red appeared, a bottle of Carmelo Rodero Crianza.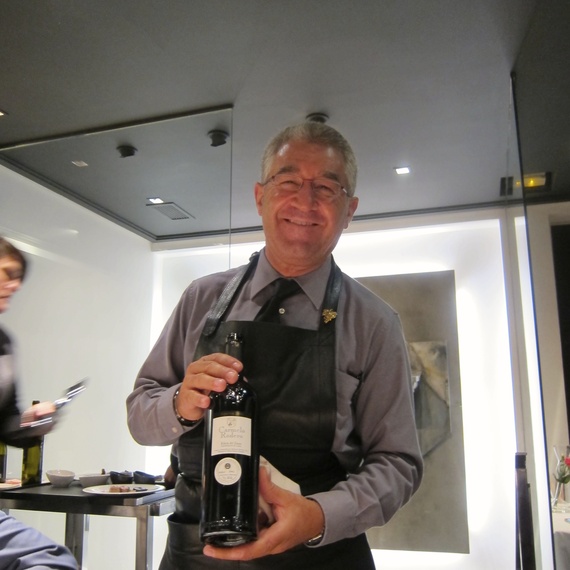 No plate required for this fish dish, a raised platform held the seabass, and below a tablet ran sea scenes for theatrical presentation.
Here's the lamb with heritage potatoes and a separate cassava mousse.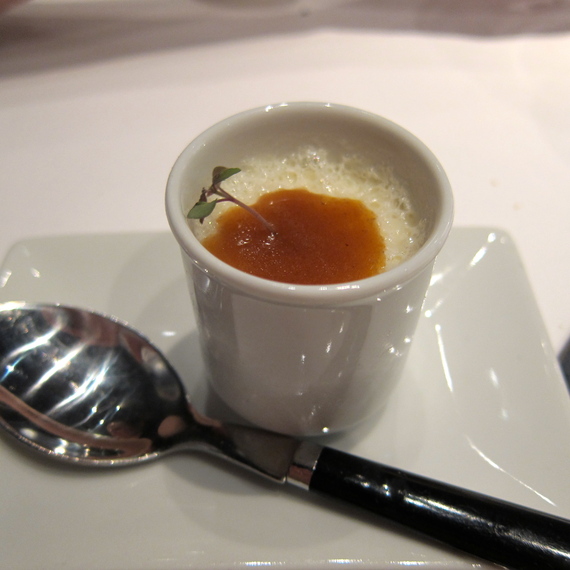 And the pigeon, served with a separate confit pigeon leg with apple and almonds. Flavours rich from the sunflower seed and caramel mounds, concentrated grape and pumpkin seed puree. And a deep rich sauce with a fabulous kick of chocolate.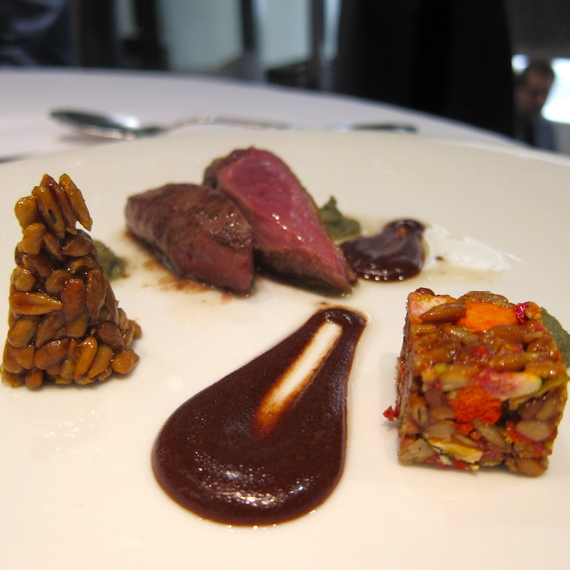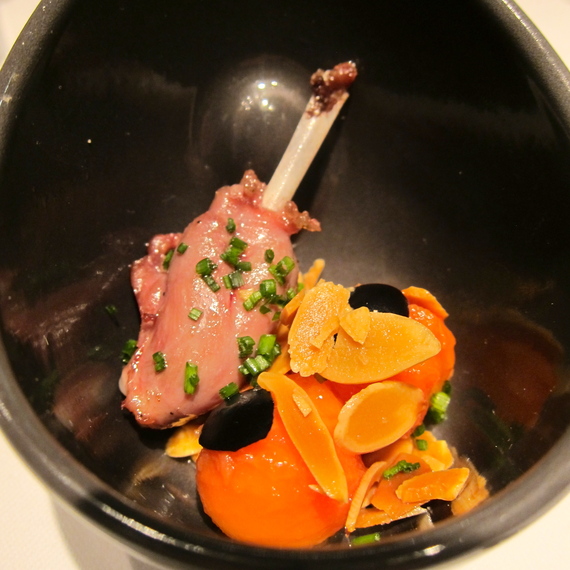 Our dessert wine was N3 Vinas Viejas Jorge Ordonez and was a beautiful colour with high viscosity, and tasted of dried apricots and nectarine jam. Full body and very sweet but left a long flavour of citrus.
And then, they went and whipped up a birthday cake - like no other I've ever had whipped up in a restaurant anywhere in the world.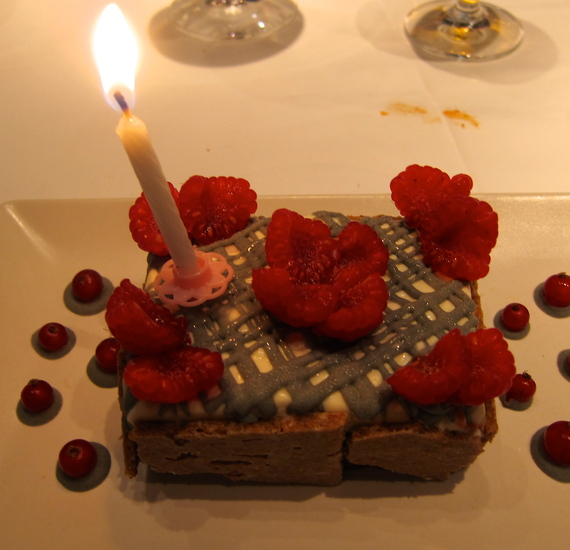 And if that wasn't enough out came the chocolate bomb, drizzled in warm chocolate sauce this air-filled bomb deflated and was one of the best chocolate desserts I've ever eaten.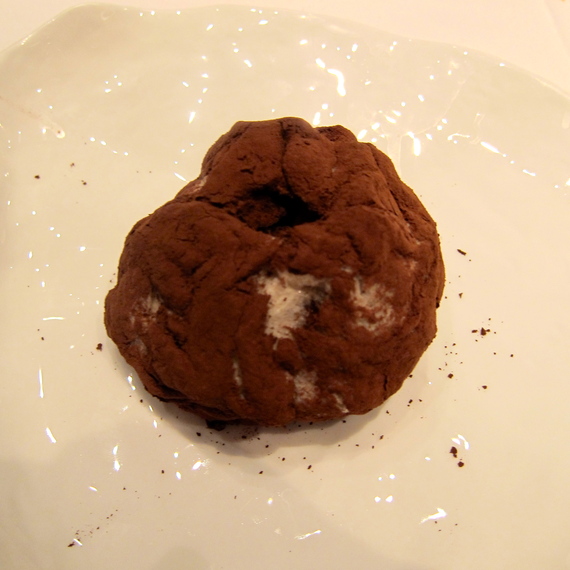 And was I complaining about a second dessert? No. A citron cream had been enveloped in dark chocolate, to look a lot like a blackened lemon, it was served with a dish of spice pods which we were advised not to eat.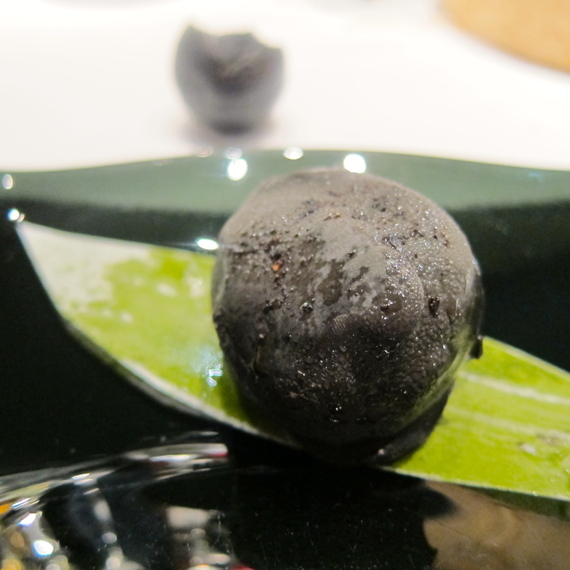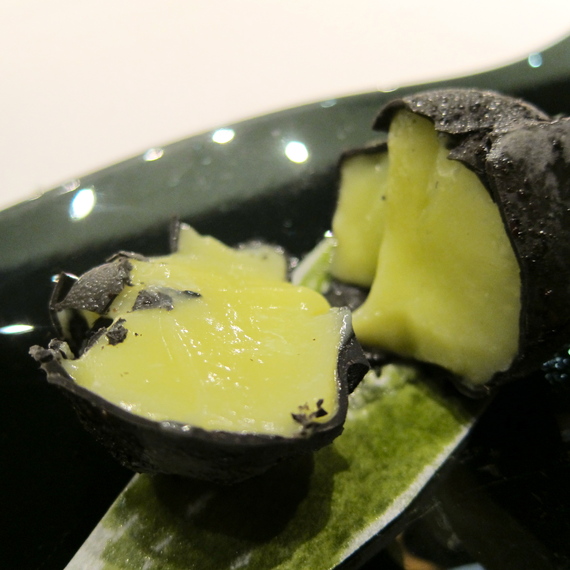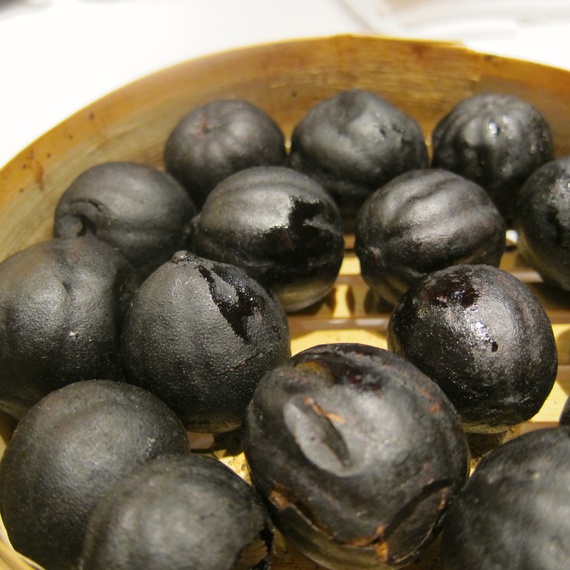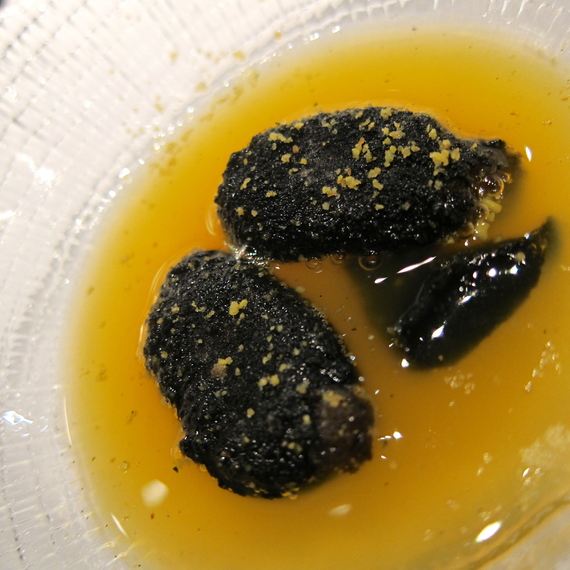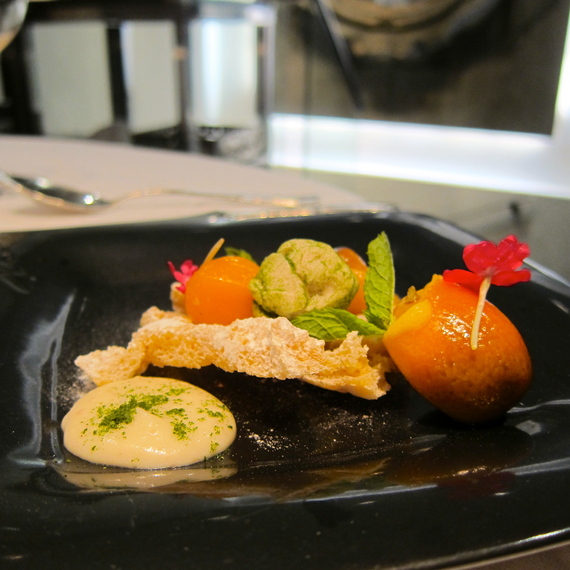 With coffee came a Ferreteria which is the Spanish for Ironmongers and the mirrored tray had chocolate and metallic dusted nuts, bolts, keys and the most delicious cola bottle jelly top, finished with popping candy, which brought the kid out in us all.
A big thank you to our waitresses Carmen and Yolande and of course the sommelier - your service was seamless.
It was an absolute delight to meet both Elena and her father. It wasn't just a restaurant visit, this was a total dining experience, one we have every intention of repeating (funds allowing) in another season.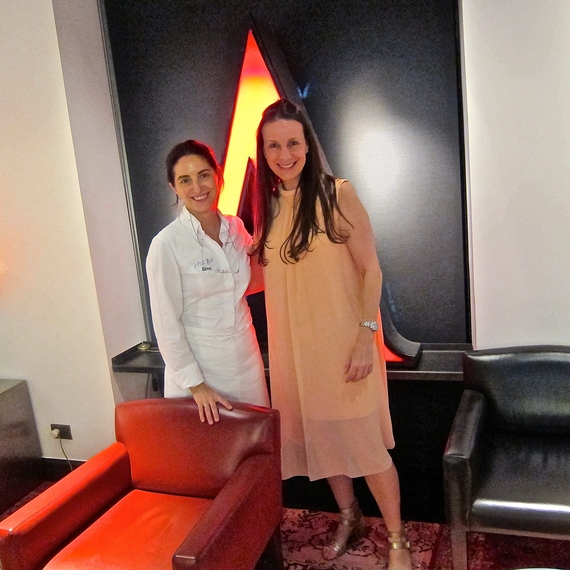 All photographs taken by me, Rebecca Williams