Hankered after, certainly by me, albeit during their fleetingly short season, the eggs from the Larus Ridibundus more commonly known as the black-headed gull can be found on the menus of some of the finest restaurants in the capital. Once the preserve of aristocrats with grouse moors up in the North of England, black-headed gull's eggs are now legally collected on licence, issued by Natural England. The foraging window is short and eggs are only available from April until May 31.
If you've not tried one, when they're broken or cut (I've had them soft-boiled with celery salt and mayonnaise) they have shockingly red-orange yolks and taste a whole lot creamier than a hen egg.
Next month, you can sample gull's eggs on what will be a most incredible culinary night, sampling the best of what the British larder has to offer. Forty five Grands Chefs from the Relais and Chateaux stable, will head to London to offer what they do best - haute-couture fine dining.
The Michelin stars will shine bright on the night of April 22 (most chefs taking part have at least two) and Raymond Blanc leads out the UK contingent. He'll be joined by Andrew Fairlie and Claude Bosi and chefs from Europe and further afield.
The Dîner des Grands Chefs is in its third year, first they took their knives and expertise to the Château de Versailles, last year it was Gotham Hall in New York.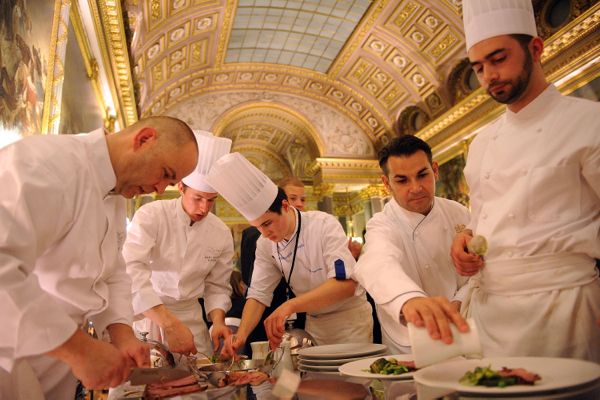 Just 600 places are up for grabs as the former fish market on the banks of the Thames, Old Billingsgate, is transformed into 'theatre of food'.
Expect to sample Devon crab, Cornish lobster, Scottish scallops and Aberdeen Angus beef, all complemented by ingredients from the earth, the sea, farm and hedgerow. Pommery Champagne will flow from Magnums and Jeroboams with as much flair and finesse as the food, including vintage cuvee and rosé. Main courses will be accompanied by either a 1990 vintage Cuvée or a red Château Pavie 2002. The cheese course is paired with a 40-year-old Dom Rozès port and dessert is served with Cuvée Louise 1999.
Fifteen menus, 5 courses and a trio of chefs cooking live in front of the guests it's only as they enter the 'theatre' that the culinary fireworks truly begin - then, and only then will guests know who's cooking their supper.
Whilst you are eating some of the finest food and drinking some of the best wines on offer you're raising money for an excellent cause, the chairty, Action Against Hunger.
Apologies for the press pictures, courtesy of Relais (I usually take my own), Sadly I can't afford the £650 price tag (which does include, food, drink and VAT) but if anyone needs a plus one, I'm incredibly well behaved.
Click here to discover more or to book your place http://www.dinerdesgrandschefs.com/en/home/1-diner.html