Fishy Fishy needs little introduction if you live in close proximity to Kinsale in County Cork.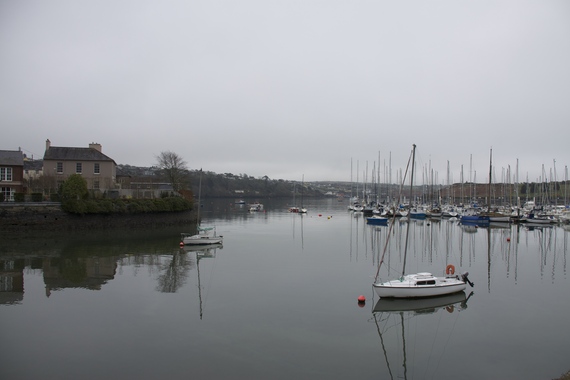 This award-winning restaurant (it can boast a Michelin Bib for 2015 along with other Irish food awards) serves some of the best fish from the south coast of Ireland, freshly landed in this fishing town which is also known as the 'gourmet capital of Ireland'. The unassuming restaurant, home to a former art gallery, is close to the harbour.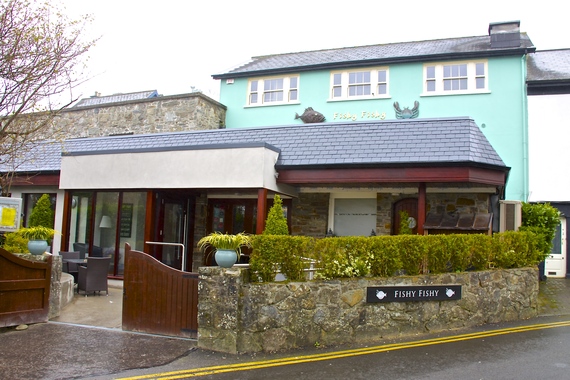 A large, well-stocked bar area flows very nicely into an open plan ground floor restaurant, there's also an upstairs seating area for larger parties. When the weather's fine, everyone takes to the outside seating area. My table (14) was at the back of the restaurant and gave me a great view of the floor. This is a must-book spot out-of-season so if you plan on visiting during peak season, book now.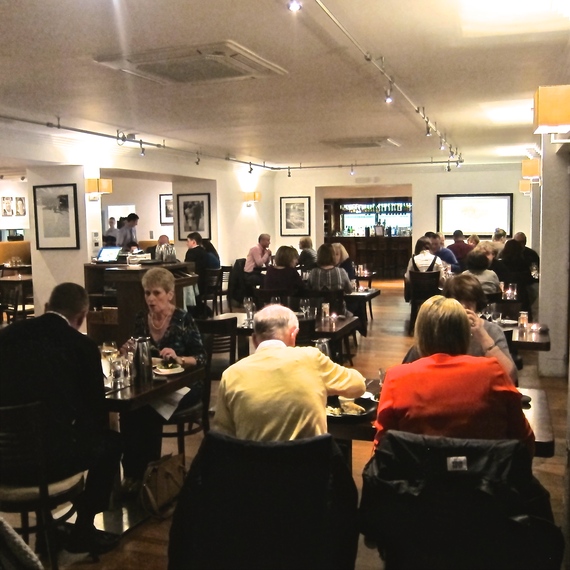 The menu changes daily to reflect the catch. Fishy Fishy's owner Martin Shanahan makes sure he gets the best fish from the local fisherman and on my visit the catch came from David Hurley, Shane Murphy and Christy Hurley.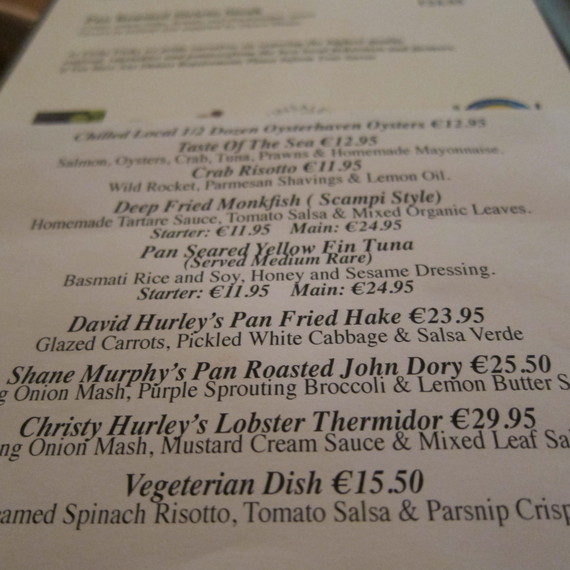 I was like a small kid in a sweet shop browsing the menu which was full of fabulous choice from the Fishy Fish Pie, Surf and Turf and deep fried Haddock in tempura batter.
First the bread arrived, bizarrely with hummus in a former oyster shell. Tasty and plentiful in fact I think I went through three or could it have been four, but it was so good I put the idea that it wasn't very Irish or remotely relevant to a fish restaurant, to one side.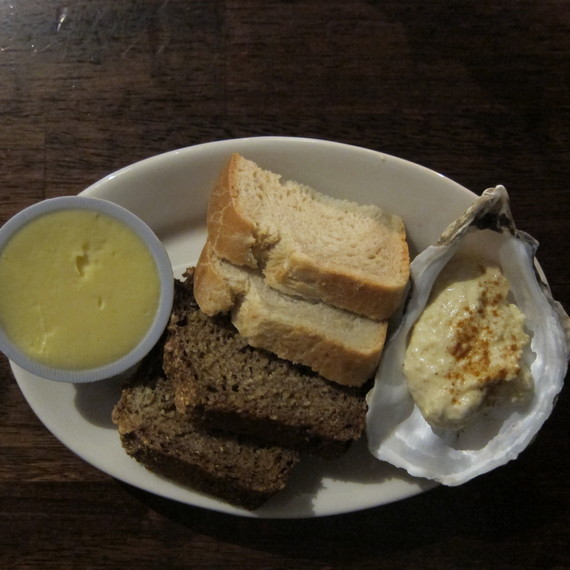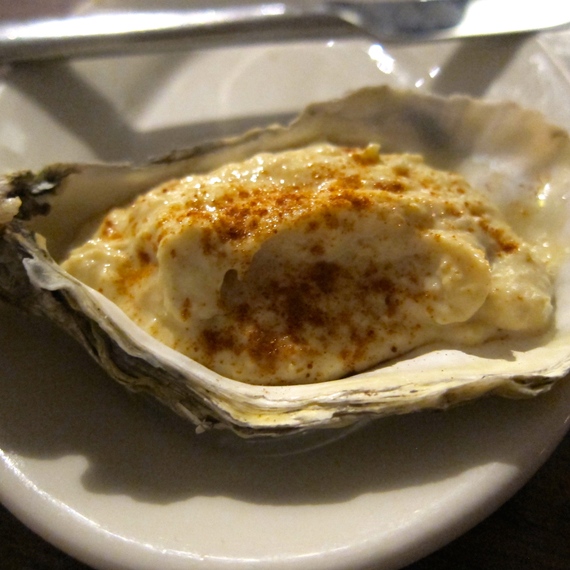 The homemade bread is a recipe in Martin's cookbook who is something of a celebrity here in Ireland where he has his own shows 'Martin's Mad About Fish' and the follow up 'Martin's Still Mad About Fish' The bread had a dense crumb and a super crust.
To start I had a cup of seafood chowder €5.95 the rich tomato flavoured shellfish stock was studded with a mixture of local fish and peppered with tarragon and delicate coriander. The stock is the kind I've tried to create with fish bones in the past, lots of bother but ultimately left with a mediocre stock and a house that smells of fish for days on end. This was a decent sized portion of a very rich soup, plenty when eaten with a couple of slices of that marvellous buttered bread.
I'm afraid those who don't eat a fish or meat diet will suffer here but if you like risotto, ditch the chicken on the salad or tuck into a plate of chips, you'll be just fine.
I had to try the 'Taste of the Sea' platter €12.95 which had a selection of both seafood and shellfish.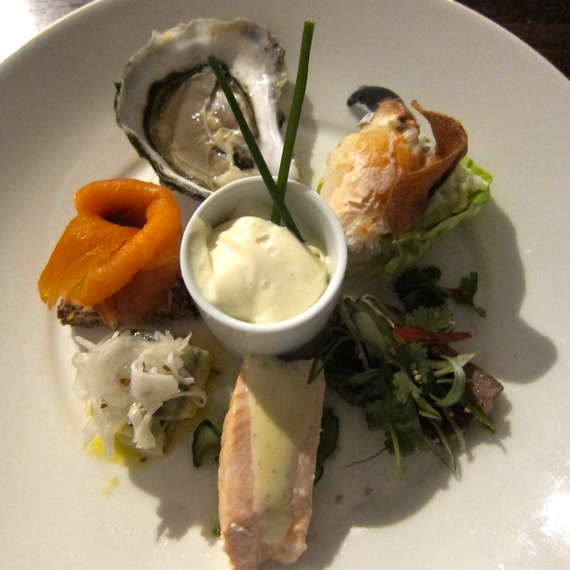 The oyster was so fresh and the crab claws came cracked ready for pulling apart.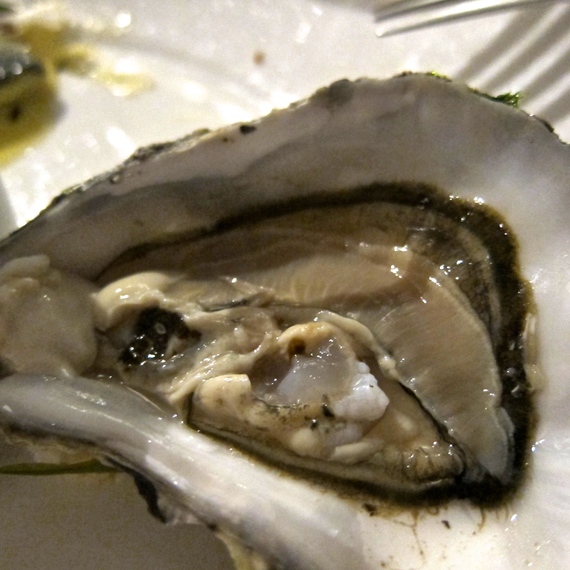 The delicately poached salmon had a thyme and lime cream sauce drizzled over the top. The mackerel was delicate with shaved fennel and seeds. A thick piece of smoked salmon placed on top of the brown soda bread was total joy. Pan-seared tuna served medium-rare was coated in soy and honey and drizzled with a sesame dressing. The homemade mayonnaise remained untouched, I felt that if I actually put it on anything, I would have ruined the true flavours - nothing needed any additional help in the flavour department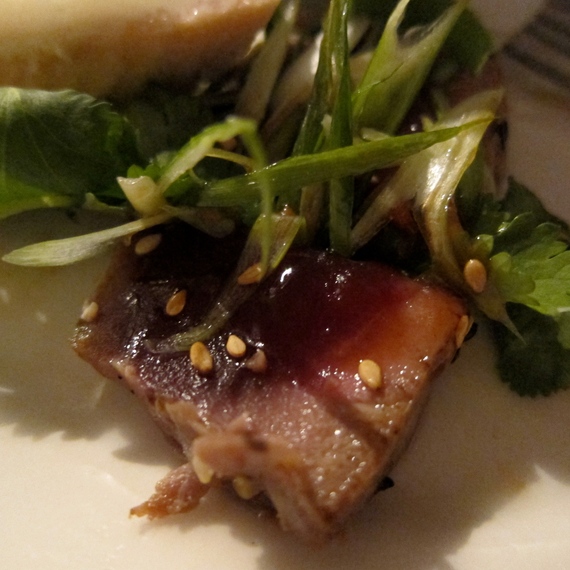 The staff are incredibly attentive and well-trained, I was looked after by both the Restaurant Manager Patrick and a waitress called Marie. I didn't touch the white soda bread and when more bread came to my table it was just brown, it's that kind of attention to detail, coupled with top notch food, that guarantees return visits.
I was desperate to try the Haddock served with homemade chips and tartare sauce and so tried my luck by asking for a starter portion. As I expected, it was really no problem at all. A perfect half size portion allowed me to try the whitest haddock with the crunchiest tempura batter casing. The chips were fluffy on the inside and crispy on the outside, just as they should be.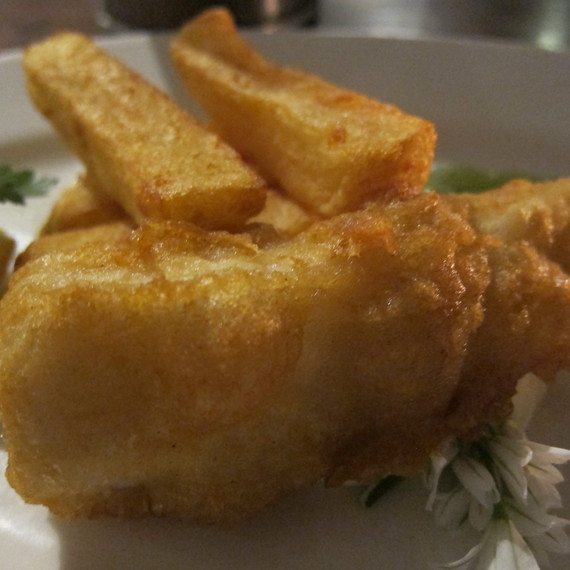 There was plenty of choice for dessert which sadly I couldn't squeeze in, from vanilla panna cotta with a passion fruit sauce to the classic sticky toffee pudding with caramel sauce and fresh cream, all were €6.95 and a few dessert wines and digestifs were on offer too.
For more restaurants in Kinsale, visit my blog.
For information on places to visit in Ireland take a look at the Tourism Ireland website.
All photographs taken by Rebecca Williams.