It's almost Halloween and this year's 'Eat Your Heart Out' pop up cake shop came back for its third year. Miss Cakehead and her collective of food artists presented 'Feed The Beast' and I went to take a look.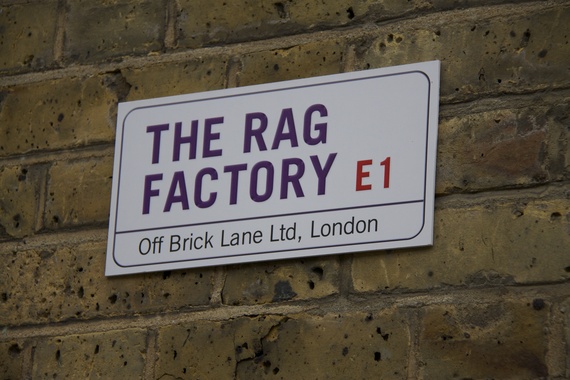 Photo by Rebecca Williams
This year it's all about the Kraken - a mythical giant octopus-like sea monster, said to live off the coasts of Norway and Greenland. One such beast has been found just off the North Kent Coast and 'The Black Ink Society' - a Kraken Rum supported research team - are sent to recover and secure the remains. An autopsy takes place on board the Kraken Hunting X-Pilot near the Red Sand Fort where the beast was found. Several of its body parts were brought on board and included a giant eye (white chocolate eye filled with Kraken Rum).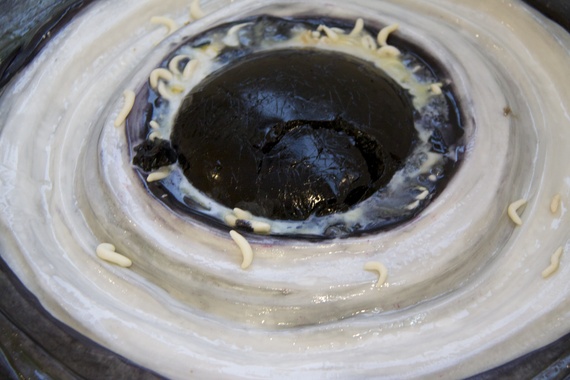 Photo by Rebecca Williams
Kraken cysts (black pickled onions), eye pupils (black eggs), black sticky stomach contents (liquorice and black treacle), an entire kraken mouth (Kraken Rum cake).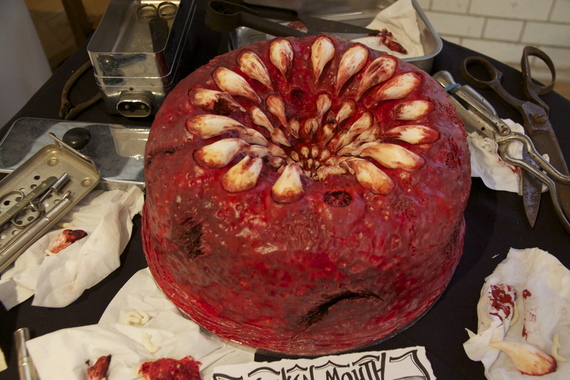 Photo by Rebecca Williams
with over 200 teeth (made from white chocolate) and the remains of a human skull intertwined with juvenile kraken tentacles (Kraken Rum cake).
The cakes are created by Conjurer's Kitchen and Heartache Cakes.
Visitors to the gallery were treated to the remains of the Kraken post-autopsy and were able to feast on it's maggot (marzipan) ridden-flesh (rum cake).
The centrepiece was a Devil Horse Cake made by The Tattooed Bakers. Its gut was made of red velvet cake and constructed to channel Kraken Rum through the nostrils. It took Eddie and Rich over 200 hours to complete.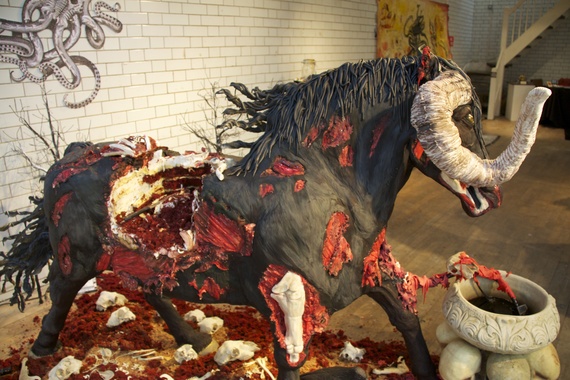 Photo by Rebecca Williams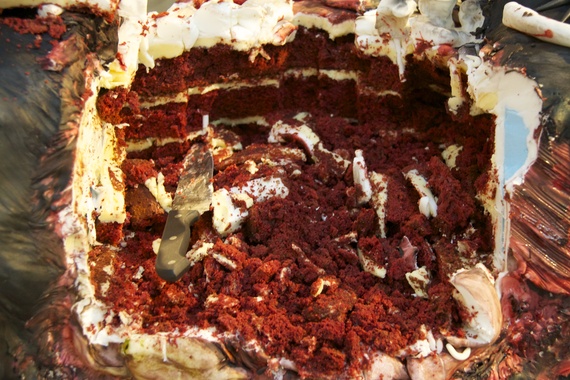 Photo by Rebecca Williams
These 'Scarred Rocky Road' are by Heartache Cakes, look awful on the outside but tasted delicious.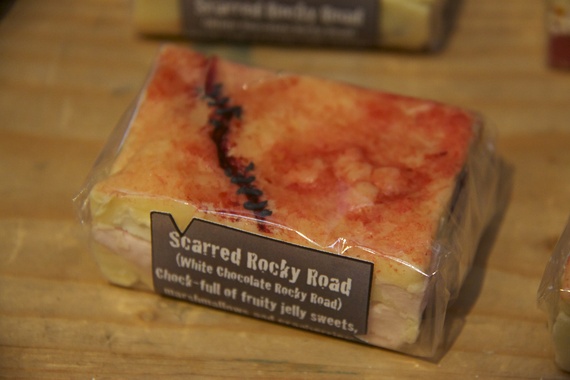 Photo by Rebecca Williams
The Kraken Mouth Cupcakes were also really deceptive.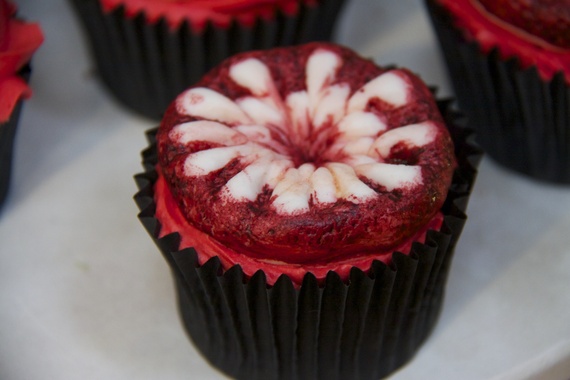 Photo by Rebecca Williams
'The Growler' cupcakes by The Tattooed Bakers weren't for the faint hearted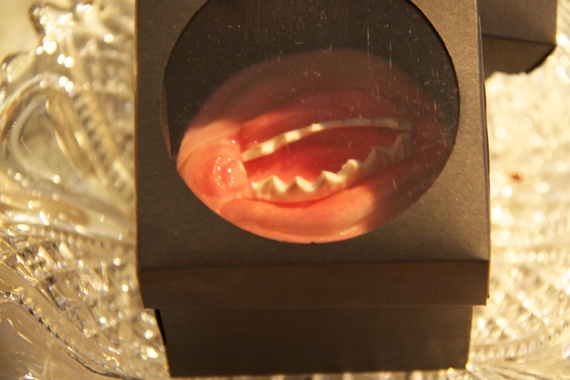 Photo by Rebecca Williams
and their 'Fantastical Faeces' not for the squeamish!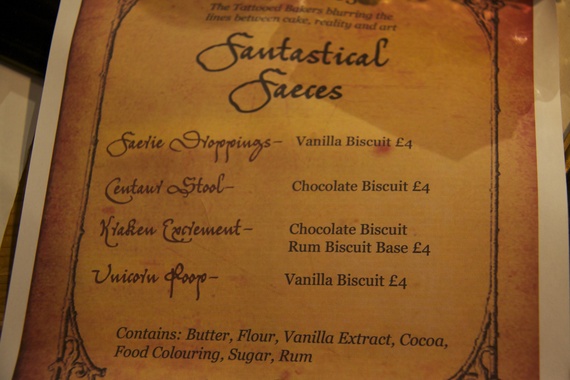 Photo by Rebecca Williams
And from the bakers 'Twisted Fondant', this maggot extraction cupcake.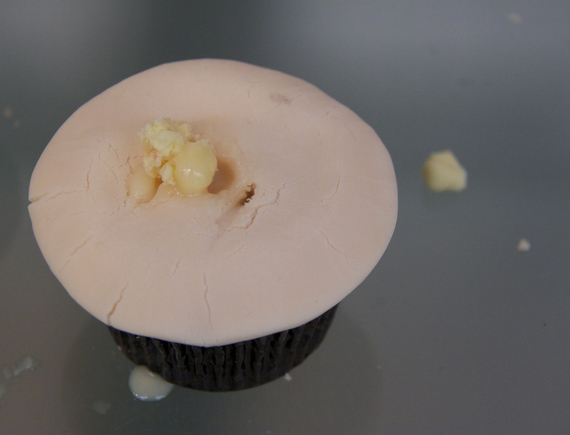 Disturbingly realistic these chocolate body parts - including 'Drowned Sailor Hands' - are from All Mine Patisserie.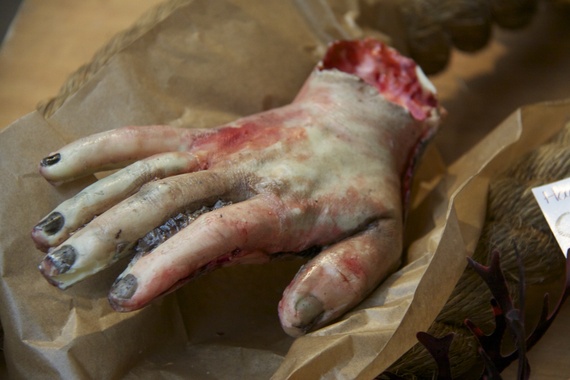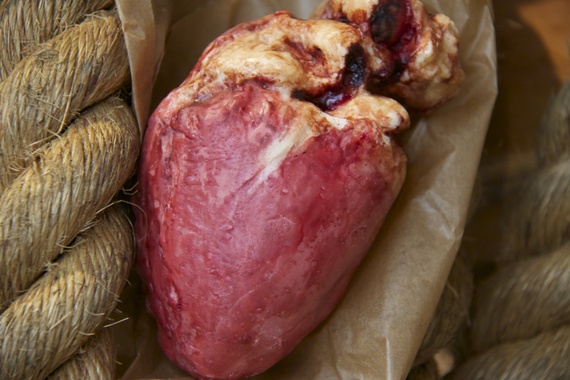 You can see more images at my blog.