Jersey is an Island of riches, known for it's beautiful cows, potatoes and off-shore bank accounts but as finance isn't my forté, I'll leave that to the billionaires who live here. Jersey produces some cracking produce from seafood to the famous Jersey Royals so it's no wonder chefs gravitate to work here. There are four Michelin starred restaurants on a rock that's 9 miles by 5 miles wide and some non-starred places in between - there are thirty-two AA rosettes making Jersey one of the most highly awarded holiday destinations in the British Isles.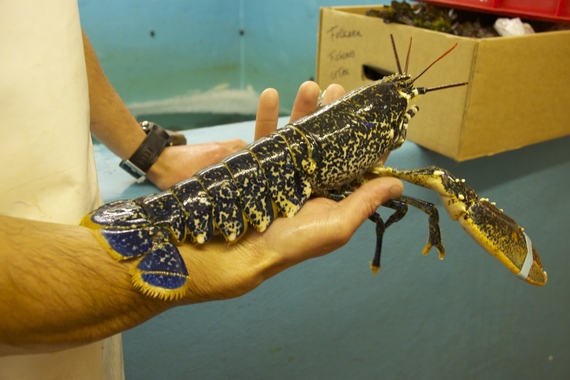 Getting there is a breeze and from London there are 14 flights to Jersey each day which take just over thirty minutes. If you're not in London then there are also regular flights which leave from over 16 regional airports in the UK and lots of European cities too. Ferries leave from both the south coast of England as well as North Brittany in France. Condor Ferries sail from Poole or Weymouth and take around four and a half hours. From France, it's just over one.
Longueville Manor is my home for my two day stay and with my package, comes a hire car which is an absolute must if you want to explore everything Jersey has to offer.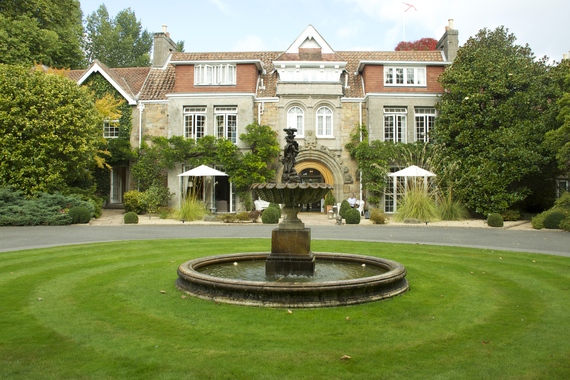 My room is aptly named "Royal Highness" and is on the second floor with all mod-cons.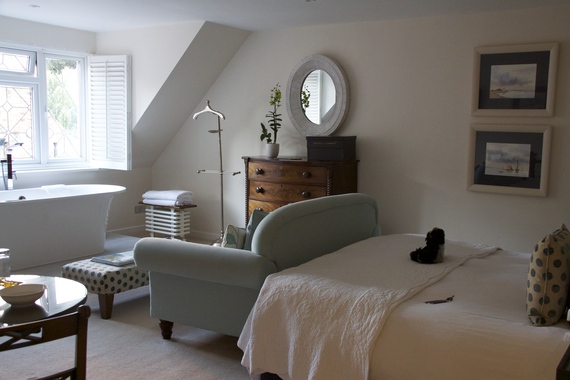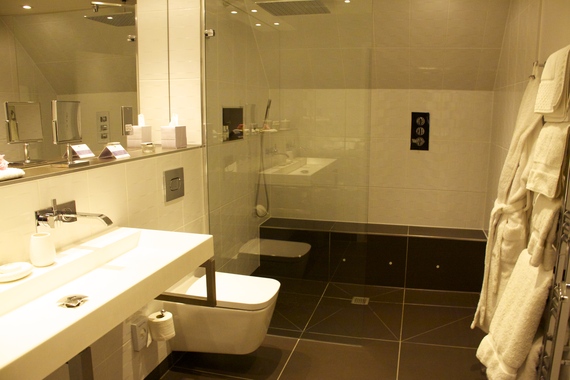 The hire car is a Fiat 500 with retractable roof, perfect for the sunny weather, is fast enough to take on the hills and small enough to negotiate the country lanes.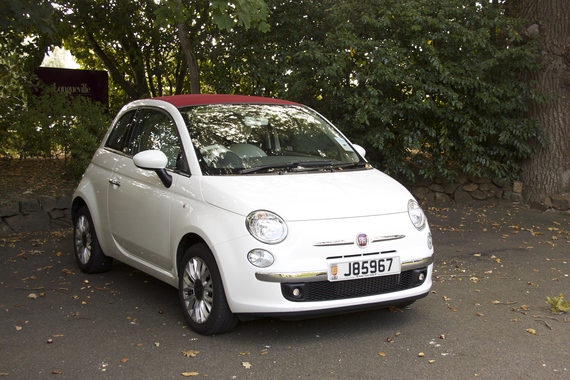 Known for its firsts, Longueville Manor had all en-suite bedrooms, and its own swimming pool by the late sixties. Whilst tempted to dip a toe in the heated pool I didn't, so I enjoyed a pot of coffee there instead.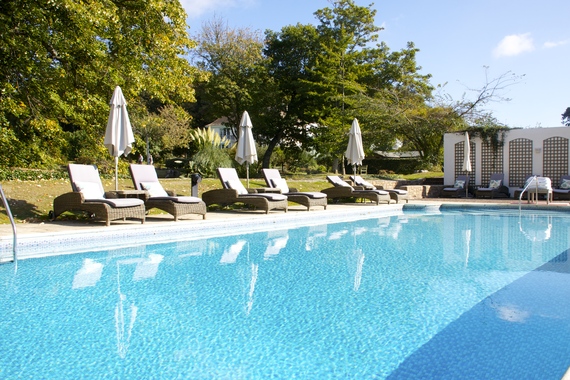 I have a few things I'm keen to visit, St Matthew's Glass Church (whose alter is moulded with verre blanc moulé-pressée, formulated by Lalique and used by him to make much of the furniture of the church)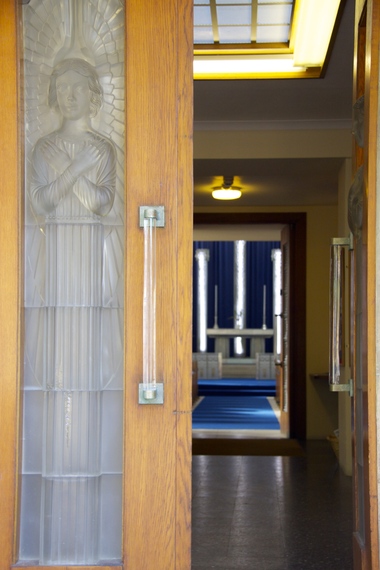 La Mare Wine Estate who make everything from wine to chocolate, gin to apple brandy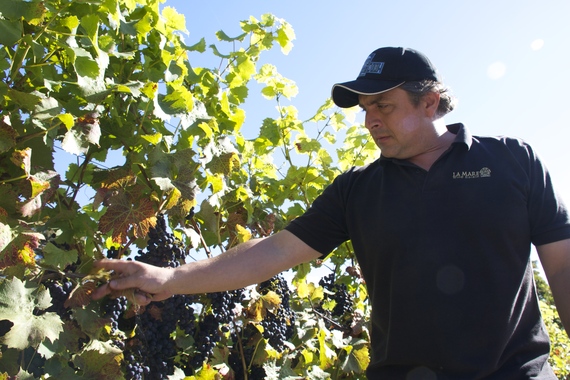 and Durrell Conservation Trust and manage to tick them all off my list.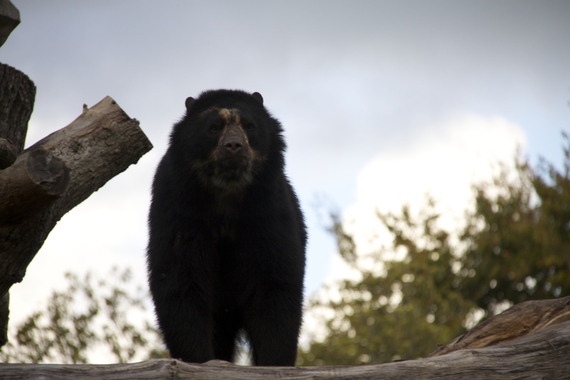 I stop to admire the famous and incredibly curious cows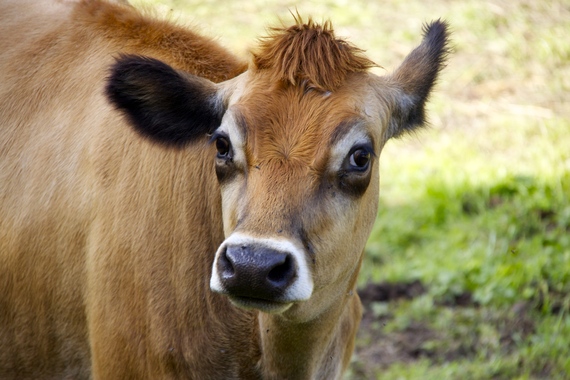 and abundance of roadside fruit and veg stalls along the way.
I discover Faulkner Fisheries at L'Etacq, in St Ouen and eat scallops freshly cooked on a barbecue and share my seaview with a seagull.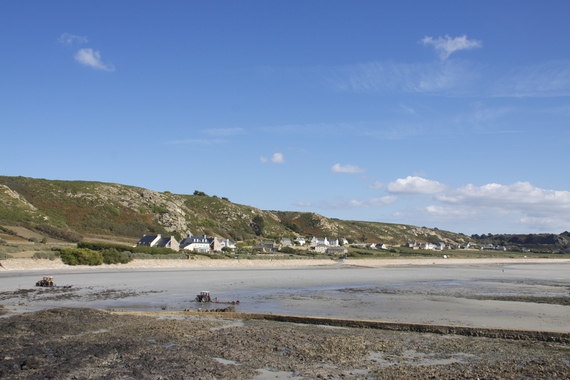 and find out that the local delicacy Jersey Black Butter or Le Nier Beurre is not actually butter but an ancient apple spread.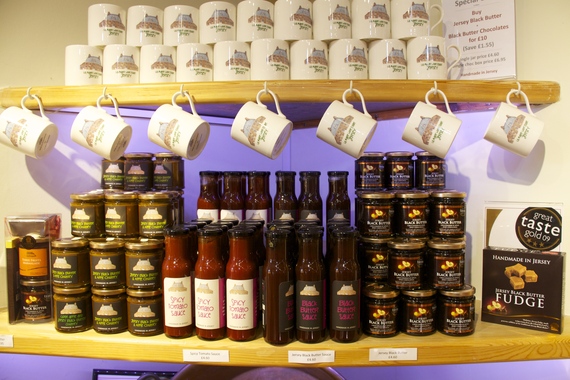 In fact, if you plan to visit a few of Jersey's famous sights - including the War Tunnels (Jersey was occupied during World War Two), it would be worth your while to buy the Jersey Pass, a discounted, sightseeing package, which allows you free entry into most visitor attractions on the Island, including La Mare and Durrell.
If walking's your thing, you can grab a map and take up the maritime trail which takes you around St Helier's waterfront, the ale trail starts and ends with a pub or coastal foraging takes you on a wild adventure before cooking what you gather on a beach fire.
In the mid 19th century, the owner of Longueville, Reverend W Bateman, re-landscaped the grounds and created a lake, specimen trees and a Victorian kitchen garden.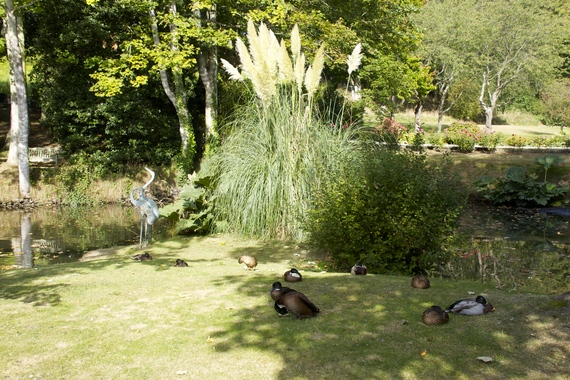 Renovated in 1991, the glasshouses were rebuilt, paths cleared and the beds planted to supply the kitchen.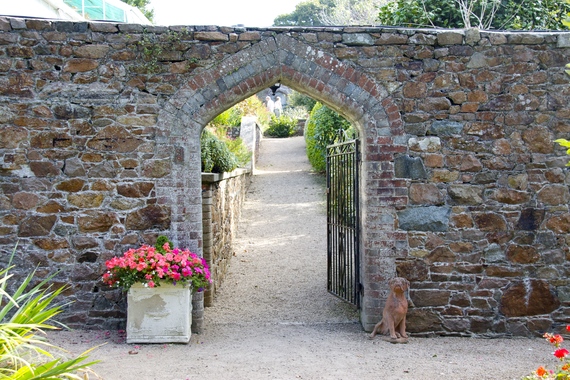 Today it's David Lewis who gives me a tour of what's hot right now here, in late-September. The weather has really held out and he has a glut of blackberries, beautiful artichokes and a few rare plants which have flourished in the Jersey weather. A big fan of the herbalist James Wong, David took a punt on some Electric Daisy seeds and is pretty pleased with the results.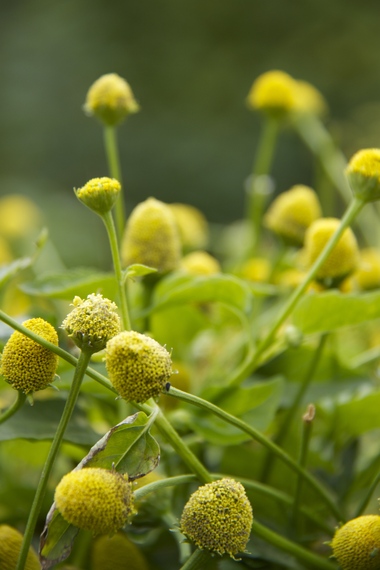 These beautiful low-spreading plants are bright yellow and when chewed produce a sensation that can only be likened to a low-level electric buzz which lasts for about five minutes. Perfect for revving up any dessert or cocktail. The plant has high levels of a pain reliever known as Spilanthol and is used traditionally to cure anything from toothache to mouth ulcers and sore throats. If you see this being served up in a dish on the Island, eat with a hint of caution, you'll not taste anything for a little while after!
David helps feed the kitchen and works with Executive Chef Andrew Baird and it's the micro-herbs he supplies on a daily basis.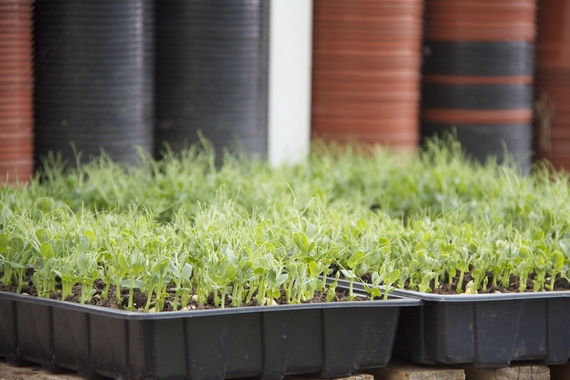 Andrew is creating some fabulous plates of food, totally under the radar, but when you're making impressive dishes like his you let the food do the talking. He gets the very best the Island producers have to offer, hand-dived scallops, for instance and if they're not available then they just aren't on the menu. Luckily for me when I visit they are and my meal is divine. My hosts are the owners Malcolm Lewis and his wife Patricia. The hotel has been in the family since 1949, passed down through his parents and grandparents. Just one of three privately owned and managed AA 5 red star hotels, (these hotels stand out as the very best in the UK and the Republic of Ireland, regardless of style), in the British Isles, they set their quality bar incredibly high, no wonder why it's a member of the Relais & Chateaux Group too.
There was plenty of choice from a Discovery Menu to a la carte.
Butter poached local lobster with "shumai" and Asian broth, total theatre and a dish that tasted of the sea with delicate dumplings.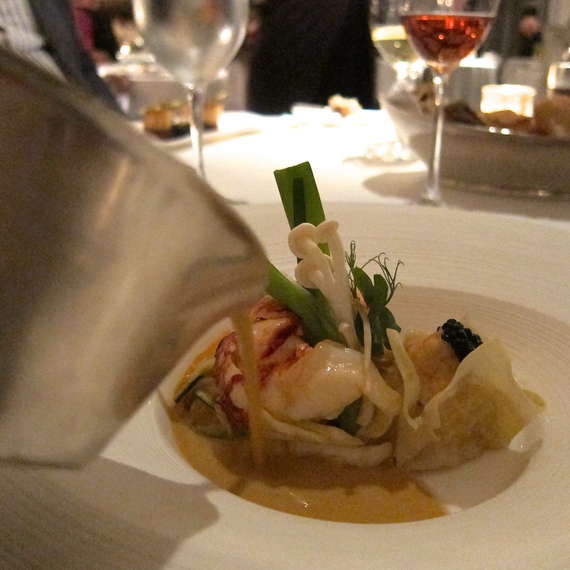 Next up was the poached lemon sole with local shellfish, baby garden vegetables and a lobster sauce which was just the most beautiful dish, a real shame to demolish but I made very light work of it all.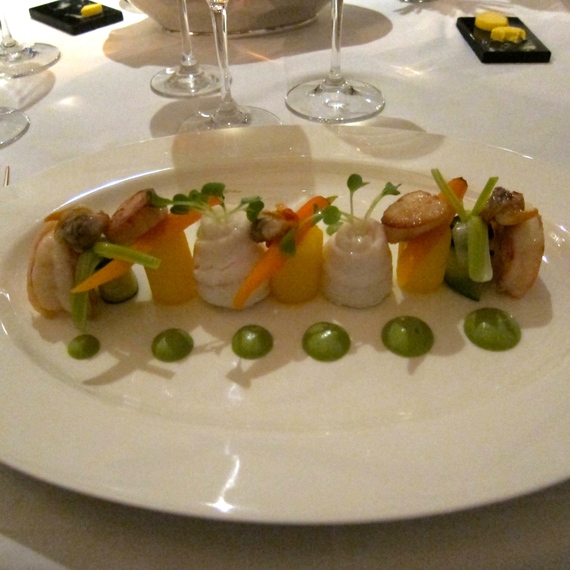 Dessert was a must and the chocolate work on this sphere was quite something, Baileys ice cream, when cracked revealed a hazelnut mousse with banana.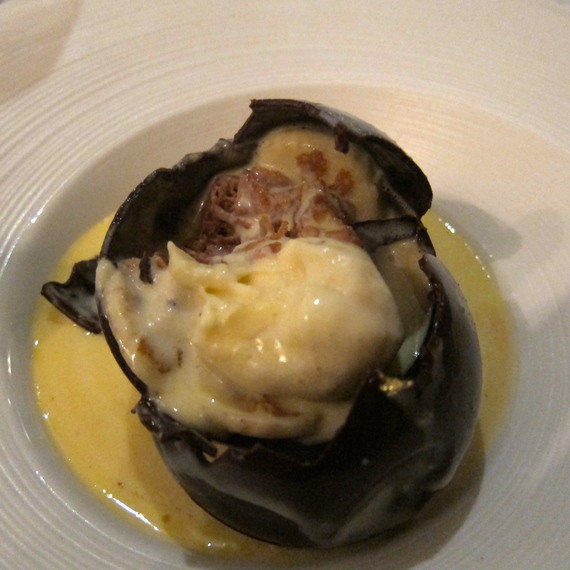 For this quality and level of food three courses were good value for £60.00, without wine.
I have to admit to not eating breakfast during my stay, I was so stuffed from dinner the night before. Beware, the staff will make sure you leave with something if you go down to the breakfast room for coffee. I was offered a shot glass of smoothie which I thought I didn't need, but loved.
Armed with a map, and a next to useless sat nav (the signal was non-existent), the first thing that strikes me are the French influences which are evident all over the Island, not surprising as it's closer to France which is just 14 miles away then mainland Britain which is 100. Impossible to get lost, Jersey boasts fifty miles of country lanes, known as Green Lanes, where horse riders, cyclists and walkers have priority over motor vehicles which must observe a 15mph speed limit.
When you've finished exploring you can come back to Longueville for some R&R, a walk, a game of tennis, a swim, massage or facial in their newly renovated The Cottage Garden.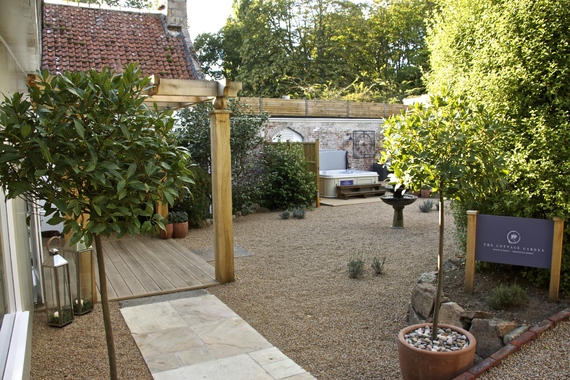 I can vouch for the manicure, even better with a glass of cold champagne, and just the token for my keyboard-hammered tips. You leave, not only with great nails but your own mini bottle to touch up your chips. Almost one week on and they're still looking fabulous.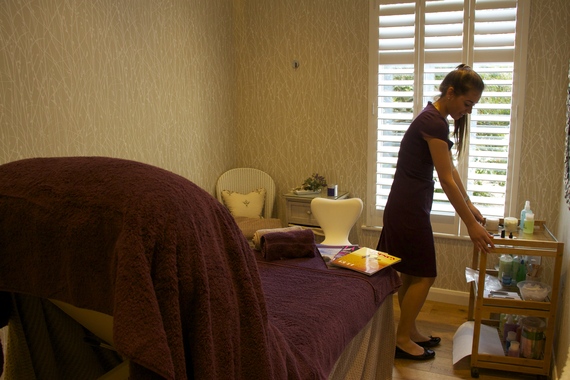 Afternoon tea is a hit here and there was a steady stream of locals and guests enjoying sandwiches and cakes in the beautiful patio area.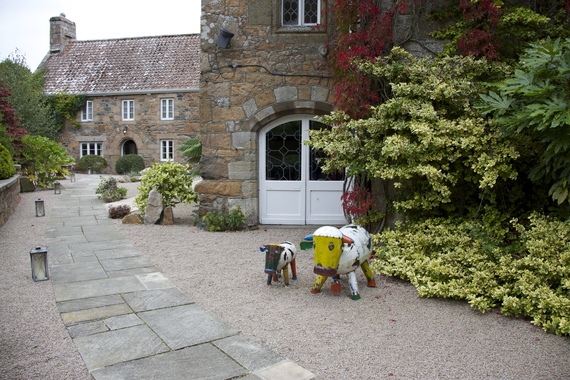 The concierge has great local knowledge for the visitor from shopping to playing golf and has some superb suggestions for local restaurants. I can wholly recommend Sumas on Gorey Hill which for me is an absolute must-visit, the food and view is something else.
If you tire of all that the land and sea throw at you, hop the Ferry to Guernsey or St Malo.
For more in-depth information on the places I visited in Jersey visit my blog.
All photographs taken by Rebecca Williams