I'll keep repeating myself it until I try a recipe that I don't like from Sabrina Ghayour's first cookbook Persiana.  
This rice dish has delicate spicing and is studded with lean cubes of British lamb, steam-cooked to perfection.  Sabrina credits Asma Khan ,who runs the successful supper club Darjeeling Express, for helping her with a simplified version of the recipe.  And my thanks to both of them - another winner.
Ingredients
Serves 6-8
250ml vegetable oil
6 large onions
800g boneless lamb neck fillets, cut into bite-size chunks
1 tbsp green cardamom pod
6 black cardamom pods
4 bay leaves
2 tsp turmeric
2 tbsp cumin seeds
4 cinnamon sticks
200ml Greek yogurt
Sea salt
600g Basmati Rice
2 generous pinches of saffron threads
2 tbsp boiling water
125 g butter
Method
Preheat a large saucepan over a medium-high heat and pour in 250ml vegetable oil. Chop 4 of the onions in half, thinly slice into half moons. Fry the onion slices in the oil (there should be just enough oil to cover them, so add more oil if needed), stirring every few minutes, until they are golden brown and crispy. Remove the onions with a slotted spoon and put on a plate lined with kitchen paper and set aside.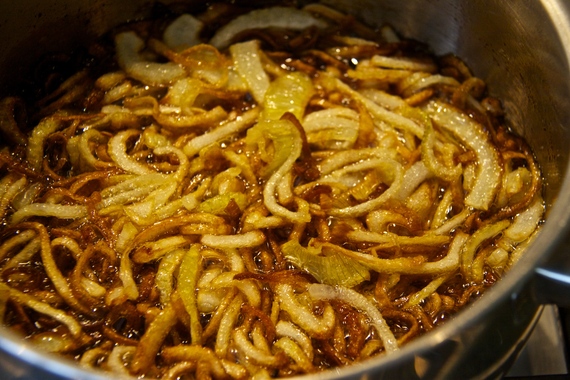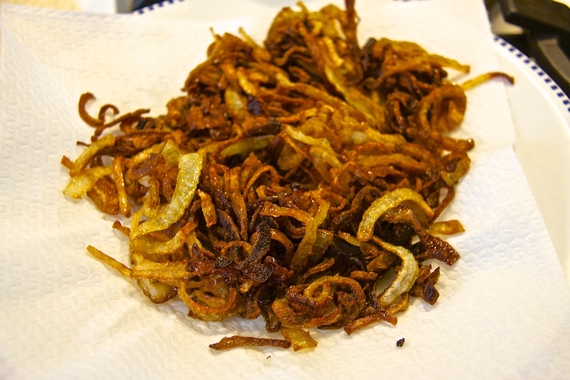 Remove the hot oil, leaving behind just enough to coat the base of the pan. Roughly dice the remaining 2 onions and fry them over a medium-high heat until they become translucent. Add the diced lamb and sear it until it begins to brown. Put in the green and black cardamom pods, bay leaves, turmeric, cumin seeds and cinnamon sticks, and mix well. Pour in just enough boiling water to barely cover the meat, reduce the heat to medium and cook the lamb for about 1½ hours until just tender.
Leave to cool. Once cold, add the yogurt to the lamb, and season generously with sea salt
Preheat a large saucepan over a medium-high heat. Fill the pan with boiling water and add the rice with a generous handful of crushed sea salt. Boil for 6-8 minutes until the rice is parboiled. You will know it is parboiled when the colour of the grains turns from the normal dullish white to a more brilliant white and the grains become slightly elongated and begin to soften.
Drain the rice and rinse it immediately under cold running water for a couple of minutes to wash off the excess starch until it is cool. Line the bottom of the saucepan used to parboil the rice with some non-stick baking paper and set aside.
Grind the saffron (if using) with a pestle and mortar, then pour over the 2 tbsp of boiling water and leave to infuse.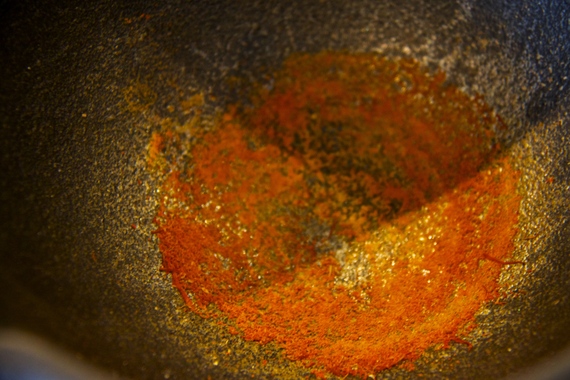 Back to the rice: return the paper-lined saucepan to the hob and pour in a generous drizzle of oil with a couple of good knobs of the butter. Add 1 tbsp ground sea salt. Scatter in just enough rice to cover the base of the pan with a good layer. Drizzle a little of the saffron water (if using) over this layer of rice. Take the yogurt-marinated pre-cooked lamb and divide it into two portions. Layer one portion over the rice, then cover with a thin layer of rice, sprinkle over some more saffron water (if using), then add a generous layer of crispy onions and dot more butter on top. Repeat the layers until the rice, lamb, crispy onions and butter are used up.
Wrap the pan lid in a damp tea towel (I used a cotton napkin), cover the pan and cook the rice on the lowest temperature possible if using gas, or low-medium heat if using electric, for 30-45 minutes, or until the rice is cooked.
When ready to serve, either flip the rice on to a serving dish or decant on to a serving platter, remove the paper.