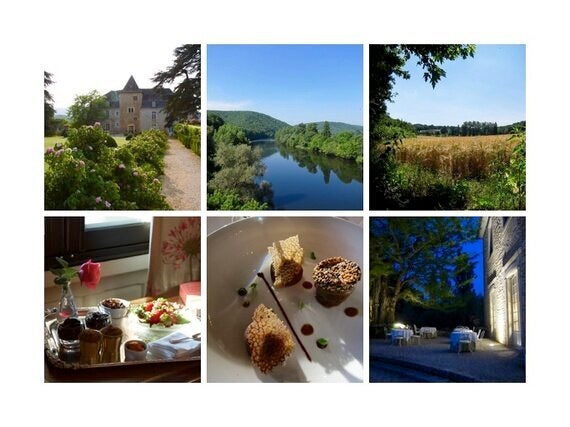 The Dordogne is often called the land of a thousand and one castles. Its landscape of rolling green hills and lush river valleys will take your breath away. It boasts ten of the 'Most Beautiful Villages in France' and has an underground maze of crystal caves. This area of south-west France has been attracting humans for 450,000 years, and you can visit the most famous of them all, the Lascaux, nicknamed the prehistoric Sistine Chapel.
In the town of Lacave, Châteaux de la Treyne is a four-star luxury hotel surrounded by walnut groves, vineyards and acres of open fields. In this small corner of south-west France, my fairy tale becomes a reality.
If the walls could talk, there'd be tales of lords, knights and maidens in distress. The Château stands on the site of the original 14th Century property, reduced to a pile of ashes during the Wars of Religion. It was rebuilt in 1553 and it's owned and run by the Gombert family who've transformed it into a modern-day haven of peace.
Each of the 17 rooms and suites is decorated in a unique, French style. Some offer fantastic views of the Dordogne River, others of the formal perfumed garden. I stay in Louis XIII and feel a lot like Rapunzel with all the mod-cons. A courtesy tray is overflowing with local products from chocolates to seasonal fresh fruit and there's a handwritten welcome note from the owners.
It's hard not to be seduced by the food coming out of Stéphane Andrieux' kitchen. He's held a Michelin star since 2001. It's a classic formal experience eating in the wood-panelled Grand Louis XIII Salon, less so on the picturesque cliff terrace. Try the pan-roasted Foie gras with a walnut and sesame crust, green apple jelly and a Granny Smith apple sorbet. There's a varied selection of local wines to compliment the dishes, including the famous Black Wine from nearby Cahors. You'll need an empty stomach and deep pockets for this experience, but food lovers will pay many times over for this kind of service. Meals are a marathon and not a sprint, from anywhere between four and six courses, you can spend three hours eating and drinking. Amuse bouche, palate cleansers, the main course, cheese and dessert; it's not for the faint-hearted. Breakfast, should you have room after dinner, can be taken in your room, or in the Green Salon with views to the French formal garden.
There's a heated outdoor swimming pool, surrounded by 120 hectares of gardens and woodland. Perfect for chilling out with the soundtrack of nature for company. Although the Dordogne is inland, where it lacks in the sea department, it makes up for in freshwater swimming and fly-fishing. If relaxation isn't your thing, then the hotel's owner Stephanie will organise the itinerary for you.
If you're planning on tying the knot, you may want to consider using the Chapel.
The family also own and run Château du Bastit which overlooks a nearby hamlet. It's a private residence which sleeps ten adults and four children. It has all the exclusivity of a private home with the benefits of à la carte hotel services.
This post has been published on HuffPost's blogging platform. The views and opinions expressed in this blog are those of the author and should not be taken as those of HuffPost. HuffPost does not allow bloggers to acquire products, access or accommodation for review in the site's name.