I could honestly say that I had never had a bad meal at Darcy's in the former hands of Ruth Hurren. It was our 'go-to' special occasion restaurant, the perfect venue for birthdays, anniversaries and a Sunday lunch that was incredibly hard to beat. At Darcy's, as it was, we'd eaten everything from chargrilled kangaroo to Iman Bayaldi. Darcy's had been the very first restaurant that I had dined at in St Albans, a convenient stumbling distance from my rented flat at the time. When I heard the news that Ruth was selling her beloved eatery to move back to her native Australia, I admit I was pretty sad. Ruth had kept Darcy's going through many ups and downs, the most significant challenge being to carry on after her business partner, Kate D'arcy, lost her battle with cancer in 2010. During a lengthy conversation over the telephone, Ruth assured me that Darcy's would be in good hands as she looked forward to leaving England to pursue her dream of offering afternoon tea in a balmy café somewhere in Oz.
Enter Phil Thompson, with a CV reflecting impressive stints in London at The Lainsborough, Conran's The Orrery, St Martin's Lane Hotel, L'Escargot and later at Hertfordshire's Brocket Hall, under Jean Christophe Novelli, who went on to hand over the reins to Phil. Whilst there, Phil achieved a Michelin star in 2009, which he held onto for four years. Buying his own restaurant along with his fiancée Marianne in St Albans was a bold move, which has enabled Phil to bring his own food to visitors and residents looking for "good food and a relaxed fine dining experience".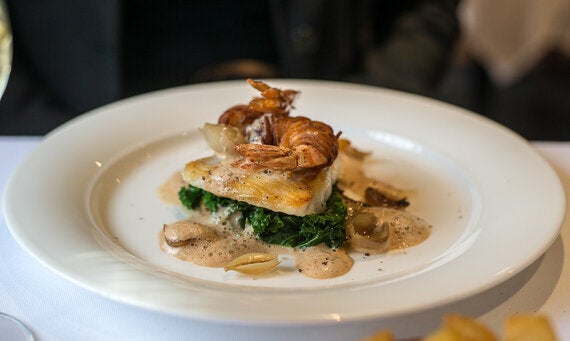 I remember Ruth's assurance that Phil would be sympathetic to her loyal Darcy's diners. His first touch was to incorporate the name, calling it Thompson@Darcy's. Phil and Marianne also chose to keep much of the same décor, a Farrow and Ball-inspired palette of muted greys, reds and aubergines, with updates to the paintings showcasing the work of a local artist. Thus, when you walk into Thompson@Darcy's, much of it feels the same. There is a small bar for aperitifs, a large dining room upstairs, a cosy front dining room and a private dining room toward the back with a view into the kitchen.
The most notable difference, however, is in the menu, or rather menus, as there are a few options to choose from. There is an a la carte menu, a tasting menu, set lunch and dinner menus, (representing the best value for money), a party menu, Sunday lunch, a vegetarian menu, a dedicated children's menu and often, daily specials. Phil also hosts a weekly Lobster and Steak Night, which I've yet to get to, but certainly will.
One year in and it's safe to say that Phil and his team are working incredibly hard to provide a unique dining experience, on a par with London standards, in the heart of St Albans.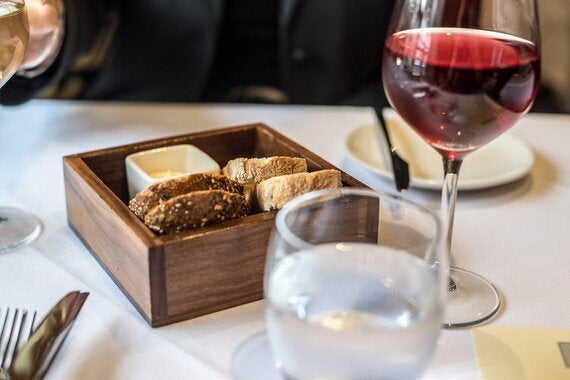 The food at Thompson@Darcy's marries high quality (mainly British) seasonal ingredients with classic French cooking techniques and Phil's modern, creative flair. Unlike some typical 'fine dining' establishments, Phil manages to achieve both an elegant and delicate presentation, with generous portions packed with flavour. Freshly baked bread on arrival and some serious sides, duck fat roasted potatoes, truffle mash and macaroni cheese (on Lobster and Steak Nights) will ensure that nobody leaves hungry.
Lobster ravioli, hay baked cannon of Little Braxted lamb, red wine braised shin of beef, roasted partridge, poached halibut are all items you might see on the often changing menus. Desserts are regularly little short of a work of art, particularly on the a la carte or tasting menus. The white chocolate & Roquefort mousse is worth sampling; anything with chocolate usually means Valrhona quality and there are also great British classics to be found, such as bread and butter pudding, or golden syrup sponge pudding, generally on the Sunday menus.
My third visit to Thompson@Darcy's was during a mid-week lunch service and we were presented with both the a la carte menu and the set lunch menu. We decided on the December set lunch menu - £21 for two courses, or £25 for three courses. Completely unable to stick to plan, I was swayed at the first mention of the daily specials and opted for all three, for which there was a small supplement.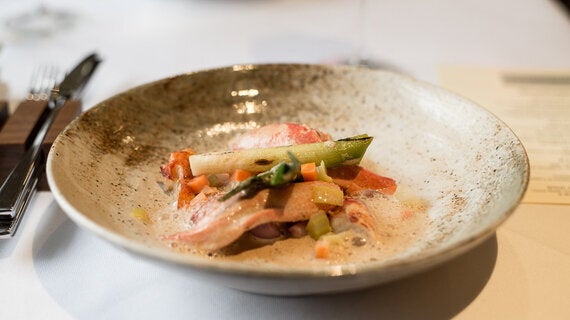 We both started with the warm poached native lobster, with charred leek, vegetable paysanne and creamed bisque (£5 supplement to the set lunch menu price). This was served just warm, with the lobster having been taken out of its shell.
Sticking with the set lunch menu, we ordered the fillet of cod with prawns and kale and I upgraded to the main special of the day, a 40-day aged rib-eye, with garlic puree, roast cep, field mushroom vinaigrette and triple cooked chips. My steak was cooked medium-rare, as I'd requested, and served with a tasty jus. I have to admit I was expecting a much smaller portion for a set lunch menu and was almost beaten by the steak and chips, so in that regard it was well-worth the £7.50 supplement.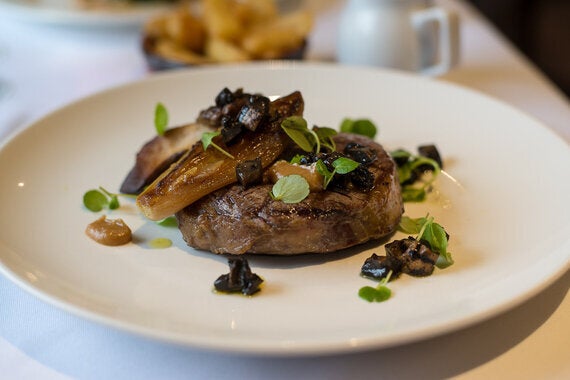 I had also clocked onto the fact that the waiter had mentioned a hot chocolate fondant with a milk chocolate and stout ice-cream and so, in the interests of giving a complete review, we shared that too.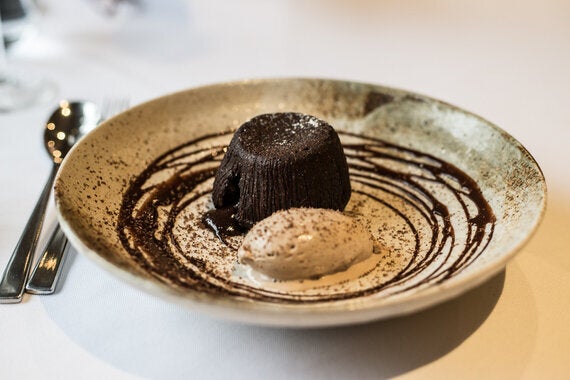 From the wine list, we had a glass of Castel Firmian Pinot Grigio 2013, Trentino, Italy (£6.95, 125ml) and the Gran Hacienda Cabernet Sauvignon Rosé 2013, Chile, Santa Rita (£5.75, 125ml). For a bottle, the wines on the list start at £18.50 and go upward to £99.00 for a Meursault 2007, Pierre Morey Organic from Burgundy, France. There is a champagne list too, Mercier, Veuve Clicot or Dom Perignon.
Overall, the service was very friendly and there was a quiet, relaxed atmosphere. Christmas music was playing in the background, the Christmas tree was being decorated and our waiter was chatty and interested to know whether we had enjoyed our food.
On all three occasions that I have now visited the new Thompson@Darcy's, I'm pleased to say the service and food have been impeccable. Yes, this is higher-end eating, but I have known people to pay £180 per couple for an evening out at lesser restaurants so there clearly is a market for finer dining experiences here. St Albans is also known to be a magnet for chain restaurants and so I am pleased that we have attracted a high-calibre chef and his team, running an independent establishment, to our city.
It has become common-place to read menus offering 'seasonality' and 'sustainability,' but I think what speaks above all else is the quality of the food that you pay for and a guarantee that you'll receive good service and good food on each and every visit. Consistency is what I look for; it is certainly, as a diner, what gives me the confidence to recommend a restaurant whenever I'm asked and I think that this will be the key to Phil's success here.
It's also inspiring to see a team with ambition and striving for high standards. Within one year, Phil has secured two AA Rosettes for the year 2013-2014, along with a five star rating in The Good Food Guide and I am sure that many more accolades will follow. He also offers a Kitchen Experience to food enthusiasts who want to try their hand in the kitchen as part of a team and cook a dish for their own guest. It's also encouraging to see that he has extended a hand to some of the local catering and hospitality students at Oaklands College and has thrown himself into his first St Albans and Harpenden Food and Drink Festival.
We dined at our own expense and our bill came to £83.60, to which we added a tip.