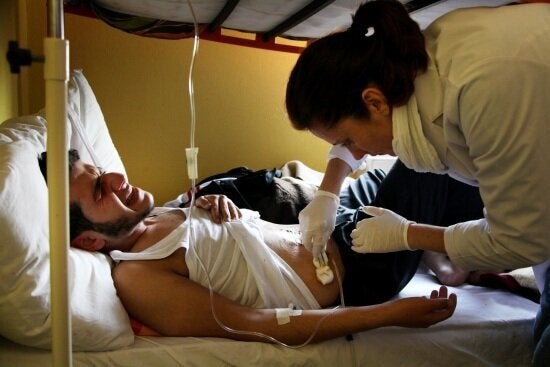 A Syrian man being treated for shrapnel wounds. Photo by Agnes Varraine-Leca.
Your local hospital has been bombed and you're sitting in a makeshift waiting room when masked men burst in and drag your doctor away for questioning. This scenario may sound like something from a far-fetched film but this has been a nightmare reality for many Syrians.
Hospitals in Syria are regularly targeted and medical professionals caught helping the wounded are often branded as "traitors" by opposite sides.
"A colleague of mine in Homs was arrested after having written a death certificate for a man who was shot in the head by a sniper," says Dr Ayman Jundi, a Syrian medical consultant who now lives in the UK. "Sometimes doctors are pulled out in the middle of surgeries and tortured."
The deliberate targeting of medical facilities and staff has had a huge impact on Syria's healthcare infrastructure with around 60% of hospitals destroyed or seriously damaged since the conflict started and doctors and nurses fleeing Syria in droves. There are also major challenges in trying to get medical supplies into Syria, as UN Emergency Relief Coordinator Valerie Amos highlighted this week.
"Some estimate that there are as many as 2,000 armed opposition groups in Syria," she said in a speech to the UN Security Council in New York. "Clashes amongst these groups are increasingly common and key humanitarian access routes have been cut off by fierce fighting."
This has all brought the medical system to breaking point, with patients battling chronic illnesses including cancer, diabetes, and heart disease having nowhere to turn and diseases such as tuberculosis, leishmaniasis and measles being rife and even outbreaks of polio. Syria's once booming pharmaceutical industry (based in Aleppo) has also collapsed and diabetic patients are forced to buy insulin and hypoglycaemic medications from neighbouring countries at inflated prices.
Even societies with strong healthcare foundations would struggle with these challenges, so how Syria's current decimated system is coping can only be imagined. Thoughts of how it can be rebuilt are already in the thoughts of Syrian doctors some of whom remain realistic but positive.
"It could take up to ten years," says Dr Tawfik Chamaa, from the Union of Syrian Medical Relief Organisations. "But as soon as the war settles down, and security comes back then many of the Syrian doctors will return."
Experts estimate it will cost $300,000 (£187,000) per month just to cover the treatment of casualties and injuries but for the next 10 years there is no clear vision of who will handle these costs.
For now, aid agencies are supplying what Syria's health ministry used to: salaries, medical teams, vaccinations and equipment.
"We have prepared emergency medical supplies - including primary healthcare kits, surgical material, equipment for conducting caesarean section deliveries, and chemical weapon decontamination stock - to treat injured civilians," says Leigh Daynes, Executive Director of Doctors of the World UK. "The only obstacle in our way is the fighting, which must cease immediately so that we can reach and treat all those in need."
Prior to the conflict Syria was a relatively prosperous country with an extremely effective private and public medical system: maternal mortality, for instance, fell from 482 per 100,000 live births in 1970 to 52 in 2009.
A large part of Syria's medical system was therefore used to dealing with diseases associated with rich countries such as diabetes, high blood pressure, depression, cancer and other chronic conditions that are relatively expensive to treat.
This is making even more challenging to care for Syria's more than two million refugees.
"Thousands of people with chronic conditions are stranded in the region's refugee camps," he says Ron Waldman, President of Doctors of the World USA, who recently visited refugee camps in several countries bordering Syria. "Unlike children with acute illnesses that can be treated relatively easily and inexpensively in the short term, these patients need on-going care with expensive medicines or procedures."
Ultimately, and perhaps most obviously, the conflict must end before rebuilding can begin in earnest. Effective decisions, collaborations and planning among aid agencies and governments need to be made on how the sick and injured should be treated over the next years. More medical and financial support is also required assuring everybody can be properly treated and that the treatment is sustainable.
Yet any plans by external organisations to rebuild primary care centres and hospitals are still in the early stages and most realise it is going to be a long haul.
"The planning needs to start now," says Ron Waldman. "If it does not, the carnage that we are currently witnessing could, unfortunately, be only the tip of the iceberg - shorter life and high mortality could be prominent features of Syrian society for many years to come and may, in the long run, be as far-reaching and devastating as the war itself."