The Leake catches up with the designer who creates for "anyone who breathes bad dreams" ahead of his runway show at Toronto Mens Fashion Week. Welcome to the world of Benji WZW...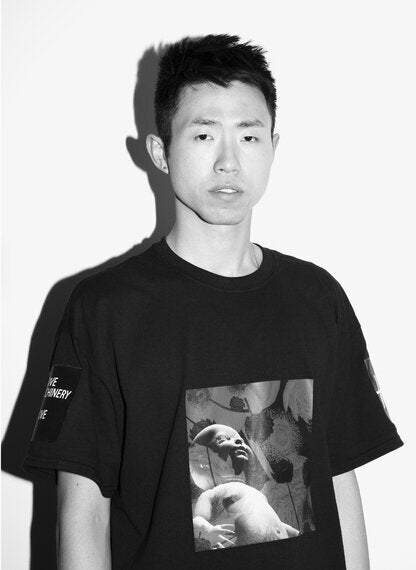 1. How would you describe your latest collection?
AW14 FALL IN LOVE WITH MACHINERY was my debut menswear collection, with 12 full looks, combining streetwear with a tailored edge. It was all about heartbreak and fast rides - taking the things that made me cry and say F*** U and turning them into garments.
2. What is your favourite piece?
I loved every single piece that went into that collection, because it was my first statement as a designer and I put so much blood and sweat into it.
But if I had to choose, I would pick these as the key pieces: "CRASH" holographic panel men's overcoat, "FETUS FLOWER" printed leather shirt and trailored trousers, "FETUS" printed leather coat, "METAL FLOWER" leather jacket with "BATTERY ACID" silk shirt.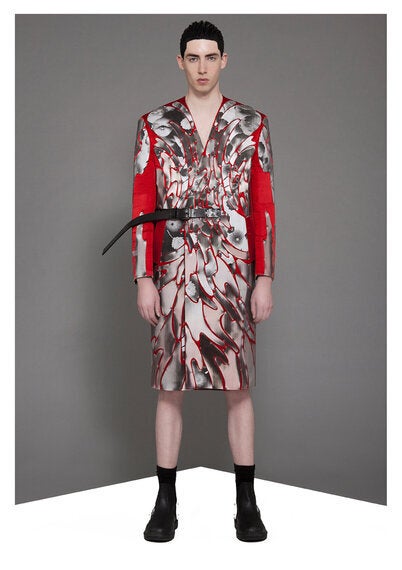 3. Who/What inspires you?
I'm inspired by the kid on the street, taking the piss out of everything and nothing. It's a moment you can only have once in your life, so it's beautiful.
4. What can we expect from your runway show at TOM?
SS15 ROSES DROWNING IN A MOLOTOV COCKTAIL is about self-destruction and pain that becomes pleasure. It's a continuation of the BENJI WZW aesthetic of street attitude juxtaposed with tailored elements, innovative technologies with handcraft, and experimental fabrications that have never been done before.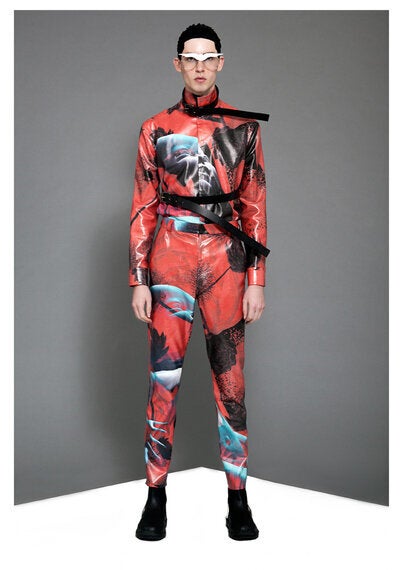 5. If you weren't designing, where would you be ?
6. If you could walk for any designer at any fashion week, who would it be, where, and why ?
Paris, September of 1996 - a lupine girl, all thighs, thomping down the Comme Des Garçons SS97 Lumps and Bumps runway. I held the pattern piece for this collection once at the Central Saint Martins archives. I almost cried.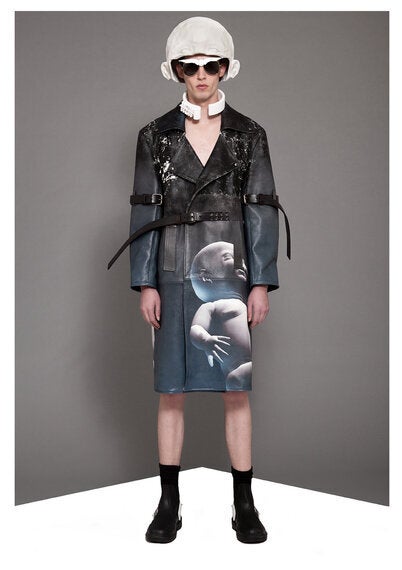 7. Are there any stereotypes about fashion that you hate?
People don't ever realize how much work goes into a single garment. The industry has a very good way of warping our perceptions, because it moves so fast, and there's really not a good record of its story. This filters out to how much value we give to clothing, because we only know how to consume the image and not the craft.
8. You say you are inspired by fringe internet cultures, could you tell us a bit more about that?
I'm fascinated by the subcultures that come from the deep web. Everyone thinks they know everything that goes on, but there are still more seedy dark areas and cultivations of humanity that exist beyond the everyday.
9. What advice/tips would you give for putting together an outfit this Autumn/Winter?
Everyone needs a BENJI WZW unisex black leather jacket! Or else you shouldn't bother, really..
What color should we be adding to our Autumn/Winter wardrobe and why?
I think gold is really hot. All gold everything.
Catch Benji's runway show at Toronto Mens Fashion Week, August 12-14. Many thanks to Benji WZW and Anya Nordstrom for making this interview happen.