Toronto fashion designer David C Wigley talks to The Leake about fashion idols, his collection for Toronto Mens Fashion Week and the one accessory he never takes off...
David C Wigley certainly knows his way around a tailored suit. His latest collection, WORTH by David C Wigley will be showcased at the first ever Toronto Mens Fashion Week. He talks to The Leakehttp://www.rhiannoncdavies.wordpress.com about his upcoming work...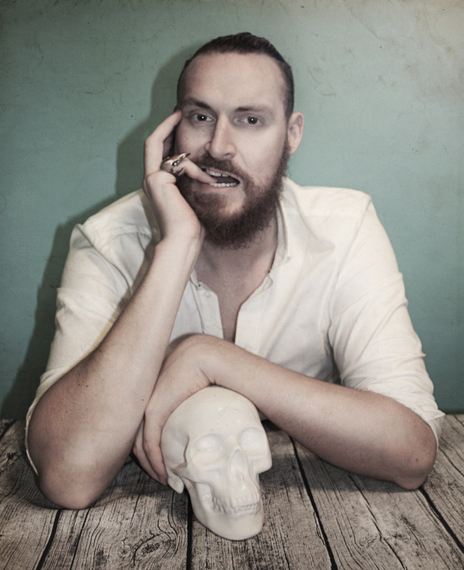 David C Wigley
Inspired by Einstein's theory of bees, Wigley' s latest collection brings timeless shapes together with pops of colour and patterns and is a daring move away from his previous collections.
1. Describe your latest collection
"It's a very fun collection, very bright and vibrant with a lot of print and colour. It's full of geometrics and polkadots as well as digital prints of bee clusters, florals, skulls and mirror image honeycomb. I've got some new and unexpected shapes, which, along with the styling, is reminiscent of a 50s'-60s' beach party vibe."
2. What is your favourite piece ?
"I haven't quite settled on a favourite yet, but I'm really falling for an ox-blood patent leather sweatshirt with jersey grey/black polka dot sleeves."
3. If you could walk for anyone, who would it be and why?
"Hands down, without a doubt Alexander McQueen. His clothing is so beautifully tailored and structured, especially the blazers. You can just lift them and feel the weight of the craftmanship that goes into them. It's something I really strive for in my own tailoring. I'd love the chance to speak with him one-on-one."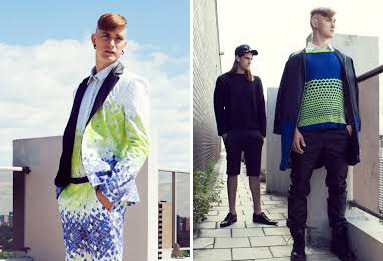 Alfred Hitchcock Collection, David C Wigley
4. Describe the outfit you have on now
"Haha! I was described as a "sexy sailor" at work; I'm wearing an anchor-print tank top, colour-blocked, navy and caramel blazer with cut-off denim shorts and a black ribbed skull cap."
5. What is your ultimate wardrobe staple?
"A perfectly tailored suit: it will last you a lifetime and it's so versatile. I also believe in quality basics: dark, well-fitting denim, comfortable basic t-shirts and a perfect oversized sweatshirt."
6. What is the most important accessory one can own?
"I believe in accessories that mean something, for me, it's my St Christopher's necklace. My mum is a strong believer in it as a talisman so she bought one for every man in the family. It's a tradition that has carried on and it's the only thing I never take off."
7. Are there any fashion stereotypes that you hate?
"I hate fashion "rules", I think that fashion should be fun, it should be a form of self expression and experimental. There's a good chance that sometimes you won't look great, but you have to have the confidence to laugh it off and try again."
Catch WORTH by David C Wigley at Toronto Mens Fashion Week, August 12-14 2014. Huge thanks to David C Wigley and Anya Nordstrom for making this interview happen. This blog was originally posted on The Leake.