I recently visited the new Gainsborough Hotel in Bath, a £16m project that has seen two former hospital buildings on Beau Street in Bath restored into a five star hotel, taking the best part of six years to complete.
With the official opening due in September, I was lucky enough to be invited to sample their menu and learn more about the ideas behind this prestigious venue and its world renowned owners YTL. The Gainsborough, the UK's first hotel with natural thermal water, represents YTL's first foray into the European market. Rather conveniently, they also own the famous 'Bath Thermae Spa' next door as well as Wessex Water.
My partner and I were met by the jovial Food & Beverage Manager Paul Mason who gave us the grand tour and led us into the bar for an apertif. Firstly I had to sit and admire the view of the hotel spa from the bar window - a mesmerising spa fit for a king, built with roman style pillars.
The very talented bar manager, Joel St John, curated a bespoke cocktail to our specific tastes. We went for a take on the traditional Aperol Spritz made with Ian Hart's 'Sacred' Rosehip (a posh kind of Campari), sweet orange and Mango bitters with a Lavender syrup. They arrived beautifully adorned with edible flowers. Joel, who displayed the natural qualities of a true cocktail alchemist, explained that while there is a set cocktail list they tend to create individual drinks depending on the mood of each customer. This caught my attention - a nice alternative to the sometimes tedious cocktail menus you get given in swanky London hotel bars. With London in mind, we had learnt that The Gainsborough's long term aim is to compete with the London market, rather than Bath. I think with the new fast train link from The West to London in place, this can definitely be achieved over time. Until then, they do offer a chauffeur service direct from the big smoke!
Before taking us through to the restaurant, Paul sparked our intrigue when he mentioned the 'dining without borders' menu devised by the famous Johann Lafer. Gainsborough Head chef, George Schneeberger, has trained under Mr Lafer and shares his passion for cooking.This innovative new menu features fresh, locally sourced products, infused with Asian flavours - a subtle nod to the Gainsborough's owners, I'm sure.
I felt there was an informality to the restaurant atmosphere and the staff were incredibly knowledgeable and well trained with a friendly and relaxed approach.
To begin we were offered a selection of artisan breads, we chose the mushroom and Wooky Hole cheddar varieties. Both were served with a delicious luminous green parsley butter. The magic behind this menu was its subtle combinations. We started with smoked salmon served with orange and chilli sorbet compressed into a tiny wafer cone - I'd honestly never seen anything like it, but it was a winning concoction.
My starter was a lobster bisque with a subtle wasabi gnocci. The wasabi spices gave the soup a little lift that you wouldn't usually get from the lobster.
The waiters treated us to a surprise 'middle course' of braised duck with tiny heritage carrots and crispy skin, complete with edible flowers. Dressing the dishes this way gave the food a stand-out presentation, which matched the ambience of this fine dining restaurant. Johann was emerging to be a real food artist.
For main course my partner ate the sea bass which was perfectly cooked and cleverly matched with macadamia gnocchi. She was a big fan of how well paired the elements of the dish were.
My main course, the roasted rack of Wiltshire lamb, was the best Lamb I've ever tasted, no exaggeration (the waiter said he'd heard that before, which if you ask me isn't bad for a place that's barely been open...). The dish was served with celeriac and blood orange, the combination of flavours was powerful and really excited the pallet.
Much to the dismay of our bulging belts we felt duty-bound to try some dessert. We opted for the poached peach, served with almond parfait, a modern take on a classically British combination. The parfait was truly memorable. I ordered the summer tart, another great example of their use of seasonal produce. It comprised of a raspberry mousse with soft Italian meringue - beautifully presented. For someone who usually doesn't have a very sweet tooth, the infusion of sweet fruit was just too tempting!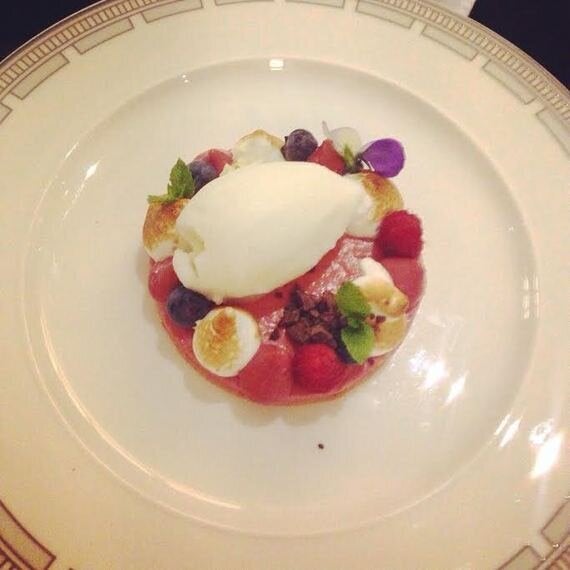 Head Chef George came out to greet us personally -a young 'rock 'n' roll' chef adorned with tattoos. He struck me as really confident, I think that's a testament to how his ballsy combinations have paid off on this experimentally fabulous menu. He asked us how we found the food and explained that he wasn't sure how the menu concept would be received in the UK. I have a sneaking suspicion that his ambiguity will soon fade as his creativity and eye for flavour combinations gain notoriety.
For those visiting the city of Bath, this is the perfect place to immerse yourself in a winning combination of culture and creature comforts.