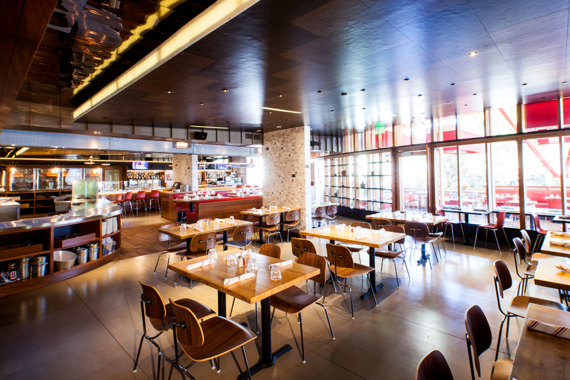 Before travelling somewhere, I always like to hit up friends for recommendations, so this was no different when travelling to Los Angeles. On a list filled with the obligatory trips to the Hollywood Sign and Walk of Fame, one eating spot made multiple appearances - Connie and Ted's. And now after spending brunch there, if anyone asks me for a recommendation, you'll find it on my list too.
When we arrived at 10am on Sunday, there was already a queue formed outside, which was obviously a good sign. As we entered, we couldn't miss the large open-plan kitchen that stretches almost half the length of the restaurant. Connie and Ted's have freshly prepared seafood at the centre of its focus and branding that is on point. It's cute coasters and fishing photography, delivers the brand in a very charming way, a sentiment that is continued by it's cheerful serving staff. On meeting the General Manager, Matthew De Marte, you see his personality and enthusiasm fills the floor, offering up a great customer experience.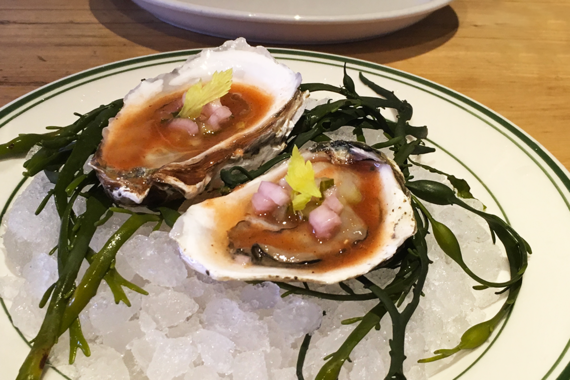 Brunch and seafood isn't a combination I would instantly think of, so my trip to Connie and Ted's has been somewhat of a revelation. Executive Chef, Sam Baxter, has created an array of tempting options, sure to start the weekends swimmingly.
We began with Katama Bay Bloody Mary Oysters, which were absolutely stunning. The fresh oyster was brilliantly paired with a tomato and vodka jus - they went down all too easily. Whittling down options on the brunch menu was no easy feat, as there were quite a few options that I believe would have suited me well. But after some good advice from Matthew, we went for the Peeky Toe Crab & Lobster Omlette and Nor'easter Breakfast Sandwich. Now when I say the latter of the two options was created in my brunch dreams, it's no exaggeration, as I'm literally salivating as I write about it now. It's a combination of bacon, egg, clam strips, cheddar, tartar sauce on a homemade English muffin and home fried potatoes on the side. This creation is a winner. The omelette was equally impressive, with a good serving of quality seafood wrapped in egg and draped in a decadent beurre blanc sauce.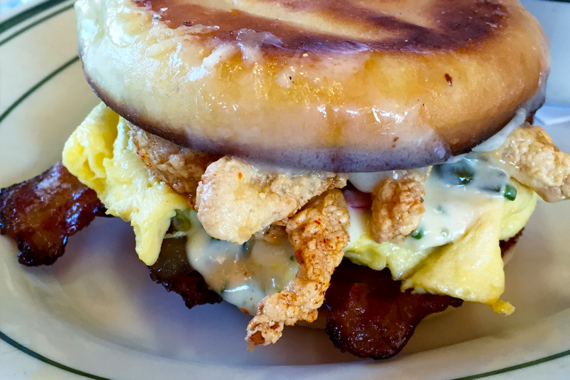 Being located in WeHo, no brunch would be complete without a cocktail, and they didn't disappoint here. Their Bloody Mary was nice and spicy, just how I like them, and used their very own celery and bay leaf infused vodka. We also tried the Rhode Island Coffee Milk, which can be served virgin, and this sweet nutmeg drink was certainly moreish.
By this stage we were certainly well catered for, but there was one more item on the menu that we couldn't leave without - Connie's Cinnamon Roll. Nutmeg, orange zest, cream cheese icing and topped with a nice scoop of vanilla ice cream. As it steamed fresh from the oven, we continued to devour it, leaving only a few crumbs. The Connie and Ted's Brunch experience was outstanding, and I fully enjoyed every single dish on the table. It possesses a really friendly vibe where you could meet up with friends or take the whole family. The combination of fresh ingredients, talented chefs and great atmosphere makes it a wonderful place to start to the day. We left complete, and ready to plan our next trip back.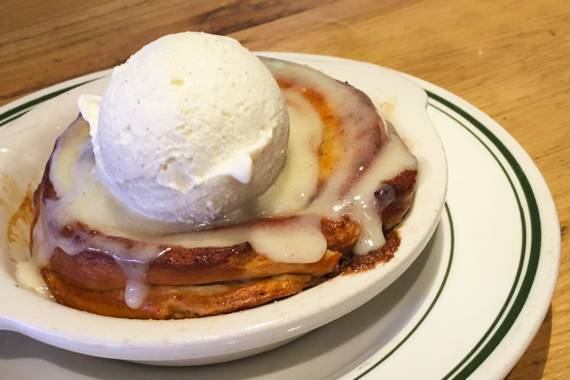 Images: Richard Brownlie-Marshall/Connie and Ted's