When visiting Los Angeles it's hard to decide which area to call home. Are you more Bellini's in Beverley Hills or happy hour in WeHo, the pavements in Downtown or the sand of Long Beach. And if you think area is difficult, the next step is choosing the right hotel. Los Angeles has something for everyone, and on my most recent trip, I discovered that there's no place quite like Farmer's Daughter.
Farmer's Daughter is a boutique hotel with a great location; in walking distance from Museum Row, across the road from The Grove and around the corner from a buzzing 3rd Street. On entering through the double doors, I was transported to a land filled with plaid and country style knick-knacks. This was out of LA. Created in a very stylish and considered way, there's no way not to feel at home here. The natural wood textures and tweeting canaries deliver a warm welcome, and the rooms continue this vibe with added comfort.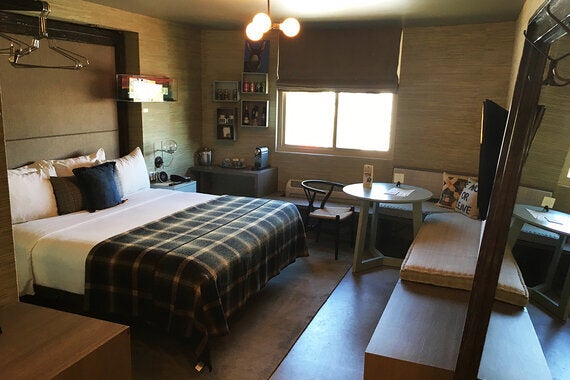 When I say this experience is out of LA, it still has a very trendy Hollywood edge. Cool concrete lines the floor, very appreciated with the 110-degree temperature outside, and contemporary lighting and accessories are sprinkled throughout the room. Along with this, artists' work is placed on the walls, giving a very bespoke feel. In any hotel, I always think it's important to have a good mirror, and this room had one big enough for you and four friends. Each element feels very well curated and fits perfectly within a very spacious interior.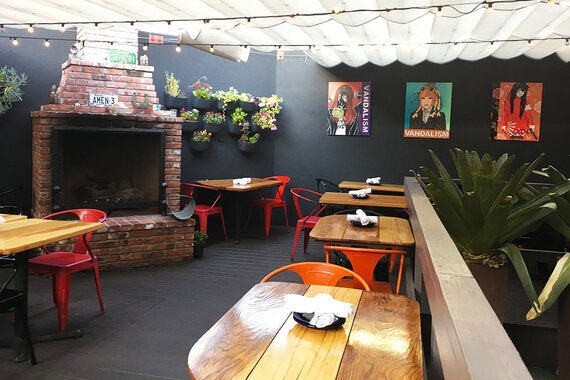 In the evening, we didn't have to stray far, as this boutique hotel comes fully equipped with it's own very stylish eatery, TART. The gorgeous patio area with fairy lights overhead, beckoned us from our room. To begin, we tried out some of the cocktails from their impressive list, and I can confirm that their Smokey Paloma (Mezcal, tequila, agave, lime, grapefruit, serrano peppers & egg white) was exquisite. They also have a good range of punch bowls for larger groups, but thought they might be a bit ambitious for two people.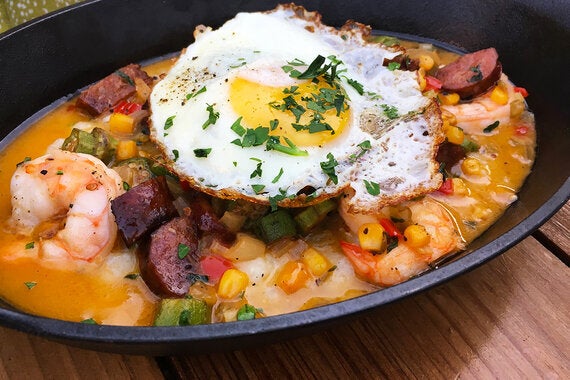 We shared the Smoked Trout Dip, which came charmingly presented with Ritz crackers and hot sauce on the side. Full of flavour and very moreish, this was a wonderful start to the meal. With cuisine described as America meets England, the menu was filled with options that made my mouth water. Although a little indulgent, we couldn't go any further without trying their Buttermilk Fried Chicken and Waffles. These came nicely sized for two and had a twist on the classic with the addition of tabasco-maple butter to turn up the heat. As a last minute addition, we squeezed a White Cheddar Mac and Cheese onto the table, and this was certainly not a bad move. In fact, that small pot of deliciousness turned out to be one of the best I've tasted.
For the main plates, we opted for Beer Braised Shrimp & Grits and the Carolina Gold Risotto. The shrimp was definitely a strong dish, being full of tasty ingredients such as Andouille sausage and maque choux, which resulted in a flavour sensation. The risotto had great presence on the table, being topped with rainbow cauliflower and little kick of mustard mixed in.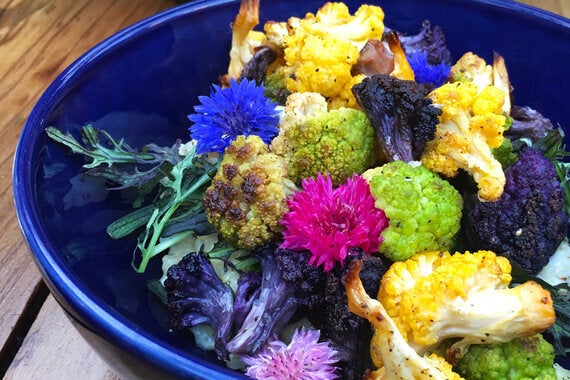 As you can imagine, by this point we were nearing completion. So in the interests of making it back to our room and not being rolled there, we decided to share a desert. The Brown Butter Tart was recommended to us, and although it wouldn't be described as a light choice, was the perfect end to our evening at TART.
The Farmer's Daughter Hotel really changes up the game in Los Angeles to deliver something unexpected. It's homely/modern mash-up is a refreshing take on hotel and dining, and has all the consideration you would hope for in a boutique hotel.
Images: Richard Brownlie-Marshall
Related