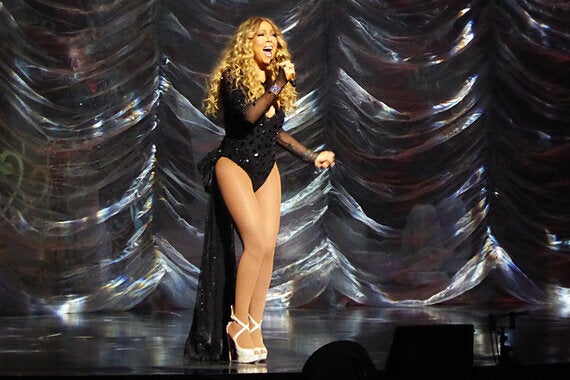 Aside from gambling and buffets, Las Vegas is known for its out of this world entertainment. Vegas residencies are big news and attract some of the biggest stars, including Celine Dion, Jennifer Lopez and even Elton John. Having never experienced a Las Vegas concert for myself, I wanted to start off with the best, Mariah Carey.
The Mariah Carey residency, entitled '#1 to Infinity', is taking place on one of the most prestigious stages, The Coliseum at Caesars Palace. After wandering past Julius Caesar and his kingdom of slot machines, you reach the grand entrance to the theatre, where you are greeted by a giant banner of queen Mariah herself.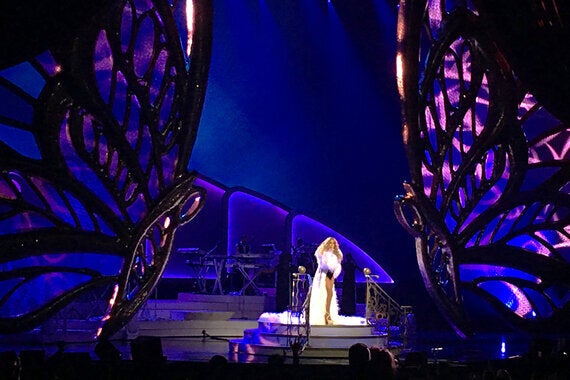 The Coliseum is a really super space, as it had been built in a way that I imagine every seat has a good view. The sweeping auditorium is filled with spacious seats, and décor that gives a nod to the Roman Empire. As the clock struck eight, it was time for the show to begin, but it didn't look like anyone was expecting a prompt start. Five, ten, twenty minutes passed - it was the anticipation of Mimi. The lights eventually dimmed around 45 minutes later, which I think in diva time was actually early. We were excited.
The curtain rose and revealed a pair of gigantic butterfly wings that filled the stage. The music began, the vocals trilled and Mariah Carey had arrived. The first number up was Vision of Love. She appeared draped in a grand feather coat, which had a train big enough to fill the podium. Platform heals and revealing a tiny leotard underneath - this is exactly what you want from the icon. If anyone had any questions on her vocal ability, they were pleasantly silenced before she even hit the first chorus, with Carey hitting every note and adding in quite a few extras.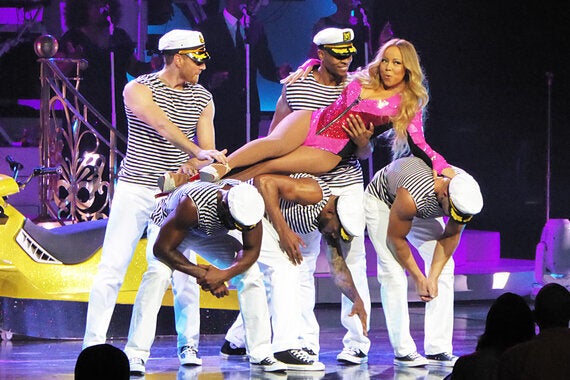 '#1 to Infinity' is really a 'Best of Mariah', featuring all the singers number one singles. Every song is something you know and love, from Hero, to One Sweet Day, and Heartbreaker, to Touch My Body. In between the various songs Mariah gives the diva chatter you came to hear, sprinkled with many darlings and perhaps a few hints of shade. She demonstrates a great sense of humor and a really warm personality.
The hits come thick and fast, but being Mariah Carey, there's always time for a quick outfit change. The designer has worked well to create chameleon costumes that have many different skins. There are leotards with removable trains, floor-length dresses that convert to minis - all covered in her trademark sparkles. Mariah looks amazing. And the sets and troop of all-male dancers do well to compliment her. There is a great mix of the diva filling the stage with her vocals alone and fun moments, such as the time she drives in on a pink convertible, surrounded by seven body popping mechanics.
Mariah Carey's Las Vegas residency contains a set list of undeniable hits, with the singer delivering each one as the world-class performer she is. Her voice is on point, with the addition of all the trills and runs that I love to hear from a singer. The creative costumes and bright sets do well to mix up the tempo, but equally, Mariah can simply stand with a spotlight and command The Coliseum. This is a concert featuring the best of Mariah, and she delivers the very best Mariah you could wish for.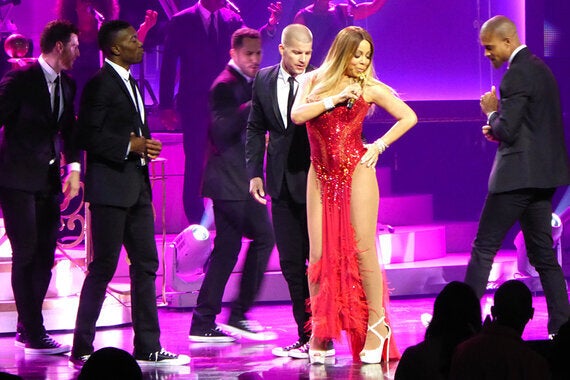 Images: Richard Brownlie-Marshall