One of my favourite shopping destinations, paired with one of my favourite events of the year: Regent Tweet 2014. The annual event sees bloggers from across the globe take to one of London's most famous shopping streets and make it their playground for one day only. From fashion to food, I visited retailers from top to bottom, and made lots of new discoveries along the way.
The day kicked off with a great talk from Damien Whitmore, who is the director of the V&A museum. Being my most loved museum in London, I was really interested to hear his views regarding the import role that museums play in giving the back-story and history of style. His talk centered around the importance of looking further than simply loving and item, but why we love it and how it came to be. Equally the value of exhibitions being curated by an external body, so each collection is looked at from a fresh and unbiased angle.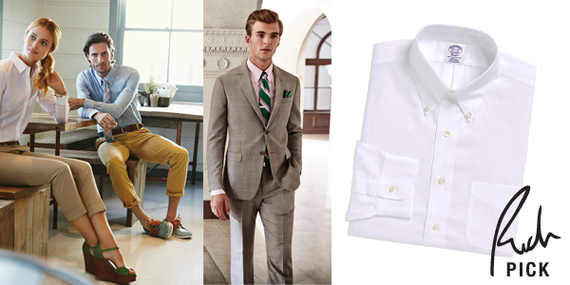 Brooks Brothers, 150 Regent Street.
My first destination for the day was Brooks Brothers, which involved a great introduction to the rich history behind the iconic American brand. Established in 1818, they have a lot of experience in tailoring, from costuming much of the visually exciting, The Great Gatsby, through to dressing almost every US President. Fact finders would be interested to hear that Abraham Lincoln was even wearing a Brooks Brothers suit on the night of his Assassination. They certainly know how to deliver on classic style, and their gloriously crisp Button-Down shirt is a must for any man who means business, and should also travel well with its non-iron credentials. Quality is key with this brand and every item feels like it could be a staple of your wardrobe for a long time to come. They also have a selection of light and colourful summer looks, perfect for a more relaxed - yet always stylish - summer occasion.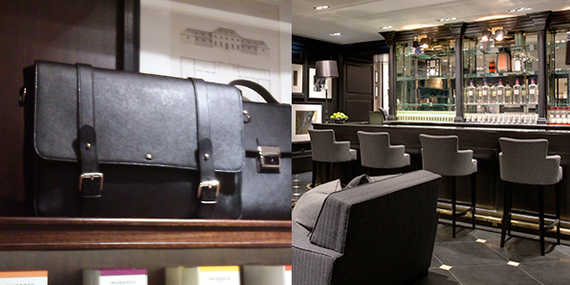 Hackett, 193-197 Regent Street.
The Hackett store has a great presence on Regent Street, with a wonderfully fun and quintessentially British interior. After an insightful talk from the main man, Jeremy Hackett, you could see his personality had transferred to the store, with nice touches including a classic bar and in-store shoe shining. I really loved their range of luggage and accessories, which would be the perfect accompaniment for any travelling gent. I know some believe you can tell a lot about a person by their shoes, but you see what is on their shoulders long before your eyes reach the ground.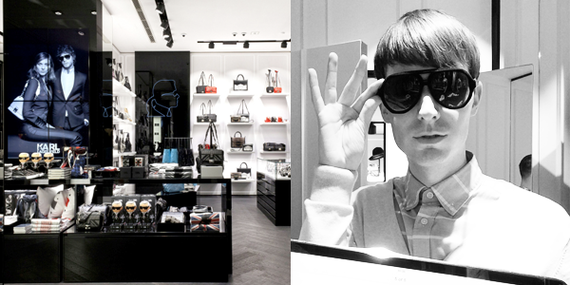 Karl Lagerfeld, 145-147 Regent Street.
There was naturally a lot of buzz earlier in the year, around the opening of the Karl Lagerfeld store on Regent Street, however this is my first visit. The interior plays great homage to the man himself, being a contemporary look at a traditional black and white fashion maison. The walls are lined with sketches by Mr Lagerfeld, with the fashions in close proximity, so you get a great look at the process from sketch to store. The interior is a fusion of stylish clothes, along with a range of Karl themed goodies from iphone covers to figurines. On the day, we celebrated "Karlisms", and of course I added a few "Richisms" of my own.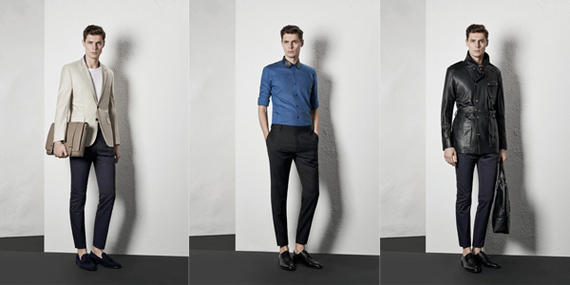 Reiss, 172 Regent Street.
I am a big fan of Reiss menswear, so it was great to check out their personal shopping floor, nestling nicely above their Regent Street store. Being a stunning location, it was great to talk with resident stylist, Rachel Booth, and get a little introduction into the looks she was most excited about. I am a big convert to pastels this season and Reiss always manages to get the perfect hue of pink and blues. I also really liked the colour, I like to call 'toasted marshmallow', seen in some of their suits and accessories for SS14.
Find out more about Regent Street and its stores by visiting: regentstreetonline.com