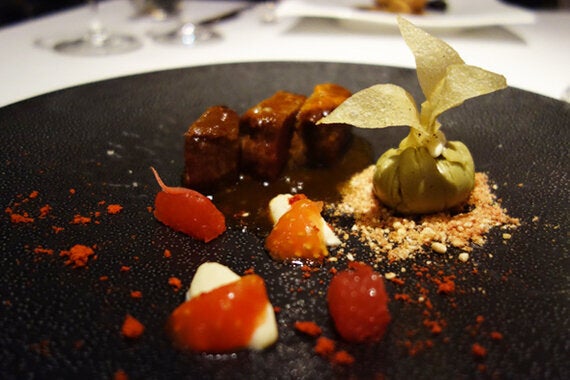 A stones throw from Buckingham Palace, nestled in the luxurious Belgravia district, stands The Halkin. A hotel with an effortlessly stylish interior, superb service and a culinary gem in the form of Ametsa. The combination makes for one out-of-this-world experience and left me hooked on The Halkin.
I arrived around 6pm on a wet Friday evening and after a slick check-in process, I arrived at my luxurious destination. The lights were dimmed, curtains lined the walls and zen-like music filled the room. It was the type of interior you imagine Mariah Carey would approve of - with a cream colour palette, contemporary simplistic furnishings and an expansive marble bathroom. The bath itself reminded me of the infamous moment on Cribs where the elusive chanteuse bathed in her very own similar tub. After just long enough to get into a robe and take a bathroom selfie, it was time for dinner and that's where the magic continued.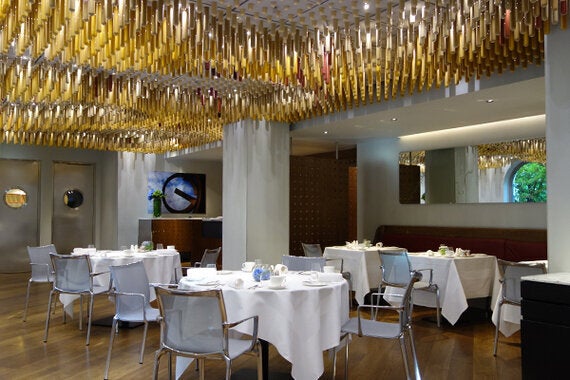 Ametsa is a Michelin star awarded restaurant and is described as 'New Basque Cuisine', pairing the earthy flavours and techniques of Spain's Basque region with modern, surprising twists. The entrance to the restaurant is surounded by an interlocking wooden structure with holes punched through, which reminded me of some sort of children's construction toy. However there's nothing immature about this sophisticated and streamlined interior. Designed by Ab Rogers Design, the focal point of the restaurant is a spectacular wave-like ceiling created from 7,000 glass receptacles, which are filled with various spices. Our night began with an introduction from Assistant Restaurant Manager, Ednor Pronjaj, who acted as our narrator for the evening.
We were going for the full Ametsa experience, so had the Dinner Tasting Menu along with wine pairing throughout the meal. To begin there was a collection of Aperitivos including Onion Rock with Marinated Anchovie, Mango Chistorra and a very intriguing Scorpion lollipop. All perfectly presented with beautiful detail and full of exceptional flavours. Paired with an amber coloured wine named Florpower 2010, it was a full bodied and rich start to the meal. The dishes were all encompassing in terms of creativity, taste and execution.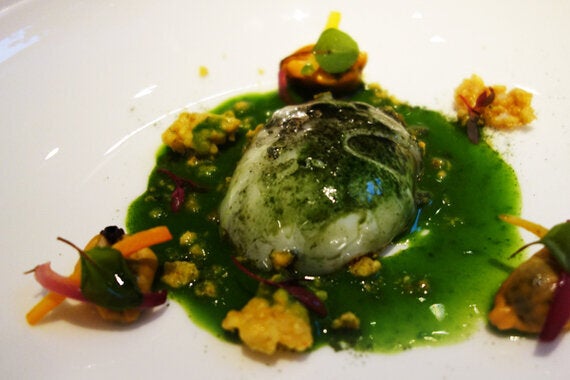 The next selection of Entrantes continued to amaze, starting with a perfectly formed dish entitles Vieiras en Casa, translated as Scallops at Home. This was followed by Langoustine on a Bed of Lichens and a very artistic Graffiti Egg. The plate is used as a canvas and as each course arrived, it required a moment to purely sit back and take it in. That being said, on first mouthful, taste soon took over and it was more literally taken in - by my mouth this time.
For the next courses I allowed Ednor to take the reigns and select the dishes for me, and it seemed he knew me very well. For the fish course he selected Monkfish Confetti, which was a soft and buttery fish sprinkled with a multi-coloured infusion filled confetti. For the meat was a perfectly prepared Beef Fillet with a reimagined green tomato, which looked stunning and tasted just as gorgeous.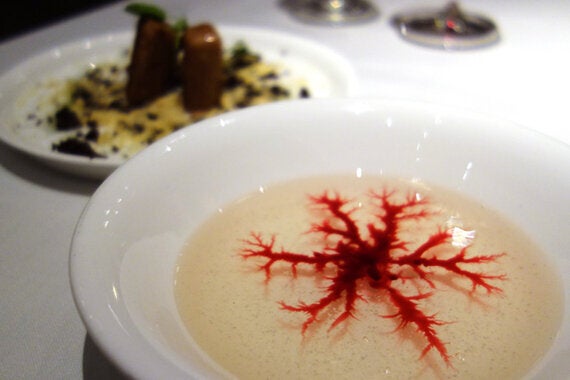 The first of the desserts was a dish curiously named Mead Fractal, that I later found out it was described as "a masterpiece of molecular gastronomy", which I guess it was. It involved a honey soup with a drop of a red reactor placed in its centre, this grew and expanded like veins in the fluid. Served with chocolate covered lemon custard, it was an entertaining and delicious way to sweeten the meal. The finale was a Orange French Toast and Spinach, which I thought was their nod to one of my favourite desserts of bread and butter pudding, although somewhat more complex. And as we wound down after the meal with a fresh mint tea and raspberry shaped petit fours, we reflected in awe of what we had just witnessed.
The time was well after eleven o'clock and we had devoured a three and a half hour long show filled with as much drama and performance as you would find on the West End stage. Executive Head Chef, Sergi Sanz, has designed an imaginative menu at Ametsa that is executed with the precision and care of a fine artist. The staff were knowledgeable and engaging, adding depth to the experience. Overall, the night was a hugely enjoyable, with each dish being a complete Michelin masterpiece.
Image credits: Richard Brownlie-Marshall