Las Vegas may be most famous for its gambling, but being not much of a gambler myself, for me it's all about the Buffets. So when others may be throwing dice on the craps table, I'm stacking the shrimp on my plate. After gambling on a good range of eating options in Vegas, I've selected the top three Buffets that I believe are sure bets.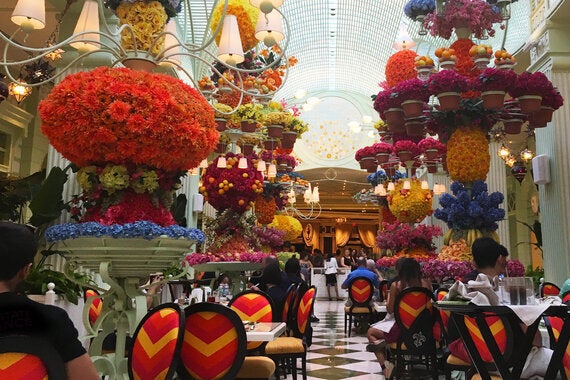 The Wynn hotel and casino is one of the most beautiful, it has found the right mix of show and sophistication to create a look of glamour. Nowhere is this more apparent than within the main dining area of The Buffet, where large floral towers reach the heights of the atrium, for a visual sensation. The light and airy space carries through to the serving area, where we were met with the most amazing array of options to choose from.
I spoke with Executive Chef, Russell Parker, who highlighted the fact that their were no signposts above the food areas. In many buffets there will be sections marked out for Italian, Chinese, Mexican etc., but here there were none. I liked how this encouraged you to discover the various foods for yourself, and a good excuse to wander around all the options.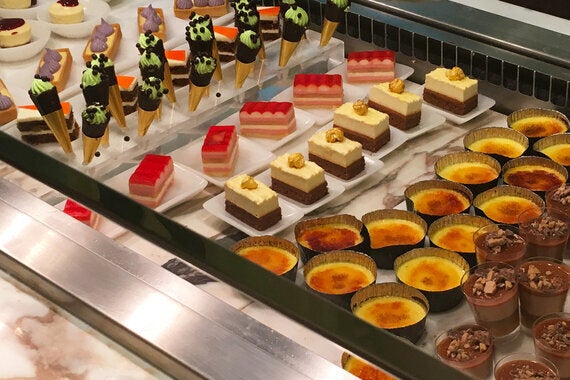 Each station had the chefs work being very visible, so you can see how freshly prepared all the food is. There is great seafood on offer, from giant Alaskan Opilop crab legs to the juicy oysters. They have made good use of live stations, where they incorporate food theatre for items such as ramen noodles and crepes. The desert station overall was a real strength for The Buffet, as there was a super selection of carefully prepared options, along with an impressive revolving ice cream station.
I can imagine that someone trying to approach a buffet with intolerances can be a daunting experience, so it's to be noted that this catered for at Wynn. If you tell a server, they will get a chef to personally guide you around the various stations, letting you know exactly what is safe to enjoy.
The Buffet at Wynn combines and interior that surpasses what you would come to expect at a buffet, delivering a much more fine dining experience. The quality and visual of the food is of a really high standard, and proved to be a very enjoyable experience.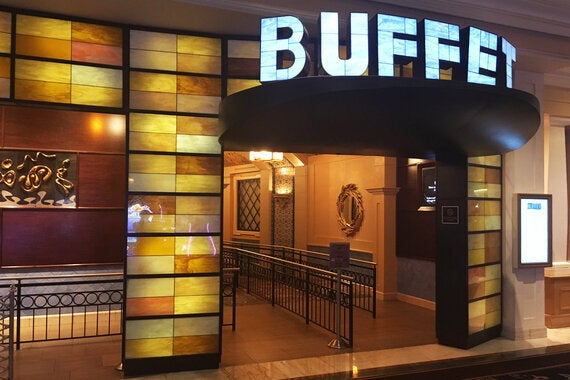 We received a very warm welcome on entering The Buffet at Bellagio for breakfast. The service was some of the best we have received while in Las Vegas. On meeting the general manager, Luc Andres, we could see why. He had a great enthusiasm and knowledge of the food and a very personal approach to the diners.
There is really a great breakfast selection available at The Bellagio buffet, from your usual selection of bacon and eggs to many more adventurous options. Without compiling a list of what was on offer, some of my favourite finds were the Jalapeno Cornbread Muffins, O'Brien Potatoes and Eggs Benedict.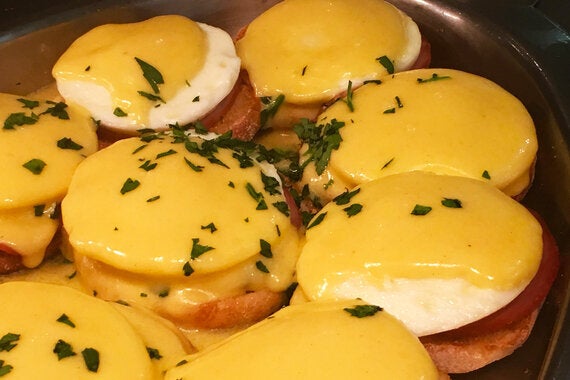 I started the breakfast by heading to the omelette station, where I had my ham, cheese and onion creation cooked to perfection. There was a great selection of fruit available, which is certainly appreciated, and they had a perfectly formed honey, yoghurt and granola pot. For those with more of a sweet tooth, they had a splendid bread pudding and pancakes fresh off the griddle. As a lover of branding, I thought the waffles emblazoned with a Bellagio 'B' were a very nice touch.
I felt well catered for at The Buffet, with everything I could have wanted, along with lots more. There was a good atmosphere in the restaurant and I noticed that it got busier as time went on. At 11am the Buffet changes over to its lunchtime menu, which I think a few people had planned for. For me however, I had taken my fill of breakfast, but I can say that the Lunch selection also looked very impressive. The station that had earlier served sausages, transformed into a carvery and a very majestic mountain of shrimp was added to the central display.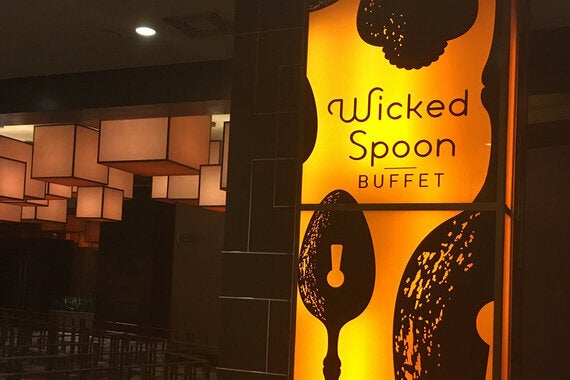 Wicked Spoon at The Cosmopolitan
Wicked Spoon at the Cosmopolitan takes a different approach to buffet dining, not believing in piling your plate high, but alternatively seeing its selection as lots of little dishes. It has all the range on offer, as any other buffet, but with much more curated combinations. I found this to be a refreshing approach, as it portioned out the dishes, giving little tastes of flavours.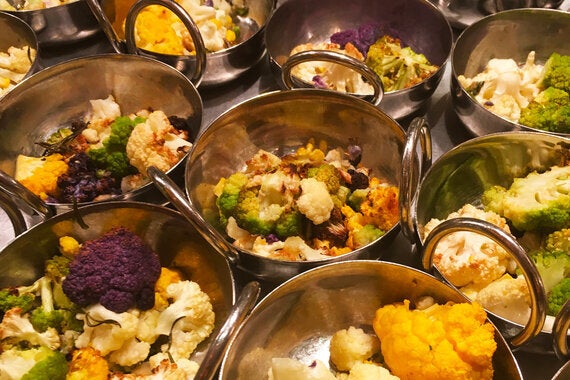 As a lover of pasta, I was well catered for with a selection of four pasta based dishes, which were all equally delicious. I really enjoyed their Wicked Mac & Cheese, which had a spicy kick throughout, and the Short Rib Tortellacci in its perfectly packet parcel of rich flavour. You will see pizza at all the buffet's but there was something a little bit more special about the Wicked Spoon's offering, being a more hearty base and more adventurous combinations, such as the artichoke, mushroom and prosciutto. Everything was very tempting and I really liked the care and consideration in each bite. The presentation of each dish was very sweet with little steel bowls, frying baskets and even mini Chinese takeaway boxes.
Dessert came in equally dainty portions, and excelled in terms of taste. The Red Velvet Bunt Cake was delicious and their Raspberry Rice Crispy Treats were a welcome addition. Wicked Spoon is a great option for those looking for a buffet with a difference and the chefs have worked hard to deliver interesting flavours and combinations on a mini scale.
Images: Richard Brownlie-Marshall