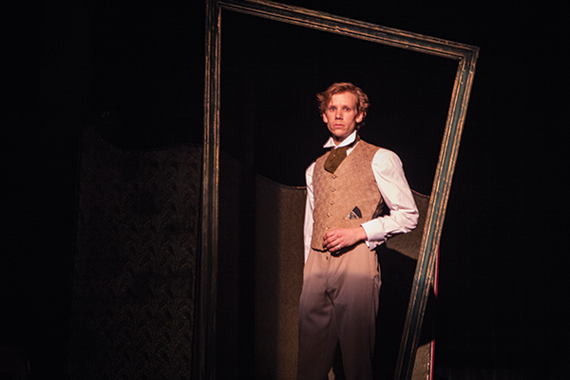 The Picture of Dorian Gray is one of those stories that everyone knows and placed its author, Oscar Wilde, firmly in the history books. At the time of it's first publications critics were outraged by its vulgar nature, describing it as 'a poisonous book' written 'for outlawed noblemen and perverted telegraph boys'. With 2016 marking it's 125th anniversary, a freshly adapted production arrives at Trafalgar Studios. The new version now includes material that was censored at the time, using the original manuscript and written with help from Wilde's very own grandson, Merlin Holland.
Set in a decadent Victorian London, a young man called Dorian Gray becomes the subject of an exquisite portrait by renowned artist, Basil Hallward. On first viewing of the finished work, Dorian makes a Faustian pact that he will remain forever young while the picture grows old - but in return he wagers his soul. It's interesting how the work, even 125 years after its conception, could still draw many parallels to life today. As we live in an age where people attempt to live up to an edited Instagram reality, but hopefully none offering up as steep a price as Mr Gray.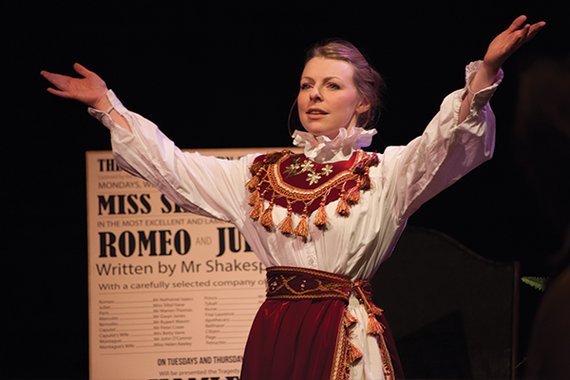 This production sets the scene at the intimate Trafalgar Studios venue, with the story and it's multiple characters being told through four very versatile actors. Guy Warren-Thomas takes on the title role with ease, delivering a youthful outlook that gradually decays to reveal a darker foundation. In this adaptation, it feels that more is revealed about the characters surrounding Dorian, further explaining the contributing factors to the character's demise. Rupert Mason delivers the meek painter, infatuated by Dorian Gray, who unwittingly leads him to meeting the morally questionable Lord Henry Wotton, played by John Gorick. Both play their roles expertly and stand as opposing factors in Dorians life, yet all dwelling in the same circles. With the introduction of Sybil Vane, played by Helen Keeley, we see off-balance to this dynamic which reveals as much about the supporting roles as Dorian himself. Keeley is particularly strong in this part and creates an endearing character amongst the dark and shady Victorian landscape.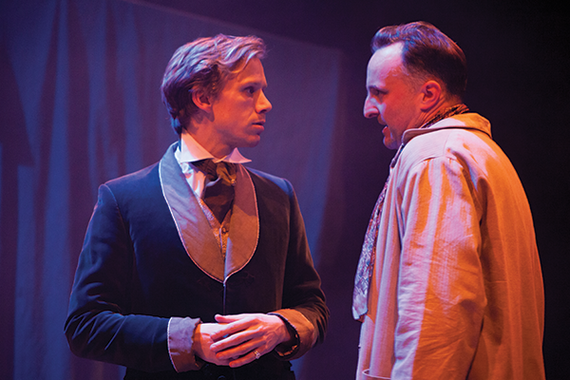 The direction by Peter Craze is very simply done, making full use of the thrust theatre setting and delivering multiple angles to the action. Duncan Hands and Matt Eaton, with lighting and sound design respectively, add a great deal to the play and navigate through the many settings on a very stark stage. Strong spotlights create moments of tension and atmosphere with the sounds and audio seamlessly merging with the performance on stage in a very polished fashion.
The Picture of Dorian Gray has some truly great dialogue and with such strong material it's hard to go wrong. This version seems to take more time on the surrounding characters, which would make this attractive as an introductory production of the play. The setting of the Trafalgar Studios, creates a setting where the audience is wonderfully close to the action and delivers an almost immersive experience. The production comes with a strong team behind it and the actors work hard to bring this great piece of theatre to life.
The Picture of Dorian Gray runs until Saturday 13th February 2016, Trafalgar Studios (Studio 2).
Photo credit: Emily Hyland
Popular in the Community