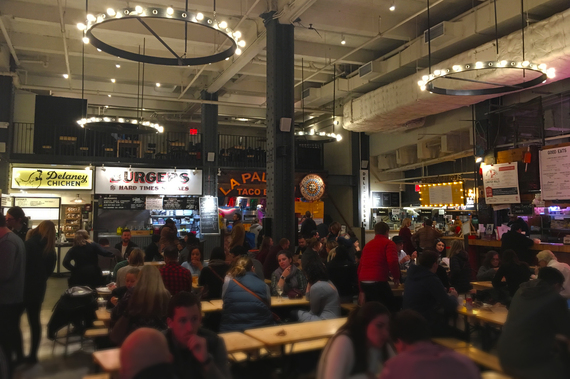 Looking for somewhere to eat in Manhattan is always a tricky task, the city contains a multitude of options, catering to almost every whim. Urbanspace is a concept that sees individual food vendors come together and showcase their offerings to new audiences - and all under one roof. Their Vanderbilt location was buzzing the night I visited. The interior gives off an effortlessly cool industrial vibe, with each brand allowed to celebrate its individuality. The various styles and treatments acted as a vibrant dining backdrop. On arrival, I could tell that this was not your average food hall.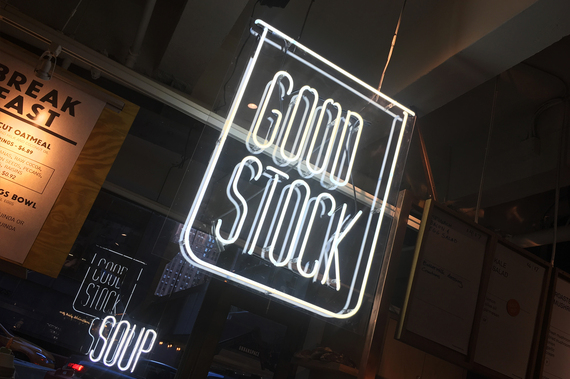 First up, I visited Good Stock, which is the new kid on the block having been open for only one month. This is the brands first location and really highlights Urbanspace's positive message of helping new businesses grow. I loved the look of this place with a very simple aesthetic of blue tiles and several commanding soup pots displayed along the counter. Their branding was nicely executed in neon lights and stamped on the side of every soup cup. With a tempting menu including Roasted Mushroom, Fried Chicken & Andouille Gumbo and Eggplant Parm, it was tricky to make a selection. I was impressed that many of the soups had vegan, veggie and gluten-free credentials - and after meeting the founder, Ben LeBlanc, he assured me it was purely putting in the correct ingredients for the best taste. After his recommendation, I went for the Gumbo, which was absolutely packed with flavour and came with some lovely crusty bread from Grandaisy Bakery on the side. You could taste the mix of great ingredients and careful preparation, which resulted in one very delicious meal.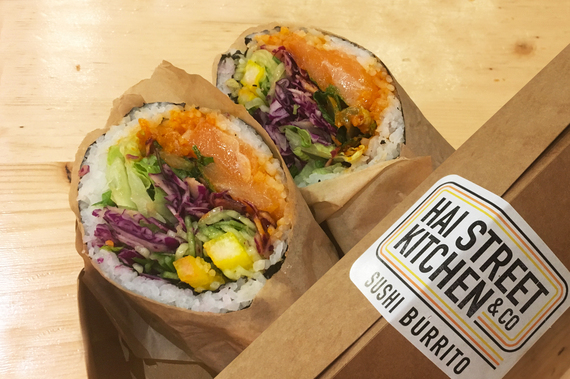 Hai Street Kitchen & Co. was my next stop, which makes Japanese inspired sushi burritos. Coming from London, this is not something I had experienced before, but had been informed by New York friends that these were the new cronut. In this mash-up of sushi and burrito, there are options to create your own or choose from their signature styles, such as Ho-Lee Shrimp or Slammin' Salmon. I really loved the concept and the result of truly fresh ingredients wrapped in a brown rice and nori wrap was a very enjoyable prospect. It looks good and feels good when eating it.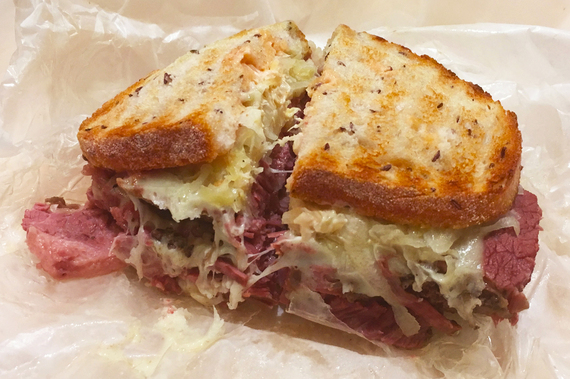 Mile End Delicatessen was the destination to get a fix of classic American cuisine, and it certainly didn't disappoint. The servers were very welcoming and the layout of the space showcased food theatre, seeing all the tempting food sizzling on the grill. The menu has a good range of Black Seed Bagel Sandwiches, Hot Reubens and Poutine. Now believe it or not, I had never tasted poutine before, which Mile End creates from crisp fries, cheese curds, gravy and an option of smoked meat on top. It was the thing that dreams are made of. It's very filling, but I adored the combination of flavours along with the quality of the curds and all-natural cured meats. My friend also tried the hot corned beef sandwich, which is certainly another recommendation. Prepared before our eyes was a mouth-watering mix of corned beef with Swiss cheese, sauerkraut and Russian dressing on freshly toasted rye bread.
The overall experience at Urbanspace was really revolutionary for me, and I only touched the surface with three of the twenty vendors they have at Vanderbilt alone. There was a really great atmosphere in the space and all the brands seemed to have a unique offering - with many concepts I hadn't come across before. This is the perfect location to bring friends, as there is something for everyone.
Images: Richard Brownlie-Marshall
This post has been published on The Huffington Post's blogging platform. The views and opinions expressed in this blog are those of the author and should not be taken as those of The Huffington Post. The Huffington Post does not allow bloggers to acquire products, access or accommodation for review in the site's name.