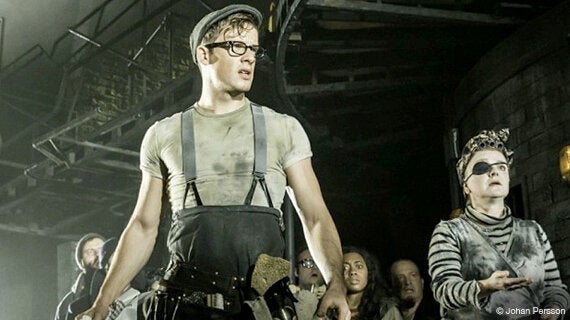 At the beginning of Urinetown, you are told that this isn't your typical musical, and they're not kidding. After a three year run on Broadway, this unconventional toilet-based musical has arrived at the Apollo theatre; bringing it's host of odd characters and even odder storyline along with it.
Taking place in a dystopian future, people are forced to pay for the use of public toilets that are controlled by a company that goes by the name of Urine Good Company. One toilet attendant, Bobby Strong (Matthew Seadon-Young), see's the need for change and rallies the community to go up against the fat cat corporation - demanding free toilets for all. It might seem a bit of a stretch to get interested, but I was certainly surprised with how quickly I became invested in Bobby's crusade.
Urinetown is somewhat of a musical parody, with Officer Lockstock (Jonathan Slinger) narrating to story in a tongue-in-cheek fashion that knows how to laugh at itself. Pointing out key plot holes and oversights along the way, the character of Little Sally (Karis Jack) assists him by delivering the sweetness with her wide-eyed approach to how a classical musical would progress.
The songs give a satirical nod to big hitting musicals such as West Side Story and Les Miserables, using clever lyrics to get big laughs along the way. The ensemble work well together to create a great atmosphere on the stage, full of odd and hilarious characters. Group numbers are certainly the strength of this musical, with 'Run Freedom Run' being the clear runaway hit.
Although the name might be off-putting, Urinetown is a fun musical at one level and a comment on society if you delve a bit deeper. Elements of the musical become a little tired near the end, but it's certainly an entertaining night of theatre with some very acute observations and clever writing. The cast work as a well oiled unit to guarantee a great night and there is plenty of comedy mixed in for good measure.