In the run up to the general election on 7 May, employment and economic growth have been high on the political agenda.
The latest figures from the Office for National Statistics show the employment rate is 73.4 per cent - the highest since records began.
The disability employment rate is 47.4 per cent.
Historically, periods of economic growth have not had the same positive effect on the employment rate of disabled people as they have for everyone else.
The gap between the employment rate of disabled people and the rest of the population is around 30 per cent and has remained largely static for the last decade.
A new report published today by Scope demonstrates why increasing the disability employment rate needs to be seen as a priority by all political parties and should be seen as central to wider employment and growth plans - not just an 'add on'.
One million more disabled people in work would boost economy by £45billion
Scope commissioned Landman Economics to look at the economic impact of supporting one million more disabled people into work by 2030.
The findings are powerful.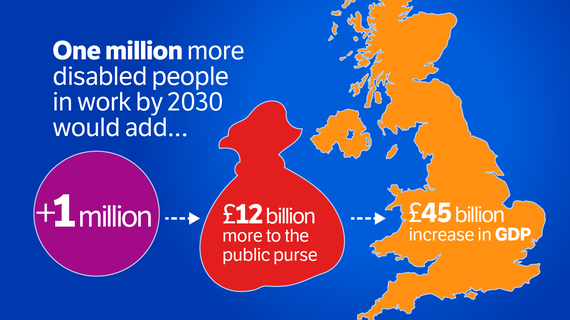 Britain's economy would receive a £45 billion boost if one million more disabled people were supported to work - the equivalent of halving the disability employment gap.
This £45 billion represents 1.7 per cent of total predicted GDP in 2030.
The Exchequer would gain £12 billion through higher tax receipts and lower social security payments.
Many disabled people continue to face barriers in the workplace
Scope is calling on all political parties to commit to halving the disability employment gap.
To achieve this we need to acknowledge and address the substantial barriers disabled people face at work.
Disabled people are pushing hard to get into work and achieve their career goals. But in 2015, too many disabled people remain locked out of the workplace.
This is a waste of the talents of disabled people, who are a vital and often untapped resource for the UK labour market.
Research by Scope shows that a staggering 74 per cent of disabled adults feel they have lost out on a job opportunity because of their impairment or health condition.
Enabling more disabled people to stay and progress in work is also an issue. A report by Scope last year revealed that 430,000 disabled people had fallen out of work in 2012/13, compared to just 200,000 who had found work.
The overwhelming message from disabled people is that having flexibility over their working time and practices is crucial - but it is not always available. Modified hours, such as flexible or part-time working, is an important factor to 40 per cent of disabled job-seekers.
What the next government needs to do
Changes are needed within individual workplaces, the welfare system and the wider labour market to enable more disabled people to work and achieve their career goals.
There are important steps that the next government can take to increase the disability employment rate over the next Parliament.
These include - expanding and protecting Access to Work, a vital scheme that funds specialist equipment, workplace adaptions and transport; ensuring all disabled jobseekers have access to specialist advice and support; and piloting personal budgets for employment.
Scope is also calling on the next government to bring in legislation that enables disabled people to take part-time leave when they are adjusting to changes or fluctuations in their condition.
The Conservative, Liberal Democrats and Labour manifestos all reference devolving more powers to local decision-makers.
Disabled people must be central to local growth plans. Devolution and localism initiatives should be used to improve the employment rate of disabled people.
Whatever the colour, or colours, of the next government, action is needed to ensure disabled people are part of the recovery.
It won't be easy, over the past decade the disability employment gap has remained stubbornly static.
But it is achievable. This report shows that breaking down the barriers disabled people face when gaining employment and staying in work is vital to the country's sustainable economic growth.