Reports of Facebook's announcement to trial a "Dislike" button has sparked waves of debate today. Whilst some are excited, the risks surrounding cyberbullying have outlined why it's not such a great idea. Facebook already, in my opinion has some work to do around it's reporting mechanisms.
Stepping aside from bullying arguments for a moment, personally, as a social media user and blogger, I see such a button intruding on the way I use social media. You see, I'm a sensitive soul, and if someone were to dislikes my post, I will be super sad. Don't get me wrong, I'm more than open to criticism and ideas, that's what keeps me learning but a simple dislike button without reason is just too mean. It's as if to say "No, just no". I can't learn from that. And as we all know sometimes, if you have nothing nice to say, it is better to say nothing at all. Social media is one of those times.
Those of us who have a habit of expressing intimate thoughts and feelings on social media as well as our day to day musings, already know that sometimes no-one really cares. We just choose not to acknowledge that, in the same way people choose not to acknowledge our posts. It relationship works well. But notifications telling us people actively don't care would only destroy this mutual respect.
We will have little choice but to constantly post our Facebook content to LinkedIn instead because there's no scary dislike buttons there. And then LinkedIn wouldn't serve its purpose as professional network, but become another place to share, well, everything. People may stop using LinkedIn, and the social media world as we know it will snowball into turmoil. Ok, maybe it's not that bad.
But Zuckerberg wants to create something to allow users to express empathy. It can indeed feel uncomfortable "liking" something that involves someone's adversity. I just think that given this intention, there may be more appropriate alternatives.
If a dislike button was created, but people continue to "like" saddening posts, intentionally or not, wouldn't that too cause confusion and aggravation?
It's only right to alternative ideas if I've suggested something isn't quite working. So here are two I've come up with. Mr Zuckerberg, you can have these.
Idea One - A Heart Button.
• This will allow people to express love towards that person and let them know that they are being thought about, especially during difficult times.
• Love is always a good thing
• It clashes with the "Like" button. Do I like it or do I love it? Like it, love it, like, love, love, like, hmm I'll just do neither. Or...I'll do BOTH!
Idea Two - A Peace Button
• This will allow users to say "I hope you find peace and serenity soon."
• It can also be used to calm those who write angry status' that people are too scared to like. It's as if to say "it's okay, chill"
• Peace is always a good thing
There are no cons. Do it!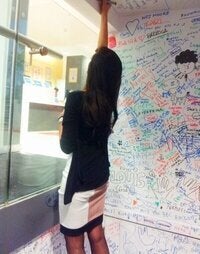 I once visited Facebook's HQ once and wrote on their wall. My words... Peace and Love.
What do you think? Is a "Dislike" button a good idea? Is a peace sign a good idea? Do you have a better idea?
We should all be conscious of the way we use social media. It is our responsibility to know what's appropriate or not to share, although yes I like to play on those borders in both the social and real world. It should be used sensibly and be a space where we respect one another the same way we do in the real world. This includes people not being held back from sharing due to fear which is what would happen if a "Dislike" button were to be introduced.